DIY Projects
How to makeover your cushions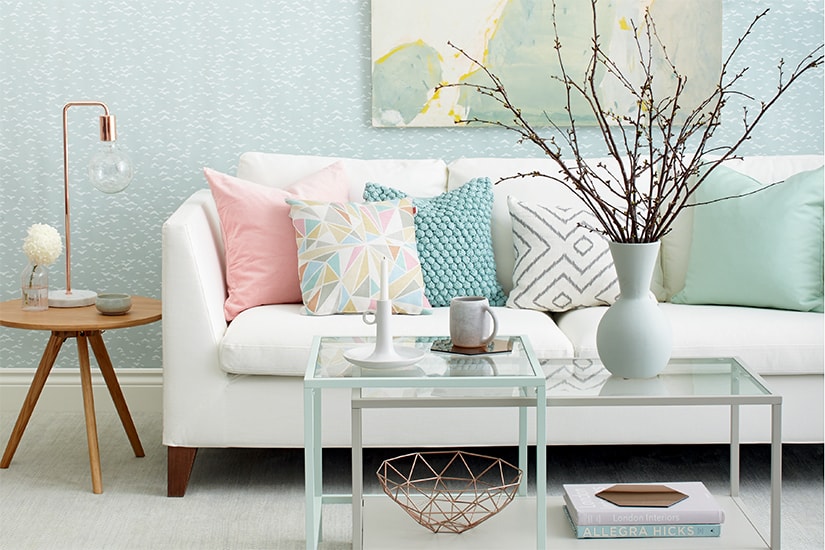 DIY Projects
How to makeover your cushions
Choose your fabric...
We used cotton cushion covers, but you could also use solid-colour velvet, linen or raw silk ones for endless pillow possibilities. Or go all out with a fun layered look by adding embellishments to striped or polka-dot cushions.
Loopy yarn
This project is super-easy – perfect for doing in front of the TV. Try tone-on-tone yarn and fabric combos, or go for high contrast. Different yarns and loop sizes create varied looks, as does pattern: cover the entire surface or create a band of loops (as on the dark cushion), or have fun designing a checkerboard or a large circle or square in the centre.
How-to
Using ruler and fabric marker or quilter's pencil, mark evenly spaced grid in pattern desired on cushion cover. Cut equal lengths of yarn; one at a time, fold yarn in half and, leaving three- to five-inch ends, knot to form loop of desired size. Thread unlooped ends through needle; at grid mark on right side of fabric, push needle through to wrong side. Knot ends securely; snip off excess yarn.
Running ribbon
These embellishments are so quick to make – you could whip up a few every season for a whole new look. The narrower the ribbon, the easier the sewing. If you choose ribbon more than half an inch wide, consider adding grommets (look for kits at fabric and craft stores) through which to thread it.

How-to
Using ruler and fabric marker or quilter's pencil, mark points at desired intervals (evenly or un-evenly spaced) in a straight line across front of cushion cover. Knot one end of ribbon; thread other end through darning needle. Starting from wrong side (so knot is hidden), sew running stitches in and out through marked points. Straighten any twists in ribbon and knot ends on wrong side.
Flowering felt
Eye-popping petals are a cheery antidote to winter dreariness. Follow our basic blossom instructions or use them as a starting point for your own fl oral designs. For a removable appliqué option, sew each flower to a felt circle backing and attach to the cushion cover with a brooch pinback (available at craft stores).

How-to
Using pencil and round items like coasters or glasses, for each flower trace five circles (petals) and one smaller circle (stamen) onto felt; cut out. One at a time, hold at edge and fold over left side then right to form cone. Machine-stitch across cone at base. Trim just below seam to square off. Repeat with other circles. Handstitch petal bases (at seam) onto cushion cover to form flower; stitch stamen in centre.