DIY Projects
Project: Bamboo placemats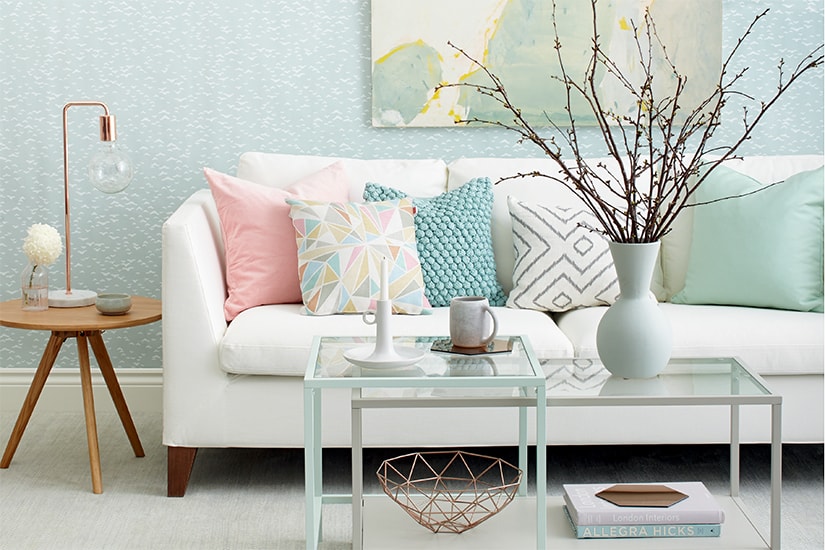 DIY Projects
Project: Bamboo placemats
Add a tropical flower to your next poolside, garden, or patio party with these special place mats made from bamboo. Their natural, wood texture lends exotic simplicity to light lunches, brunches, and tea. Use them to bring the outdoors inside on rainy days, or feel like you're on vacation anytime. A simple wrapping of wire holds the bamboo in place and allows for easy roll-up storage.

Materials
• sixty 43" (109 cm) bamboo canes
• four 10-yard (9.1 m) spools of 30-gauge cloth-covered wire
• bamboo saw (or substitute - see tip)
• general craft supplies
Makes four mats

1 Saw each 43" (109 cm) bamboo cane into three 14" (36 cm) lengths for a total of 180 pieces. Vary each piece slightly for a rustic look.

2 To make the first place mat, choose a random selection of 45 canes and lay them side by side, interspersing thick and thin pieces. Cut 2 yards (1.8 m) of the cloth-covered wire and roll in half. Place the first cane in the fold of the wire over itself to form an X, and pull tight. Hold second cane firmly against wire crossover, and crisscross the wires in the same direction around it. Continue binding the canes together, clip off excess, and bend the twisted section to the back of the mat to hide. Bind the opposite edge using the same process, then add a second band of wire to each edge.

3 Complete the remaining place mats, following step 2.

Variations
Don't just use one colour of ribbon wire. Experiment by developing a palette of coordinating hues, or by using uncovered metal wire. Instead of the natural golden bamboo featured here, try using reeds that have been dyed green. To add more bamboo accents to a table, use the same technique to make a table runner, coasters, or sleeves for glass votive candleholders.

Tip
Bamboo is very fibrous, and even sharp pruning shears may crack or split the reeds. If you don't have access to a specialized bamboo saw, try using an inexpensive disposable craftsaw blade and craft knife handle to make clean cuts when sewing.

---
Excerpted from The Crafter's Project Book by Mary Ann Hall and Sandra Salamony. Copyright 2000 by Mary Ann Hall and Sandra Salamony. Excerpted with permission by Rockport Publishers Inc. All rights reserved. No part of this excerpt may be reproduced or reprinted without permission in writing from the publisher.