Before and After
Before and after: Peter Fallico's style for less

Before and after: Peter Fallico's style for less
Before and After
Before and after: Peter Fallico's style for less
Peter Fallico, host of
Home to Flip
, knows a diamond in the rough when he sees one. With its original woodwork, leaded windows and oak strip floors still in good condition, this 1930s Tudor revival charmer was ideal for his show, which chronicles his adventures
renovating
an older home for resale.
Dining room before
Although the woodwork was in good condition before the reno, Peter chose to update the wainscotting to brighten up the room. He says, "The
renovation
was a good balance between modernizing the house where needed and salvaging its best original features."
Updated and elegant dining room
"I hesitated before painting the wainscotting," says Peter. Although the original wood was in fine condition, it made the room dark. White paint brightened and updated the look; plus, painted woodwork can often increase rather than decrease resale value. Peter splurged on the $1,899 round pedestal table to "showcase the
dining room
and make it feel larger."
Style for less
> Save big by refinishing floors rather than replacing them.
Kitchen before
"Kitchens almost always return a large portion of their renovation cost," says Peter, who started from scratch, working with the galley layout rather than opening up the
kitchen
to the dining room - a decision that saved thousands of dollars.
Updated galley kitchen
Removing an arched entry to a small eating area maximized space, as did installing Cambria
counters
on either side of the kitchen. Narrow open shelving breaks up the cabinetry and provides a spot for cookbooks and wine. Large windows, glass-front doors, a glass mosaic
backsplash
and light-colour floor tiles (laid lengthwise to make the room seem longer) lighten the look.

Style for less
> Get the look of marble for the cost of porcelain floor tiles.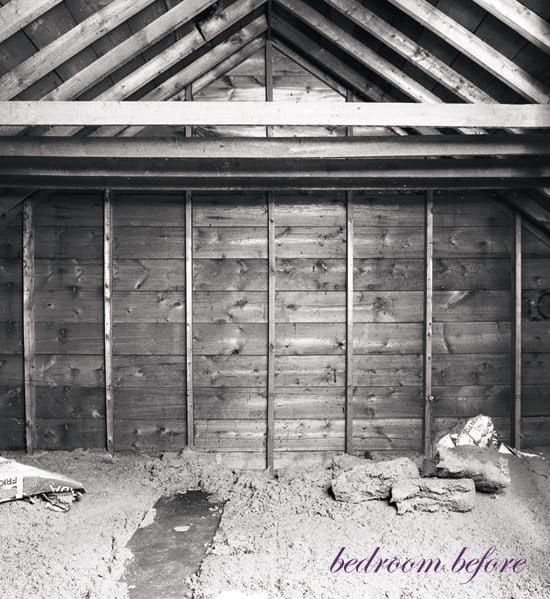 Bedroom before
One of the selling points for this house was the unfinished attic, which Peter transformed into a high-ceilinged master bedroom for a quarter of the cost of a new addition.

New master bedroom Peter installed a walk-in closet, a skylight, and bamboo flooring with a dark stain to tie it to the main-level floors. For a touch of luxury, he had speakers for the stereo system built into the walls. He also wired all the rooms for ethernet. Peter says, "With it's high slanted ceiling, the bedroom feels like a modern addition, even though it's part of the original house."

Style for less > Peter re-covered the bench in fabric that matches the Euroshams for a coordinated look. Cost $40.
Bathroom before
Peter created an ensuite bathroom from a small second-floor bedroom. He says kitchen and
bathroom renos
are always worth doing because they're rarely salvageable in an old house, especially if they've never been renovated. He also suggests doing
energy
audits before and after renovating because you can make as much as $10,000 in rebates from work done.

New ensuite bathroom Though the new ensuite - carved out of a former tiny second-floor bedroom - was large enough for a double sink, Peter opted for a single undermount one in order to gain more counter space. He deepened the counter to 24" to maximize space and storage, which is limited under the slanted eaves. To add flair to the neutral room, he picked attractive library-style pulls, squared-off faucets, and marble mosaic floor tiles.

Style for less > Sleek pulls upgrade the look of standard cabinetry.

Tub and shower Though limited in space, Peter made room for a deep tub and shower. He says this house was a good buy because it had great original features, plus it hadn't been touched. Peter says, "I was looking for ways to add space, and this house had an unfinished attic with a stairway, and a full basement." He says when it comes to renos, projects that aren't worth doing are ones that involve major structural changes. This includes re-routing stairs, removing load-bearing walls and moving plumbing stacks.