Interiors
Floorplans: A loft of their own

Floorplans: A loft of their own
Interiors
Floorplans: A loft of their own
The scariest thing about buying our first home was downsizing. We moved from a spacious rental in Toronto's Forest Hill neighbourhood to a 725 sq. ft. loft in the city's west end. Both Edward and I weren't interested in the cookie-cutter, contemporary condo look, and save for the exposed brick walls, our unit pretty much had builder's-basic features. We wanted to add our own touch and, of course, maximize space and storage in every way possible.
I wanted to make the exposed brick wall a beautiful focal point of the living room, but the window, though wide, wasn't very tall. To create the effect of much larger windows, we hung blinds 18" below the ceiling in the living room and bedroom. Our sofa was an ideal size, but a little tired, so we had Slipcovers & More make a simple but elegant slipcover from a machine-washable fabric. And when it came to finding the perfect coffee table, nothing was the right shape, style or size. We finally gave in to the spending gods, commissioning a stainless steel base and a marble top -- a rich stone quarried in Ontario.


When you walk into the design showroom of a condo project, there can be way too many choices or not enough. We came to the conclusion that we could still have a customized look if we picked a pachage based on the pieces that would be easy to change as well as the pieces that wouldn't be. We liked the existing black granite countertops and dark hardwood flooring, but opted out of the taupe builder's backsplash and then painted the dark wood cabinetry after moving in. By simply adding a glam mosaic marble tile backsplash, a new Blanco faucet and some unusual oil-rubbed bronze hardware, we elevated our basic little kitchen to a real gem with minimal effort.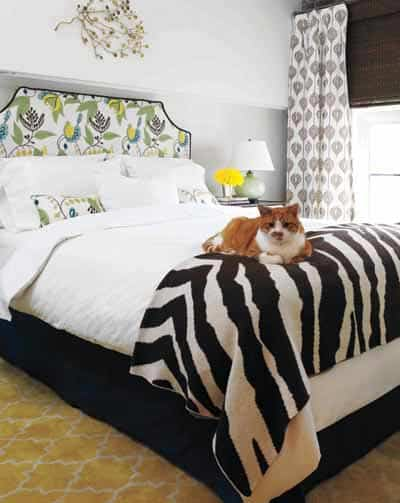 The teensy master bedroom meant there was only room for a queen-sized bed and bedside tables. We revitalized the vintage headboard with a fresh and colourful slipcover, and fitted our IKEA box spring -- with four drawers! -- with a custom skirt. The luxe linen drapery panels add softness to the rough backdrop of the exposed brick wall.
Don't be afraid to combine patterns or high and low fabrics. The headboard is covered in a high-end fabric by Osborne & Little; the skirt is made from IKEA's cotton Minna (at $9 per metre, it's a total steal). The two fabrics work nicely together, and the high-low mix won't hurt a budget.
Check out the floorplans of Tamara's loft!