Interiors
Interior: Bold bachelor pad

Interiors
Interior: Bold bachelor pad
Blending the old, the new and the unexpected, bachelor and entrepreneur David Barclay makes no apologies. (Not that he needs to.)
Self-described "serial entrepreneur" David Barclay derives great pleasure from exercising his right to individualized style. To wit: placing a gold-plated Philippe Starck AK-47-style gun lamp in the bay window of his 1,900-square-foot Victorian brownstone in Toronto's west end. "It's a great way to subtly show people outside what's happening, in terms of style, inside," says the founder of Stolen Riches, a new men's designer shoelace company. In our opinion, nothing about David, including his home and the gun lamp – which is on an automatic timer and has passersby leaving notes inquiring where they can get one – is subtle.
Homeowner David Barclay and designer Jessica Cotton of Jessica Cotton Design love the new family room in David's Toronto home.
Given David's love of loud modern art and avant-garde accessories, he was surprised to discover that he also had a penchant for antique shopping when he embarked on renovating and designing his dream home more than four years ago. "I made up mood boards and my style became abundantly clear: a mix of modern, Victorian and Baroque," he says.
Eclectic, yes, but somehow a fuchsia piggy bank and a replica of one of China's famous Terracotta Warriors come together in one cohesive entryway vignette to make an entrance.
Family room continued
A bright pink painting by Montreal-based artist Antoine Jouet somehow doesn't compete with the sassy Union Jack rug in the family room – perhaps because both are vibrant colours and patterns that grab the eye.
At first, David wanted to pair the ornate gilded mirror with a sleek pendant light that was entirely silver, but Jessica convinced him that anything more than a simple silver lining would look too "Liberace."
A testament to David's traditional aesthetic, the office space, filled with relics from his past, provides a diversion from the big, modern eclectic mix that's displayed in almost every other room.
A large stunning blue canvas (painted by David himself) is an almost effortless way to bring simple impact to an otherwise unadorned hallway.
Family treasures and favourite antiques make bold statements in the living room, but nothing compares to the gold-plated Philippe Starck gun lamp, which makes even fuchsia decorative pillows look masculine.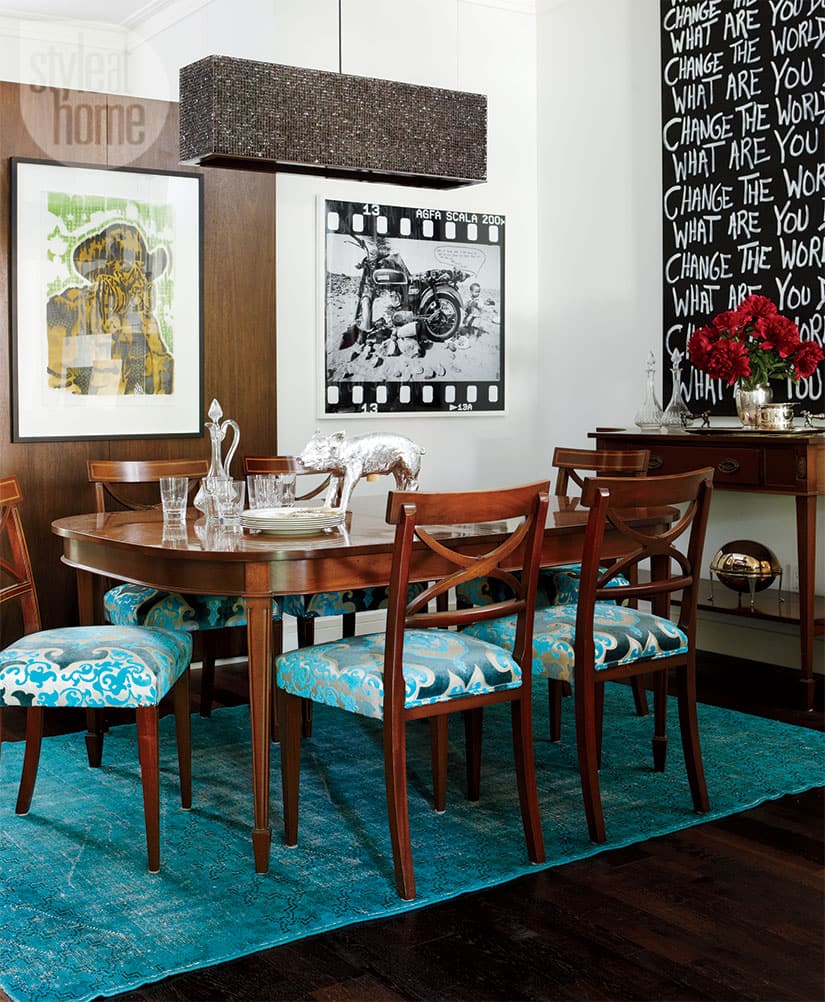 Old and new work like yin and yang in the dining room: a modern black crushed-glass chandelier counters the heirloom dining room furniture (with chairs reupholstered in an attention-grabbing fabric).