Interiors
Interior: Colourful cottage

Interior: Colourful cottage
Interiors
Interior: Colourful cottage
On summer weekends, happy
orange
umbrellas flutter in the warm Lake Simcoe breeze and inviting bright blue lounge chairs beckon to anyone playing in the pool. Squeals of delight from children ripple across the patio. Through the wall-to-wall sliding glass doors that line the back of the
cottage
, friends and neighbours can be seen leaning on counters with cool drinks in hand or laughing against a backdrop of the sun-sparkled lake.
Once covered in taupe siding, the cottage was hardly a picture perfect purchase. Plus, there were a couple of ramshackle outbuildings on the property. "But for years we'd experienced lake life at our friends' place, so we knew what we had here," says the homeowner. "It was just a matter of taking a deep breath and imagining what it could be."
Sit back and relax
1970s furniture that once belonged to the homeowner's in-laws is now upholstered in durable Sunbrella fabric. "I can live with stains, but I can't live with people who are afraid to relax," says the homeowner. The
blue
-and-white room is accented with hits of coral. "Sun and water – that's the whole idea," she says.
Let the light in
The
cottage,
situated on Ontario's Lake Simcoe, is a place for children to run free and stay young. Here, little girls dash past a wall of windows, energized by a day that's all about sunshine and swimming.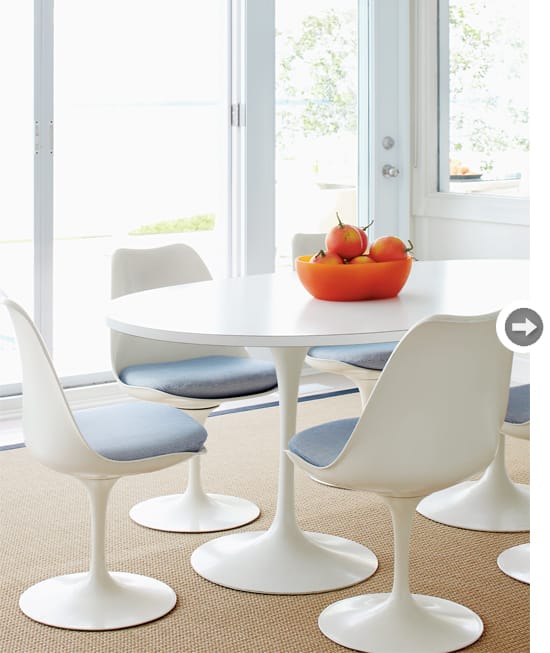 Enjoy the view
Even on rainy mornings, there's a spot to enjoy the view. A
dining
nook with a Mid-Century Modern dining set overlooks the pool and lake. Sky blue Sunbrella seat cushions are easy to clean.
Colourful decor
Objects in shades of
blue
and coral find their way into the
cottage
in an unplanned, easygoing way. Here, a pretty cobalt blue teacup is filled with a few stems of coral dahlias.
Graphic accents
White furnishings,
upholstered in easy-to-clean
, family friendly fabrics, are brightened up with graphic coral- and blue-patterned toss cushions. Since the fabrics are designed for
outdoor
use, the sun that streams in through the wall of windows and doors won't fade the bright shades.
Bold patterns
"I love fabric with bold
patterns
," says the homeowner. "But I couldn't cover entire pieces in them." Instead, she opted for graphic toss cushions, which allow her to enjoy the look of the fabrics without overwhelming the room.
Strategic seating
Throughout the backyard, multiple seating areas decorated in the getaway's navy-and-
orange
colour scheme easily accommodate a large number of visitors.
Resort style
Sleek loungers, ideal for sun worshippers, and expansive coral umbrellas lend the poolside
patio
a five-star resort vibe.
Contrasting hues
In keeping with the rest of the home, the master
bedroom
is outfitted in navy and coral hues, which offer a fresh foil to the room's dark wood
furniture
.
Bring colour outside
Once covered in taupe siding, the
cottage
now boasts a navy blue roof and
exterior
. Taking their cue from Lake Simcoe's vibrant waters, the homeowners also used the colour on the cozy lounge chairs. Hits of
orange
provide a hot contrast.