House Tours
Interior: Contemporary romance

House Tours
Interior: Contemporary romance
Designer Lindsay Mens Craig decorates her home to suit both her and her husband, carefully considering colour and her love of animal prints.
When designer Lindsay Mens Craig and her husband, Michael Craig, moved into this house almost three years ago, they easily sidestepped the common problem of meshing two styles into a cohesive look. "He literally came with only a dining table, a trombone, some crystal decanters and a fishing sign," says Lindsay.
So for key design decisions like paint colours and furniture arrangement, Lindsay had carte blanche, which is pretty much a given when you're a designer at Toronto's Sarah Richardson Design.
"I really wanted the house to look as much like Michael's as it did mine," says Lindsay. A strong blue scheme throughout and some masculine elements like striped upholstery and wingback chairs keep the interior from feeling overly feminine, even though Lindsay's affinity for animal prints is evident in almost every room.
Classic stripes
Rather than going trendy, Lindsay had this pair of armchairs upholstered in a classic subtle stripe so that she won't have to switch it up when trends change in the future.
Coastal living room
The soft coastal blue-grey on the living room walls was partly inspired by the home's proximity to Lake Ontario, which is just at the end of the street. The large abstract painting by Yangyang Pan, an engagement gift from Lindsay's colleagues at Sarah Richardson Design, works perfectly with the palette. The marble-topped coffee table was a lucky vintage find, as was the ornate mirror that Lindsay had painted white.
Vintage channel-back armchair
In the living room there's an upholstered vintage channel-back armchair in white leather.
"Because it's sitting on its own, the chair had to look sculptural and interesting," says homeowner and designer Lindsay Mens Craig.
The entryway beyond makes its statement with a modern metallic botanical-inspired wallpaper. "I wanted the space to make a pretty first impression on visitors," says Lindsay.
In the dining room, an antique door with its original turquoise paint finish brings colour and character to the space. Lindsay had its window replaced with a mirror and added a ledge to display a vase of flowers.
Leopard wingback chair
A bar was a must for Lindsay's husband, Michael Craig, who works in the wine and spirits industry. Lindsay found this bar cart at an antiques store to sit alongside a wingback chair in one corner of the dining room. The tone-on-tone leopard print on the chair and the bold turquoise leopard toss cushion speak to Lindsay's love of animal prints.
White hutch with turquoise accents
The dining room's hutch offers storage and display space for two sets of wedding china, plus Lindsay's collection of blue and turquoise glass.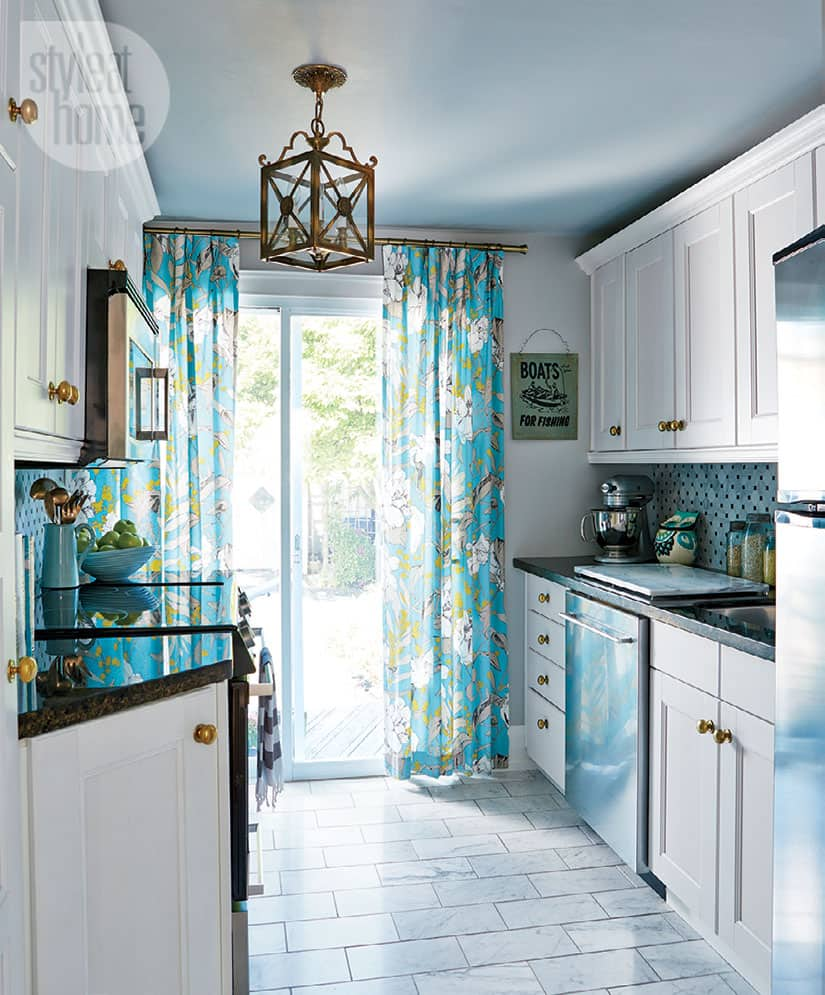 Working within the kitchen's original layout, Lindsay updated the kitchen cabinetry doors and hardware and installed a two-toned marble backsplash to tie the new marble-tiled flooring to the existing granite countertop.
Dark blue master bedroom
Lindsay created a cozy retreat in the master bedroom with dark blue walls. The large cream headboard and light-coloured drapery keep the blue from feeling overwhelming in the small room. The vintage chandelier was another lucky score, and the painting was an old piece that Lindsay had reframed.
White and brass bathroom
Salvaged from the original bathroom, the vintage clawfoot tub was refreshed with a coat of grey. Lindsay had a sink faucet and a towel bar custom-made to match the brass tub faucet and shower system that were rescued and reused. Herringbone marble floors and a gilded antique-look mirror bring refinement to the small space.