Interiors
Interior: Lakeside family retreat

Interior: Lakeside family retreat
Interiors
Interior: Lakeside family retreat
"My wife has never wanted diamonds or anything like that. All she's ever wanted is a
cottage
," says the owner of this refreshingly low-key
lakehouse
vacation spot on Lake Joseph in Ontario's Muskoka region. Clearly she got her wish, but not without striking a deal with her husband first. He explains, "I wanted a new puppy, but she wasn't on board. A few weeks later, I surprised her with a cottage-shopping expedition (she thought we were looking at ones to lease), and she immediately fell for this one (where she happily discovered a For Sale sign)." So a deal was made: If they bought the cottage, he could get his dog. Sold! Now, two years later, both the dog and the cottage are integral parts of their lives.
As the parents of four children in their 20s, the couple wanted a place where the entire family could gather on summer weekends but that was low maintenance enough to actually enjoy. This cottage was the first one they looked at. "It was a sickening dump," the wife says, "but as soon as I saw the view, I said, 'This is it.'" The rundown and dated cottage was less than inspiring, but its perch high above the lake – the highest elevation in the entire region – afforded stunning panoramic views. Composed of five bedrooms and a
bright kitchen
, den and screened-in porch atop a steep hill, plus a sizable boathouse at lake level, the cottage offered plenty of space (and privacy) to make it work.
Muskoka room
Previously decorated in dark wood, the Muskoka room was transformed with coats of
white paint
on the wood-panelled walls and ceiling. The cream
sectional sofa
offers a cozy spot to curl up on rainy afternoons or play card games at night. "There is nothing fragile or precious in the cottage," says Tara. "You can sit on anything while wearing a wet bathing suit!"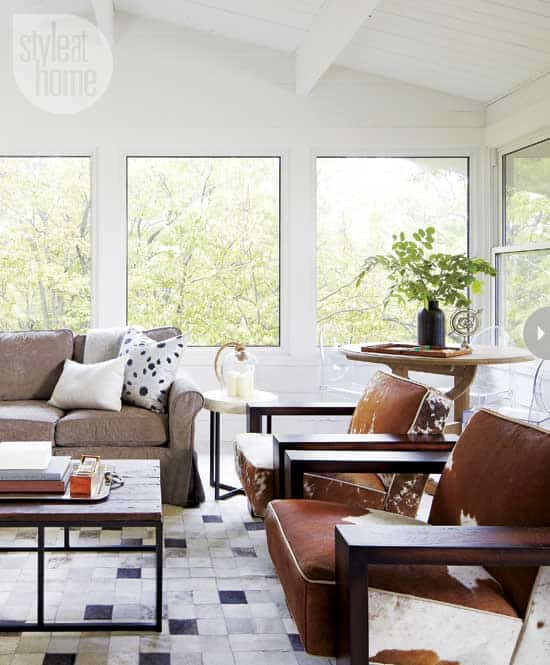 Family room
It's hard to believe that this newly renovated
family-friendly living room
, which offers panoramic views of the forest and Ontario's Lake Joseph, was formerly a simple
screened-in porch
.
Durable decor
Grey chenille
slipcovered sofas
, cowhide chairs and a
patchwork rug
are extremely durable, allowing for relaxed family living ("The dog sleeps on the sofa all the time," one of the homeowners admits with a laugh).
Extra seating
A round
dining table
in the corner of the family room offers a spot for late-afternoon games and refreshing
summer drinks
.
Boathouse kitchen
The new
white kitchen
down at water level allows for
brunch
to be served dockside and for drinks and snacks to be quickly accessed without making the trek up to the main cottage.
Open shelving

In the boathouse kitchen,
open shelving
, rather than closed upper
cabinetry
, maintains a lakeside casual look and allows guests to easily find what they need.
Dining area
The
dining area
needed to be able to accommodate a crowd, so the table seats 12 people. For even bigger gatherings, card tables can be moved in from neighbouring rooms. Designer Tara Fingold chose the acrylic
dining chairs
not only for their uncluttered look, but also for their indestructible quality.
Master bedroom
Windows in the
nautical style
master bedroom look out over the lake on one side and a treed cliff on the other; surprisingly, the
master bedroom
isn't in the main cottage but down at lake level in the boathouse, so the homeowners can escape the crowds at night.