Interiors
Interior: Old Hollywood decor

Interior: Old Hollywood decor
Interiors
Interior: Old Hollywood decor
Jessica Waks' place is so saucy one expects Mae West to suddenly sashay across the room. Evoking the glitz of Old Hollywood, this Toronto apartment features a peculiar mix of
decor
that swirls together in one glorious, uplifting burst: old-world paintings, colourful pop art,
vintage
furniture, shadow boxes containing Jessica's late grandmother's makeup compacts - even taxidermy butterflies. "Our apartment has the look and feel of a bygone era but with modern touches," says Jessica, who shares her digs with two sphynx kittens and one very accommodating fiance, David Goodman.
Meet the homeowners
Homeowner and decorator Jessica Waks with fiance David Goodman. For design ideas and inspiration, check out Jessica's blog:
jessicaclairesworld.blogspot.com
.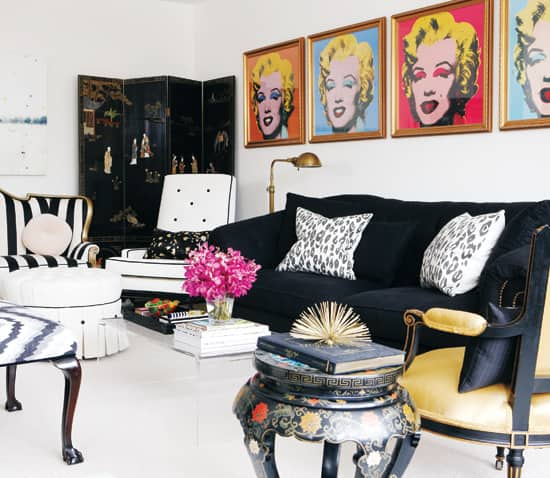 Colour coded living room
Instead of being a dizzying mishmash of styles, the living room works because the colours are repeated.
Eclectic furniture
There may not be much colour in the apartment, but this room has a bright personality (and not just because of sphynx kittens Little Edie and Lucille II) with its
eclectic
mix of furniture.
Reinforcing the palette
Floor lamps embellished with grosgrain ribbon flank a slim console that was updated with a coat of paint. The leopard-print cowhide reinforces the black-and-white palette, while the acrylic stool adds visual weight.
Dining room details
"If I have something clean, I have something fussy next to it," says Jessica. In the dining room, she tempered Louis-style chairs and a gilded mirror and chandelier with a streamlined Parsons table.
Colourful accents
Pink and gold accents extend even to the dishware and macarons.
Retro kitchen
Plates on display in the
kitchen
pop against the neutral wall.
Black-and-white bedroom
Jessica's signature use of black and white throughout the
bedroom
is surprisingly calm and soothing. The amber orange of the toss cushions and the photo of a vintage chandelier adds just the right amount of colour.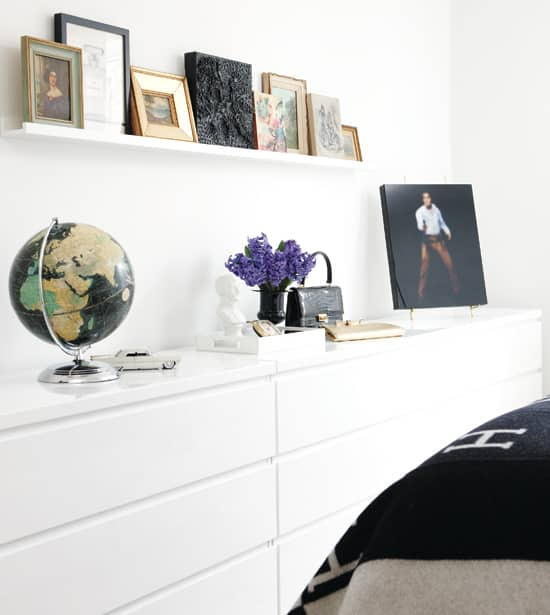 Diverse displays
A floating shelf creates an instant mini-gallery. Jessica's evolving display includes a framed vintage Chanel No. 5 advertisement, a white model car (signed by The Fonz himself!) and a bust of Napoleon.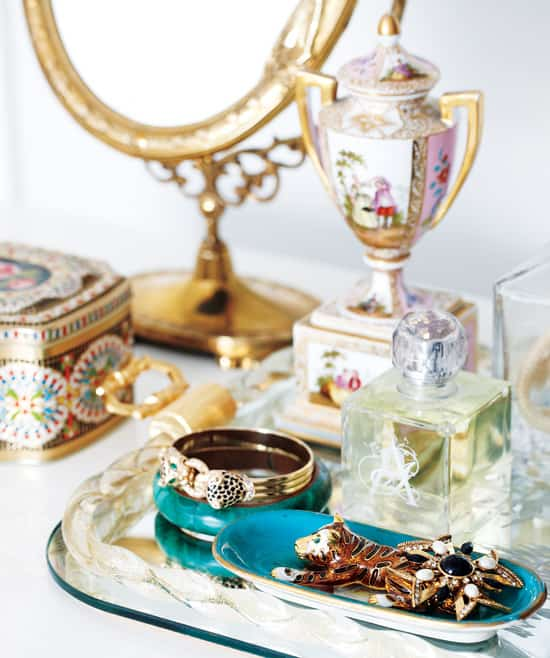 Vintage art
A tin tea box, mirrored tray and even vintage jewellery count as art.