Interiors
Interior: Parisian townhouse

Interior: Parisian townhouse
Interiors
Interior: Parisian townhouse
It's not uncommon for homeowners to pick up design inspiration during their travels. Whether it's recreating the rustic look of an Italian
farmhouse kitchen
or simply throwing down a few rugs found at an Istanbul flea market, infusing homes with ideas and items discovered abroad always gives a space a touch of personality and soul. Vancouver designer Effie Genovese used the same approach when it came to her own home, only on a much grander scale. It's no surprise, considering it wasn't just a quick jaunt across the pond that inspired her aesthetic but almost a decade of living and raising a family in the south of France.
When it came to this 5,000-square foot
home renovation
three years ago, Effie, who has been back in Vancouver since 2005 and runs the firm The Space Agency Design, wanted the house to complement the historical homes in its established Vancouver neighbourhood and reference something plucked out of Paris. (While living in France, Effie visited Paris regularly, trolling the flea markets and taking in the belle époque vibe.) "I envisioned an updated Parisian townhouse," says Effie, "like a house that you would find in Paris that had been renovated. It's modernized inside but still has all of the old charming details."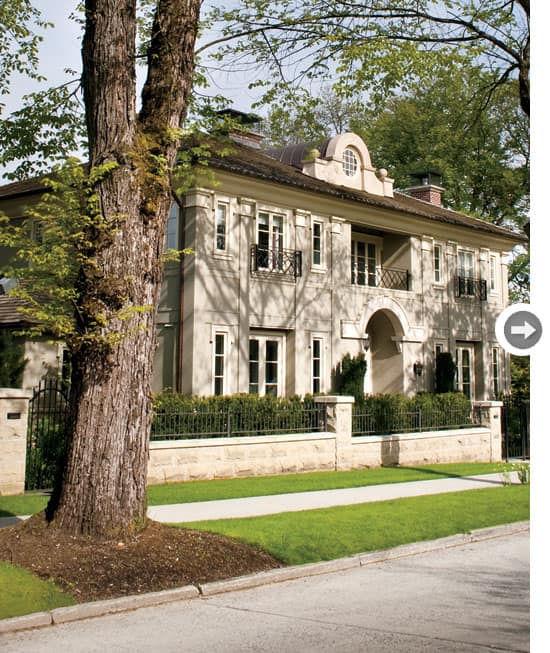 Exterior architecture
The exterior architecture of this three-year-old house complements the historical homes found in the treelined neighbourhood while still referencing
French charm
in the details.
French garden
The rendered plaster-and-limestone exterior features classical
architecutral details
like pilasters, iron railings and a clearly defined central entryway. With elements like chipped boxwood hedges and gravel paths, the landscaping also evokes a casual European feel. "It's reminiscent of a French
garden design
," says homeowner and designer Effie Genovese.
Parisian sophistication
Elements like the marble mosaic
flooring
and the door's ironwork lend the space graphic interest and Parisian sophistication. One thing's for sure: While foreign inspiration has become familiar in
home design
, this houses's blend of timeless formality, modern-day elegance and relaxed attitude is not so easy to come by.
Entryway
The home was designed so the front door leads straight into a round double-volume entry hall that also serves as an entertaining space made for hosting
cocktail parties
and large dinners. Featuring a domed ceiling, curved staircase and wood-burning fireplace, "it's a hall in the traditional sense somewhat referring back to very large manor houses," says Jim. "It has classical soul."
Timeless kitchen
The combination of recessed panelled
cabinetry
, a mix of marble and limestone
kitchen countertops
, chunky mouldings and a light
grey palette
creates an elegant timeless aesthetic in the kitchen.
Kitchen design
Suitable for entertaining and famiiy life, the kitchen boasts a work area where Effie's children often sit and do homework. The hard-working
kitchen island
incorporates a wine fridge, another beverage fridge with an icemaker ("It's great because I keep all the kids' drinks in there," says Effie) and a dishwasher drawer. A built-in hutch with glass-panelled cabinetry displays her good serving pieces and china.
Eating nook
A conservatory built off the kitchen serves as a light-filled
eating nook
.
Living room
In the
living room
, which leads to the front garden, Effie placed an intriguing mirror framed with hancrafted metalwork above the Louis XV-inspired fireplace mantel. "I didn't want a big mirror," says Effie. "This one has a bit of mirror but is more like a work of art." The various fireplace styles throughout each room, from clean-lined to more ornate, give the house a sense of "additiveness" often seen in
renovated historical homes
, says architect Jim Bussey. "In Europe, one of the beautiful things about older homes is you can see that people have come along over time and added things, so there are layers upon layers of style."
Master bedroom
The
master bedroom
showcases a vaulted ceiling and an ornamental frieze detail, which complements the space's feminine aesthetic and hides a more practical feature: "There's
lighting
in that recess that shines up onto the ceiling, so at night it has a beautiful glow," says Jim. An oversized crystal-and-glass
chandelier
fills the vastness of the room. "It makes everything more cozy," says Effie.
Elegant bathroom
Enveloping the bathroom, marble imparts a fresh, sophisticated look. "Marble reminds me of the old, grand
European hotels
," says Effie. "There's something very French and elegant about it."
Like this look? Find out how to add Parisian style to your home decor.