Small Spaces
Small space interior: Masculine chic
Small Spaces
Small space interior: Masculine chic
Two Toronto designers transform their century-old townhouse into a stylish masculine retreat.
Malcolm Patterson and Rodney Smith know a thing or two about style. As design afficionados who work with private clients, dress windows for top retailers and contribute their expertise to TV shows (you can see Malcolm's work on HGTV's Pure Design, hosted by Style at Home contributing design editor Samantha Pynn), these guys have the inside scoop on where to shop and how to pull it all together. They've embraced their own open-concept small space and created a mood of high style while maintaining the comforts of home. Carefully pairing luxe elements with some real deals from the local antique market brings an eclectic feel to their space.

Entrance
Everyone needs a chair when putting on boots or shoes. Malcolm and Rodney were drawn to the humour in this artwork. Viewed up close, the oversize piece is pointilistic; it's only when you stand back that the image reveals itself.
Living area
Graphic lines and strong accents give a small space big presence. The vintage chair was an antique-market find. It took homeowners Rodney and Malcolm about 5 years to find the right fabric to re-cover it.
Packed with style
Rodney sourced and painted the vintage suitcases for a window he was dressing and took them home when the display was dismantled.
Kitchen
The cabinetry blends into the exposed brick, making the space look less like a kitchen and more like an entertaining hot spot that flows with the rest of the home. "The mirror just ended up there when we moved in," says Rodney. But it tricks the eye by visually expanding the small space.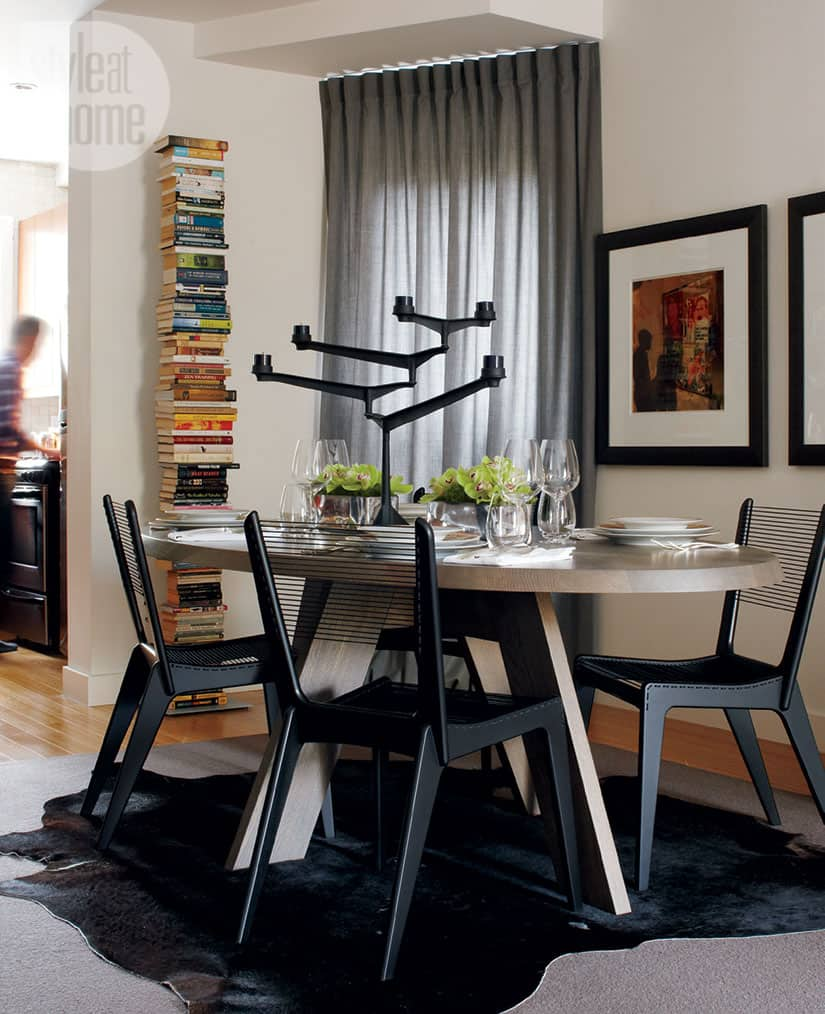 Dining area
Create balanced tension with a mix of soft and hard lines. For sculptural interest, the oval table is paired with the iconic Cord Chair, designed by Canadian Jacques Guillon in 1953. Custom drapery and layered rugs add comfort and warmth.
Bedroom
Dark enveloping walls -- perfect for cocooning in a basement -- and oversize lamps frame the teak bed, topped with a blue Hermes throw for a luxe touch. Glowing cubes add form and function: they're both bedside tables and lighting.
Bathroom
"Our bathroom is so big you could park a Mini in it!" says Malcolm. The vanity, a repurposed stereo cabinet found at an antique sale, provides storage and is a great conversation piece. Sculptural sago palms make a style statement.
Rodney Smith (left) and Malcolm Patterson share their small space secrets.

Style at Home: What's your design philosophy?
Malcolm Never compromise; keep hunting until you find the perfect item. Stick with classic, timeless looks.

S@H: How do you set the mood?
Malcolm We make sure our home feels calm, warm and inviting. We insist on putting dimmer switches on everything.

S@H: How do you maximize space when entertaining?
Rodney We use the kitchen island as a bar, which frees up the dining table for eating. If we have more than six people over, the dining table becomes the hors d'oeuvres table. The trick is keeping the flow going.

S@H: What do you tell clients who live in a small space?
Malcolm You don't need to buy small things. A larger sofa will carry your eye farther, giving the illusion of a bigger space. The same goes for drapery. Don't just cover the window -- do the entire wall.