Small Spaces
Small space interior: Narrow row house

Small Spaces
Small space interior: Narrow row house
Style at Home editor Erin McLaughlin has created a welcoming sanctuary filled with midcentury furniture and cherished keepsakes.
It never occurred to me that I could have a love affair with a house. After all, bricks and mortar do not a life partner make. But in the case of a 141/2' wide Victorian cottage in midtown Toronto and a recently divorced magazine editor, romance was definitely in the air on a spring day in 2002.

It was never a question of style that drew me to my tiny abode. It was the sense that, when I first walked through the door of the crooked charmer, I belonged there. Of course, there was nothing even remotely appropriate about my 1887 heritage house. It needed a full renovation, from plumbing to drywall, and I was determined never to "reno again." But like anyone attracted to the wrong partner, I wore rose-coloured glasses the first day that I saw the place. Crumbling walls were merely "patina," and knob-and-tube wiring was "nostalgic." As I stood on the threshold, I knew I had fallen – hard. And now, eight years later, my little house continues to captivate me.

There are compromises in every long-term relationship. On the occasions my house partner has disappointed me in substance, it has quickly made up for any shortcomings with style. The long, narrow rooms are a perfect complement to my look: contemporary with a nod to quirky, Euro style. High ceilings are the terrific backdrop for my burgeoning collection of photos and paintings. Original doors and vintage hardware – yes, I've been locked in rooms before – mix beautifully with midcentury modern furniture. And the southern light in my bathroom is just right for warming the claw-foot tub. My initial intent was to make the house feel like it had been frozen in time – tumbled-limestone floors and an Aga cooker were meant to emulate the look of a 19th-century English manor, while dark stained oak floors, floor-to-ceiling silk drapes and creamy paint helped create my version of a 1920s Parisian apartment.

Throughout our comfortable years together, I have been faithful with a consistent palette of neutrals – a must for small houses. Though the colours have shifted from warm to cool (Farrow & Ball's Matchstick was repainted with Skimming Stone this past spring), the overall serenity is the same. For impact, I use dramatic accent colours to draw the eye from room to room. I admit I'm fickle with colour: my once beloved pink has given way to a new favourite shade – a fresh French blue. And my house has been kind with my addiction to beautiful fabric. I've been able to refine and redecorate as my mood or the seasons change, with an assortment of cushions and curtains.

Although those exciting honeymoon days may long be over, walking into my house is like climbing into a warm bath. The interiors are not only a comfort to me, but also a never-ending source of quiet joy and inspiration. A place I can call my own.
When you first walk in, it's hard not to notice my love for animals, which includes my herd of five horses and two dogs. Portraits, by my artist friend Jenn Pratt, of Beaudelaire, my Oldenburg-cross gelding, help transport me out of the city whenever I look at them.
An all-neutral room becomes dramatic with the addition of a French blue linen sofa. The contemporary Lucite coffee table adds the style contrast that I love.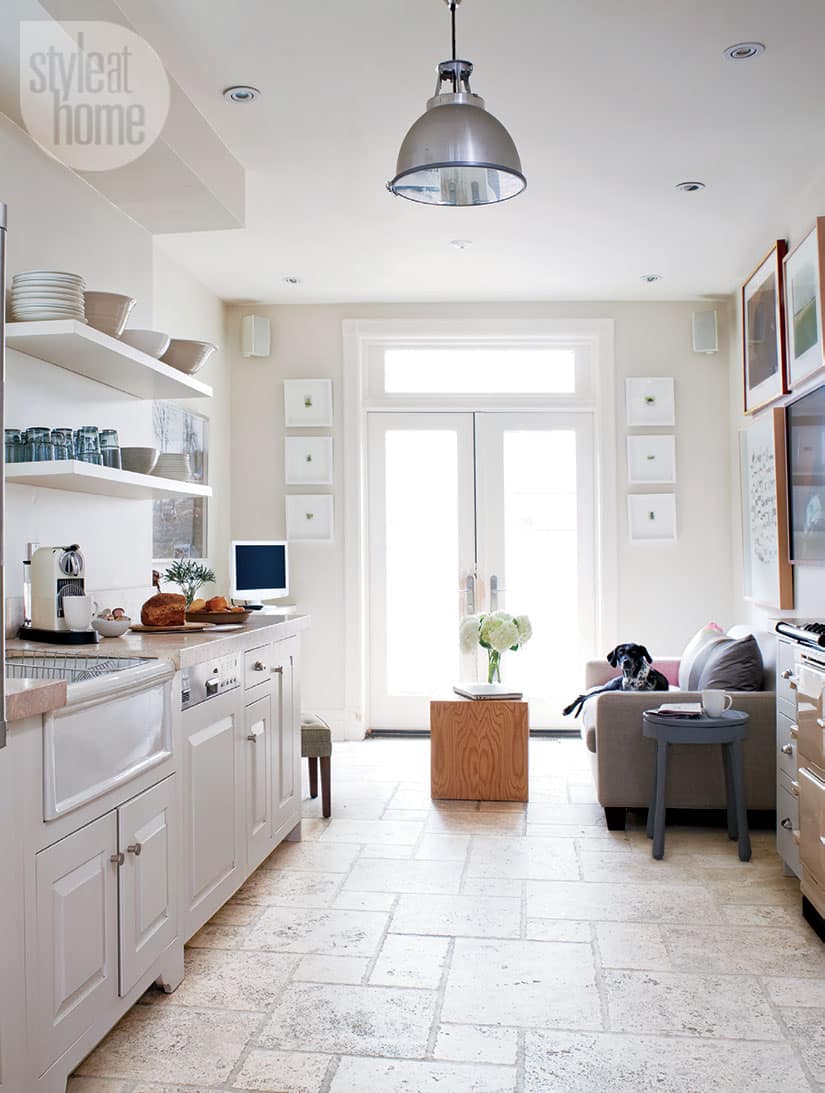 The bane of most rowhouses is a deficit of natural light. I peppered the ceiling with as many halogen pot lights as I could afford, and put on a 10' addition with glass doors and a transom to brighten the space.
My dad, a former architect, inspired my love for collecting. I'm lucky to work with so many talented artists – my only challenge is wall space. This mixedmedia piece, Pre-wrap Series #012 by Canadian artist Andrea Bolley, was a gift from my father.
Tallulah (pictured) and Janou are incorrigible when it comes to food on the counter. Limestone counters and floor tiles camouflage the crumbs.
Finding the right piece (especially in a tiny house) is always a challenge. In this case, the chandelier was my Holy Grail. My minimalist hand-blown fixture (I call it the fishbowl) from Niche Modern was a thrilling find.
I painted my room a chameleonic Great White by Farrow & Ball. It changes throughout the day – grey in daylight and moody purple at night.