Small Spaces
Small space interior: Urban eclectic

Small Spaces
Small space interior: Urban eclectic
A designer creates a luxurious yet cosy space by going by the book and taking bold risks.
The best kind of creativity comes from pushing the boundaries and knowing when to follow a few key tenets. Take Yanic Simard's chic home, for example. High on personality, it's a layered mix of eras and styles, fabrics and textures, colours and patterns, and even price points. "I just had fun," says Yanic, the principal designer of Toronto Interior Design Group. "This time, I was my own client. And when you design your own space, you can really experiment. I thought, 'Let's do this. Let's mix the unmixable!'"

But don't be fooled. This space's Type T risk-taking aesthetic belies a highly pragmatic side. When Yanic first clapped eyes on this Victorian gem in a west-end Toronto neighbourhood over a year ago, he saw past the dingy interior to the charming home it could become. And, believe it or not, the house provided him the chance to live in a small space – he lives on the 640-square-foot main floor while the second-floor space is rented – as opposed to something uncontrollably sprawling.

Hallway
Homeowner and designer Yanic Simard used to call the dark three-by-20-foot hallway "the tunnel." He brightened it up by adding graphic wallpaper, lighting that illuminates both up and down, and a row of mirrors, which reflect light and visually widen the space.
Den
The den showcases Yanic's penchant for mixing not only styles and eras but also high-end elements and low-priced finds. The plush chair is paired with an elaborate gilt table he found curbside, and the ornate fireplace, original to the home, displays artwork that cost just over $100. "I love combining expensive items with less expensive artwork," he says. "Price isn't everything."
Nook
A windowed nook in the den provides a spot to place a sofa bed covered in an inviting cerulean-coloured velvet. Linen-and-suede drapes – the banding gives the drapes a modern twist – offer the nook privacy and create a cosy, tucked-in feel.
Dining banquette
A sofa turns into a dining banquette with the addition of a sleek Saarinen table and gilt Chiavari chairs. "I also have a few ceramic stools that I move around," says Yanic.
Bedroom
Elements like a velvet-upholstered headboard, silk drapes and an embossed-tin dresser enhance the bedroom's luxe vibe. A sleek glass Eileen Gray side table balances the lush look.
Closet
The bedroom closet was outfitted with an organization system. "Functionality was paramount in my home, so I needed to incorporate a lot of storage," says Yanic.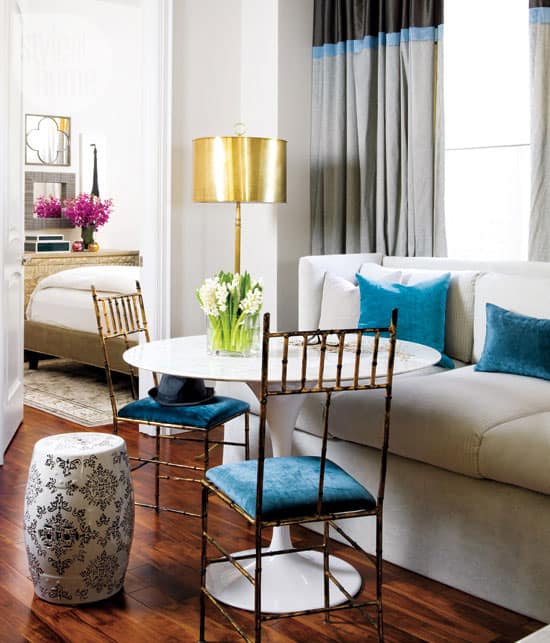 Pops of colour
The home's neutral backdrop – Yanic painted the walls in his signature light grey – is punched up with hits of blue and green. "Splashes of colour make a room feel less formal," he says.