Small Spaces
Small space: Manhattan loft

Small Spaces
Small space: Manhattan loft
A Canadian designer takes a Manhattan loft to new heights.
Kerry Dempsey is used to hotel rooms: After all, the Manhattan-based marketing professional travels as much as an airline pilot. She appreciates the user-friendly, trinket-free hotel style to such a degree that her own loft feels like one. "It's true," she says with a laugh, having just been told her home has been described as such by New York-based Canadian designer Brendan Kwinter-Schwartz. "I'm not the type of person who likes clutter or tchotchkes," she says. "I love clean lines and a light and airy, classic look"

Ten years ago, Kerry purchased the 680-square-foot apartment in a landmark building in Greenwich Village. She was attracted to the refurbished 19th-century space, with its generous windows and double-height ceilings, but the loft itself needed help. "When I moved in, I had the kitchen and bathroom remodelled," says Kerry, "but after seven years, I had grown tired of the space." Though she knew what she wanted – better storage, sleek style – it was easier to articulate than execute. Enter Brendan, who heads up Kwinter & Co. in New York City and is known for her luxurious spaces that are both glamorous and freshly modern, and cites David Hicks and Stephen Sills as muses.

The grandest style
"Even small spaces can have the grandest style," says Canadian-born designer Brendan Kwinter-Schwartz of the small Manhattan apartment she designed for marketing professional Kerry Dempsey.

Classic backdrop
The modern white backdrop is classic and can easily be invigorated and reinvented by changing up toss cushions and throw blankets. But Kerry doesn't think that will happen anytime soon: "I just love it," she says. "It's dramatic, light and airy."

Parsons chairs
Slipcovered Parsons chairs transition from sidechairs in the living room to dining chairs at the table. Armless options are a key consideration in a small space.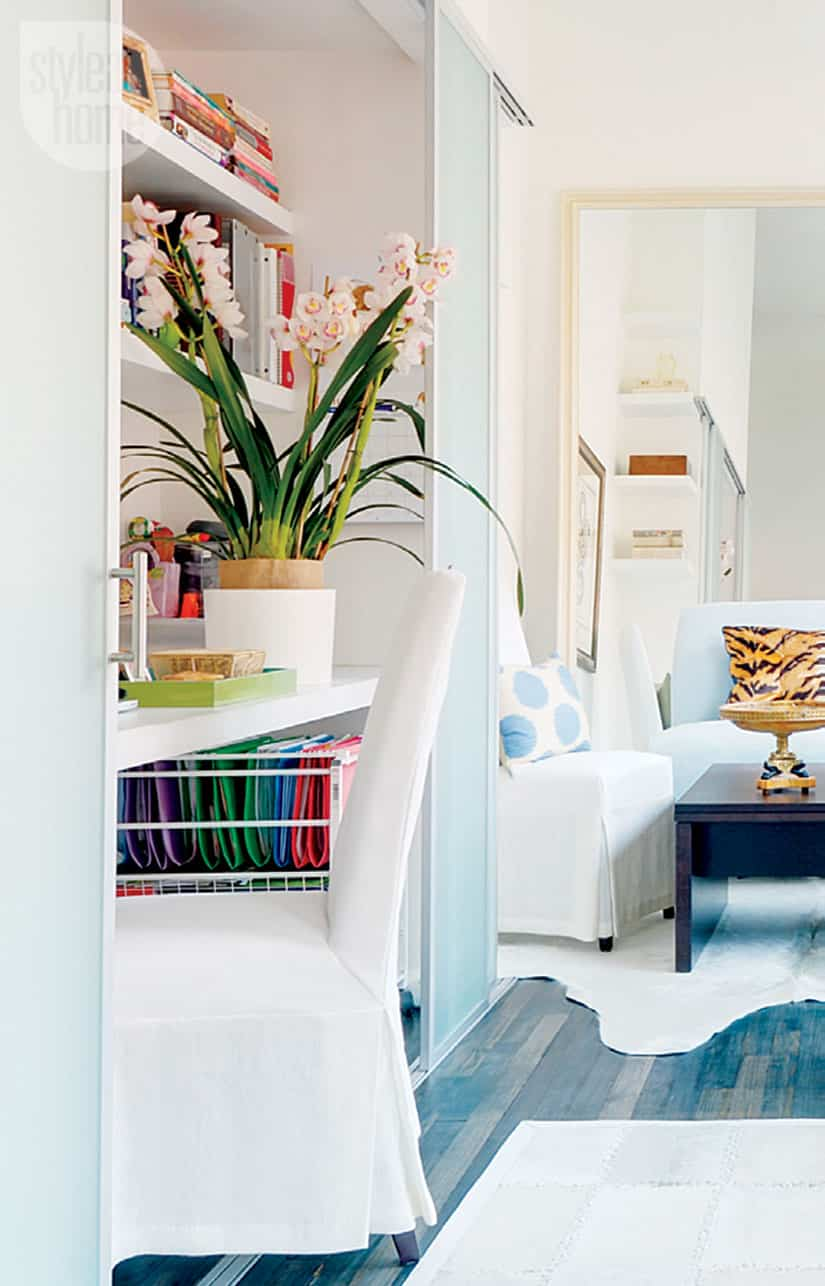 Hidden home office
Slide open the doors and pull up a sidechair for a home office that can be closeted away.

Ersatz bar
An Ersatz at-home bar doesn't require much room – all you ned is a small surface, a tray and a pretty piece of art!

Lift up and fold out, and the coffee table becomes a dining table.

Dining area
Turning the coffee table into a dining surface, Kerry pulls up the Parsons chairs as she needs them. The large mirror reflects light and creates the impression of roominess.

Loft bedroom
"The ceilings aren't high up here, but I'm 5 foot 3," says Kerry of her loft bedroom. "It's a cozy nest." Curtains can be pulled shut for privacy, while a wall sconce frees up space on the bedside table.