Small Spaces
Small space: Moody masculine apartment

Small Spaces
Small space: Moody masculine apartment
Oversized artwork, large furniture and bold colours reveal that for Toronto design consultant Andrew Campbell, the saying isn't "go big or go home," it's "go big to make it home."
To look at Andrew Campbell's super spiffy apartment in Toronto's Church-Wellesley Village neighbourhood, you'd never know it was once the scene of some serious sofa drama. In fact, there was a collective cheer when the seven-and-a-half-foot-long custom Thayer Coggin couch finally took up residence in the 600-square-foot space after it was discovered it wouldn't squeeze into the elevator.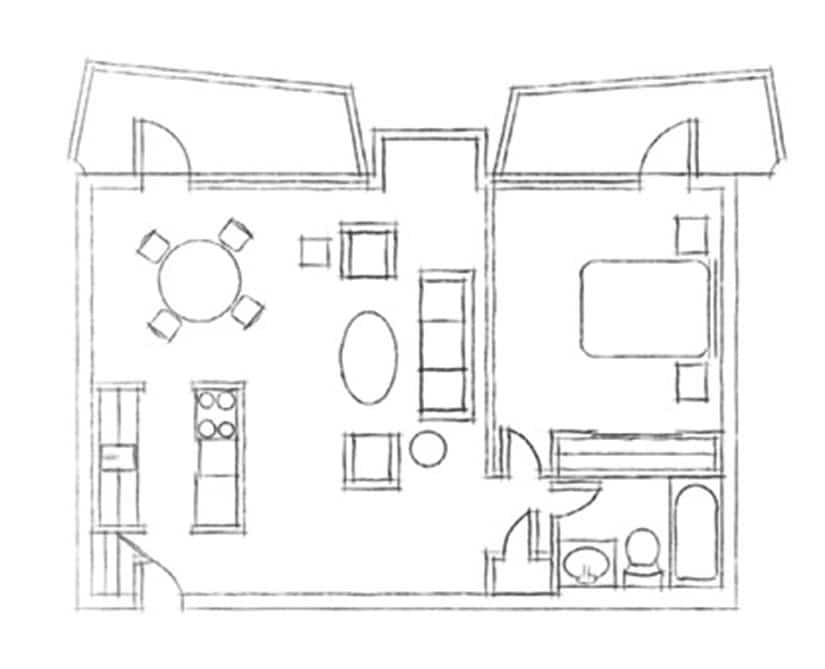 "The delivery guys were kind enough to carry it up 12 floors," says Andrew, a design consultant with Bentley Flanders, a contemporary-classic fine-home shop on King Street East's furniture row. Still, he admits, the fiasco cost him a bottle of Grey Goose and Veuve Clicquot on top of the moving fee. The moral of the story: Go on and buy that broad-hipped piece for your snug space.
Pop art
Contrary to what people think, dark hues work beautifully in tight quarters. "I love a feature wall that commands attention, and adds depth and warmth to a space," explains homeowner Andrew Campbell. "I have always been a huge fan of grey and navy with hits of red. Also, artwork tends to pop against a dark colour palette."
A far cry from the nondescript builder-white box it once was, the apartment that Andrew has rented for the past nine years with his partner, Roger Fish, and a Labrador retriever named Rex, has a laid-back, masculine style - or, as Andrew describes it, "a New York loft vibe." Enveloped in a deep colour combo of jewel-toned blue, grey and brown with sultry siren red as an electrifying accent, the small abode is immediately inviting.
Mixing elements
In this charismatic corner of the living room, Chanel prints, slouchy toss cushions atop a velvet bench and an exotic bolster are a captivating mix.
Coffee table books
Graphic artwork, a stack of great coffee table books and luxe materials, such as cowhide, leather and glass, provide head-turning moments here. Including the Jeff Koons-inspired balloon dog.
Mixed-grey dining area
It's impossible not to stare at the blown glass Dale Chihuly-inspired light fixture suspended above the dining table, for example. "I love giving guests focal points," says Andrew. "But I'm also committed to comfort, which is why the cushy sofa had to be in the picture."
The tufted-velvet headboard, faux chinchilla throw blanket and geometric mirrors add up to a layered, luxurious bedroom.
Dynamic reflective surfaces bring depth to the small space.
Man's best friend
Andrew shares a sweet moment with his dog, Rex. " It's Rex's place - we just crash here," says Andrew with a laugh.