Buying Guides
7 sexy Valentine's Day essentials

7 sexy Valentine's Day essentials
Buying Guides
7 sexy Valentine's Day essentials
Turn up the heat with these rakishly attractive finds for every room in your home. You may just find your love nest's ambiance moving from ho-hum to va-va-voom! Best part? Their chic – not schlock – designs (and flavours) mean they can add glam and style to your space year-round, not just on Valentine's Day.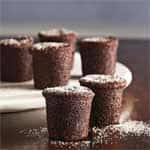 Hot chocolate!
Warm, melty bouchons (French for "cork") are Chef Thomas Keller's signature pastry at his esteemed Bouchon Bakery, in California's wine country. Williams-Sonoma's easy-peasy mix calls on premium Guittard cocoa powder and Callebaut chocolate chips to recreate the decadent dessert. (TIP: Use the special silicone bake tray to get the cool, cork shape.) Chocolate Bouchon mix (makes 18), $24, Bouchon mould, $35, Williams-Sonoma.com for store locations.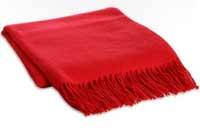 Something in fire-engine red
Add a jolt of red-hot romance to your rooms with a hit of rouge. This luxe, two-ply 100 percent cashmere throw is just the thing to dress up a loveseat or to drape across the foot of a bed, where it adds warmth as well as visual oomph. It measures 56" by 83" and has a generous 4" fringe. (Psst: It's from Bluefly, so you know you're getting a steal!). $186 US, bluefly.com.


Fresh blooms
Is your sweetheart someone who likes things just-so, or are they more of a wild-at-heart kind of Valentine? Traditionalists will love a dozen (or more) red roses – Ecuadorian Black Bacarra channels the right opulence – while free spirits will adore anything bright and informal: ranunculus, anemones, hyacinths, and tulips, for example. Call a local florist at least a week in advance so you can get exactly what you want. Featured: Rose arrangements from $50, Burst Flowers, Toronto, 647-436-8565, burstflowers.com.




A smokin' hot fireplace
White-hot in stainless steel, the supremely modern Blomus Chimo Round Face is the perfect fireplace for your shagadelic pad. Space-saving and easy to install, the unit mounts to the wall and doesn't even require a chimney. The Dutch-designed unit burns ethanol fuel and sparks conversation – as well as romance. $1,625 (free shipping), gabrielross.com.
A sexy designer candle
Cult-fave candles Ember by Jimmy Jane are the style cognoscenti fave for boudoir illumination. ("If you only burn one candle, make it Jimmy Jane," says Harper's Bazaar.) This special-edition version comes in black porcelain with a one-of-a-kind etching: each casing varies depending on the artisan's whim. Inside, you'll find Ember's eco-friendly soy candle in Soy Fig. Cosmetic-grade ingredients and a low melting temp make the candle suitable for more than just mood lighting ... massage, too! $65 US, jimmyjane.com for retailers.


A textile Valentine's Day card
IKEA's Hallskar cotton rag rug is a petite (doormat-size) Valentine's Day decor accent. Set it in the bathroom or by the front door as a happy, heartfelt greeting in lieu of a greeting card, or relocate it to your child's room as a year-round accent. $19.99, IKEA.ca and stores.


Sweet plates
You don't have to be a kid to love this super-cute tableware. Whimsical hearts and animals are just the thing for dessert. And, taking environmental concerns to heart, Pottery Barns Kids' dishwasher-safe Valentine's Day plates are now made from porcelain, not plastic. $39, per set of four 9-inch plates, Pottery Barn Kids for store locations.