Buying Guides
How to: Buy vintage fabric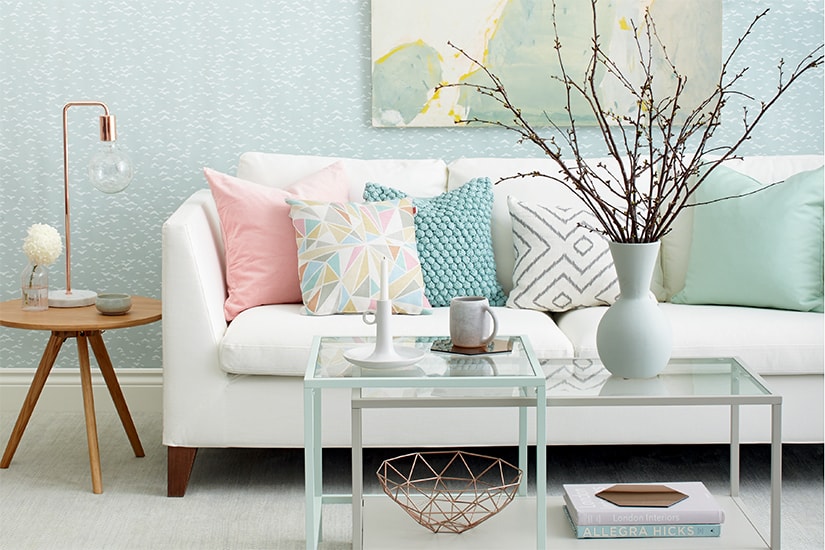 Buying Guides
How to: Buy vintage fabric
Nothing brings a piece of sweet nostalgia to your home like the timeless quality of a vintage fabric. With the ability to evoke feelings and memories, there is something uniquely satisfying about bringing a piece of the past into your living space and using it in a new way.
Vintage fabrics have gained in popularity over the last couple of decades as
home decor
trends have changed. For example, the shabby chic trend made barkcloth florals popular and currently the mid-century modern trend has made '60s and '70s prints popular.
Before bringing home a classic pattern to add to your decor, use these helpful tips to make sure you're bringing home something that will continue to age well.
What to look for when fabric hunting
It's best to buy vintage fabrics in mint, unused condition, but this is getting increasingly difficult. Before you buy, look the piece over carefully at the store. Always open up the fabric and examine the entire piece for stains and thinning spots. Vintage textile authority, Victoria Dinnick, says to be on the lookout for sun-fade. "The sun can rot fabrics and make them weak," she says. She recommends opening a piece of fabric wide and giving it a gentle tug. As the owner of the eclectic Toronto vintage store,
Gadabout
, Victoria knows that storeowners won't appreciate you manhandling the fabrics, so do it carefully. "There's nothing that can be done about sun-fade. Once the fabric is weak, it's weak," she says. "But it doesn't spread, so you can cut out a small area and still salvage the rest." Victoria also recommends being on the lookout for mould and mildew (check both the front and back of the piece), which appear as tiny brown and black pinpricks. Again, there's nothing that can be done, so if you see them, think twice before buying.
Where to look for vintage finds
At the top end of the market are auction houses, followed by estate and rummage sales, church bazaars and thrift stores. Vintage clothing fairs are also a great source for textiles. Check your local newspaper for times and locations. Victoria suggests that fabric stores that have been in business for a few decades "sometimes have old stock hidden away in their basements and are usually happy to get rid of it." Consider asking the store owner if he or she has anything that isn't on display.
Online sources are plentiful, but be cautious when buying any vintage item online. Nothing compares to holding a piece in your hands and examining it yourself, so make sure the company has a good return policy before purchasing. Going to a brick and mortar store will let you get up close and personal with the item. You can pick it up, handle it, check it under the light and be sure it's what you want.
How to clean your "new" old fabrics
Old fabrics can get dusty. To remove dust, place nylons over a vacuum nozzle and gently vacuum the fabric. If it has a musty smell, Victoria recommends laying it out in the sun for a few hours.

If the material is dirty you may want to try washing it. Some fabrics are fragile, but as Victoria says, "If it can't stand up to washing it won't stand up to being used for upholstery. It's better to lose it during washing than have it be destroyed after you've upholstered something in it." When washing, be cautious of using chemicals. Certain cleaners can cause the dye to run in vintage fabrics, so it's best to use natural materials. Victoria recommends testing a corner in case the fabric bleeds.

If you've invested a lot of money in a piece, consider professional cleaning. Make sure that you find someone with experience in vintage textiles. Ask the proprietor of a vintage or quilt store to recommend someone in your area.

Using your vintage finds in home decor projects
The possibilities are endless when it comes to adding a vintage piece to a room, so indulge your creative side. Here are some ideas to get you started:
Mismatched antique
linens
are perfect for old-fashioned hand towels in a guest bath.
Reclaim old tablecloths or upholstery and give them new life as pillows—add them to a neutral sofa or chair for a clean look with a sense of history.
Old curtain panels are great for upholstering ottomans or occasional chairs.
Bring romance to the bedroom with a whimsical floral headboard.
Personalize lampshades with an unusual print.
Line the inside of a bookshelf or armoire for personalized charm.
When in doubt, frame it. You can preserve fragile and meaningful pieces while still displaying them for all to see.