Buying Guides
What's new in washing machines
What's new in washing machines
Buying Guides
What's new in washing machines
1 Green thinking
Bosch's new Vision washing machine stays one step ahead when it comes to energy conservation. A network of sensors analyzes each wash cycle from start to finish and automatically adjusts the water level, temperature and soap amount to ensure every laundry load is an
environmentally friendly
one.
Vision washer from $1,249, Bosch
(pictured with the Vision dryer).

2 Full steam ahead
Sleek and sophisticated, the Electrolux Front Load washer is state of the art when it comes to
steam cleaning
. To remove stains or reduce wrinkles, just add steam to any of the 13 cycle options. You can also program 10 different combinations of wash speeds and rotation directions, as well as soak and wash times (In a hurry? Opt for the speedy 15-minute wash time).
Front Load washing machine $1599, Electrolux (pictured with the Front Load dryer).
3 Choose your own adventure
Options abound with the Affinity washer from Frigidaire. You can choose the energy saver option to reduce water temperature and shut off indicator lights, or add steam to any wash cycle to tackle tough stains. There's also a large selection of specialty cycles for everything from stuffed toys and kids' clothes to jeans and active wear.
Affinity steam washer $1199, Frigidaire (pictured with the Affinity dryer).
4 Gentle giant
You may never need to hand wash again. The GE Profile Energy Star Top Load washer gently pulls clothing through the water in a gentle, reversing arc motion as opposed to using a more rough-and-tumble agitator system. You'll also conserve water with the 'rainshower' rinse system that gives every load three gentle showers, instead of filling the washtub with water.
Profile Energy Star Top Load washer $899, GE (pictured with the Profile Energy Star Top Load dryer).
5 Terrific touch screen
Forget the iPad -- the latest
tech gadget
is in the
laundry room
. With full-colour LCD touch screens (so you can scroll through a vast array of settings and cycles) and a USB port (in case you want to create custom applications, or download cycle updates), the Vantage washer from Whirlpool is a gadget lover's dream-come-true.
Vantage washer $2,199, Whirlpool (pictured with Vantage dryer).

6 Stylishly simple
For people who don't want to push too many buttons, the energy-efficient Amana Front Load washing machine simplifies laundry day with six cycle settings, a large capacity drum to cut down on loads, as well as an 'add-a-garment' feature that allows you to safely toss in whatever you forgot the first time around.
Front Load washing machine $799, Amana (pictured with the Front Load dryer).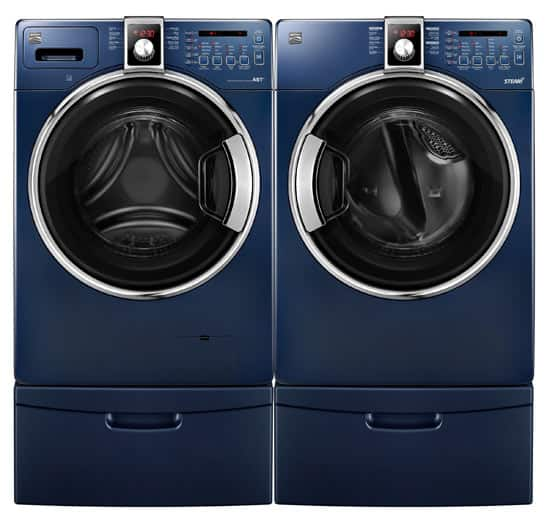 7 The silent type
No need to hide your laundry in the
basement
-- the Kenmore by Samsung Front Load washing machine is designed to be showcased on the main floor. The washer's sleek, contemporary design is coupled with stabilization technology to reduce vibration and noise (36 stainless steel balls spin in the opposite direction to balance the washer when it's in full swing).
Front Load washer $1,300, Kenmore by Samsung (pictured with the Front Load dryer).
8 Allergy alert
Got the sniffles? LG's Ultra-Capacity Steam Washer is the first washing machine certified as asthma and allergy friendly by the Asthma and Allergy Foundation of America (AAFA). The washer removes 95 percent of
common household allergens
, such as dust mites and pet dander, with its Allergiene cycle.
Ultra-Capacity Steam Washer $2,000, LG (pictured with the Ultra-Capacity Steam dryer).