Gifts & Must-Haves
10 gourmet gift ideas for the holiday hostess

10 gourmet gift ideas for the holiday hostess
Gifts & Must-Haves
10 gourmet gift ideas for the holiday hostess
It's the holiday season and that can only mean one thing – a fully packed calendar of
Christmas festivities
! With all the hustle and bustle of the holidays, don't let shopping for presents for the party host slide down your list of priorities. Here are 10 gourmet
gift ideas
for the
holiday hostess
to inspire your gifting choices this season – buy something special for the foodie on your party list or keep several on hand for last-minute invites.
1 Tandoori spice blend
Spice things up with your
holiday hostess gift
this year! This tandoori spice blend is a fragrant mixture of paprika, coriander, ginger, cayenne pepper, cinnamon, black pepper, cumin and crushed hot red chilies.
PC Black Label Tandoori Spice Blend, President's Choice, check store for price.
2 Brie baker
A staple of holiday gatherings,
Brie
is a versatile cheese that can be paired with everything from
grilled flatbreads
to pears. Pick up your favourite variety to gift together with this ceramic Brie baker, which can just be popped in the oven to warm up the cheese as guests arrive.
Brie baker, Indigo Books & Music, $20.
3 Salted caramel peanut butter
It's about time that classic
peanut butter
got an update, and now there's a rich and flavourful nut butter just for foodies. Present your gourmet hostess with a jar of this
salted caramel
peanut butter to add an extra layer of flavour to baking or simply to spread over morning toast.
Salted caramel peanut butter, Monkey Butter, $10.
4 Dipping oils
The perfect pantry item to have on hand for nibblies, dipping oils are an ideal
hostess gift
for the
gourmet foodie
. Williams-Sonoma offers up five delicious flavours to choose from: herbs de Provence, Parmesan garlic, pesto, rosemary garlic and sun-dried tomato.
Dipping oil, Williams-Sonoma, $16 each.
5 Hot sauce
Gourmet
hot sauce
is all the rage these days, making it a fabulous
gift for food lovers
.
Stasis Preserves uses fresh ingredients to create their small-batch Ontario hot sauce, and it packs a serious punch with locally grown hot chilies.
Ontario hot sauce, Drake General Store, $9.
6 Marrakesh mint tea
Mint
is known to cleanse the palate and soothe the stomach. Show up with some mint tea as a gift at your next party so your host can brew for guests following a
holiday feast
.
Marrakesh mint tea, Sloane Tea, $18 per 50g.
7 Vanilla maple syrup
Nothing beats a warm stack of
pancakes
to start a cold winter's day. Gift your holiday hostess with this sweet vanilla bean
maple syrup
to enjoy with breakfast on Christmas morning.
Tahitian Vanilla Maple Syrup, Old Faithful Shop, $35.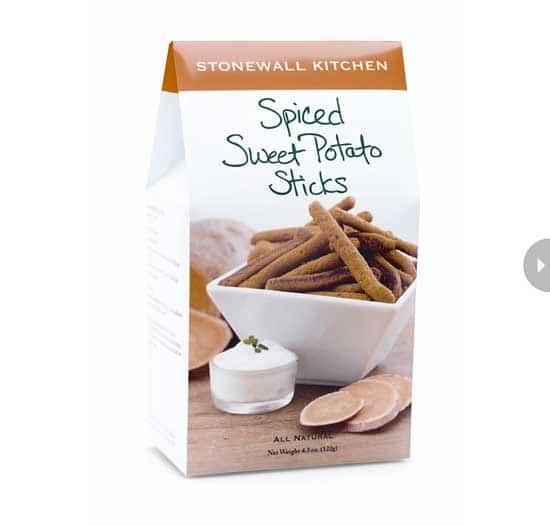 8 Spiced sweet potato sticks
Every
holiday party
needs a few tasty treats to snack on whilst sipping on cocktails. Show up at your next festive gathering with a few boxes of these
sweet potato
sticks that are spiced with red pepper, sea salt and a hint of cinnamon.
Spiced sweet potato sticks, Indigo Books & Music, $9.
9 Spice grinder
When it comes to spices, genuine foodies want the real deal. This cast iron spice grinder from
West Elm
is the perfect gift
for the
holiday host
who wants the freshest ground powders to flavour their food.
Cast iron spice grinder, West Elm, $64.
10 Truffle and salt
If you're looking for a truly luxe present for a foodie friend, give the gift of
truffles
. This sea salt mixed with Italian truffles can be sprinkled on everything from grilled meats to
roasted potatoes
to buttered popcorn, for a rich, earthy flavour.
Truffle & salt, Williams-Sonoma, $37.