Gifts & Must-Haves
10 never-fail wedding gift ideas

10 never-fail wedding gift ideas
Gifts & Must-Haves
10 never-fail wedding gift ideas
With summer typically comes an onslaught of weddings and all the celebratory events surrounding it, like
wedding showers
and bachelorette parties. There's really nothing like getting to spend this special day with a friend or family member, and to help start the newlyweds' new life together, you'll want to get them a gift that is memorable, practical and stylish … as well as something that they will forever cherish. We've rounded up 10 classic, never-fail wedding gifts to buy this wedding season.
1 Fine dinnerware
Another tried, tested and true wedding gift is either fine china or
fancy dinnerware
that the newlyweds can whip out on special occasions and for entertaining. Opt for a classic style that will serve them well for a lifetime.
Pottery Barn, $91.80-$387.59.
2 The all-purpose mixer
Every home needs an all-purpose mixer – one that will help bake
birthday cakes
,
cupcakes
, make bread and many other culinary firsts for the newlyweds. And with so many colour options to choose from, you're sure to find one that suits the couple's style.
Crate and Barrel, $448.99.
3 A vintage board game
For cold, cozy winter nights by the fire, or for hot summer nights in the backyard, every home needs a selection of board games … not only for quality date nights at home, but they're also perfect for
entertaining guests
.
Restoration Hardware, $279.
4 Copper cookware
Since so many newlyweds are setting up their home together for the first time (or moving into bigger digs), you can never go wrong with classic
cookware
as a gift. A sturdy copper saucepan will be used for family night dinners for many years to come.
West Elm, $275.18.
5 A memorable coffee table book
A coffee table book with beautiful large images is a unique gift, especially if you select something close to the couple's heart like a travel book on their honeymoon destination. A beautiful
coffee table book
is an affordable
wedding gift
option but still shows you care. Plus, you can handwrite a thoughtful note to the couple on the inside cover.
horchow.com, $38.90.
6 A classic cookbook
A gift that will keep on giving is a timeless and
classic cookbook
. You can't go wrong with Julia Child's Mastering the Art of French Cooking, and your newlyweds will be cooking up a storm for years to come. Maybe they'll even invite you over for dinner!
Indigo, $29.70.
7 Champagne flutes

For all the festivities that the future is sure to hold for the newlyweds (anniversaries, birthdays, babies, holidays, etc.), nothing can help them celebrate those moments better than these sleek, sophisticated
champagne
flutes. Cheers!
Pottery Barn, $63.51.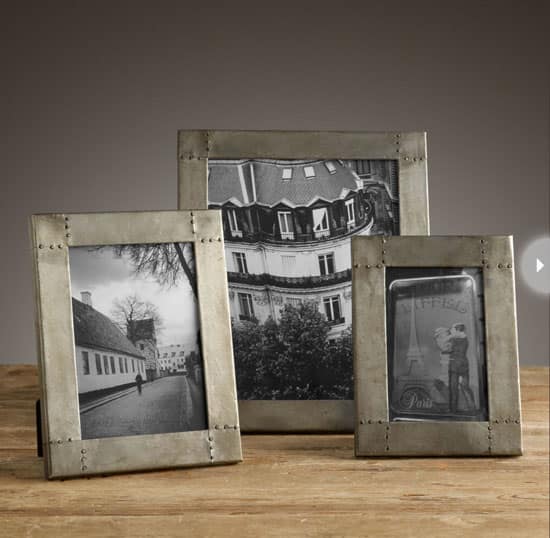 8 A collection of picture frames
The best way to store memories and keep them alive? Photographs! There will be plenty from the actual wedding, engagement and honeymoon, so give your newlyweds the perfect way to capture and display their favourite
photos
with classic silver frames.
Restoration Hardware, $45-$65.
9 Personalized print
Besides photographs from the couple's personal collection, it's nice to fill a frame with a memory or something special and unique. We love this
canvas print
that tells the story of the couple and it would look perfect hanging in an office, or framed on a bedside table.
redbarncanvas on Etsy, $150.65.
10 Classic flatware
When two lives (and kitchens) come together as one, there's bound to be some mixing and matching, especially when it comes to
flatware
. A sleek and classic set of cutlery helps newlyweds get organized and set for entertaining in the future.
West Elm, $62.69
.
Need more gift ideas? We've got eleven great wedding gifts the bride and groom will love.