Gifts & Must-Haves
Christmas gift guide: 10 stocking stuffer ideas

Christmas gift guide: 10 stocking stuffer ideas
Gifts & Must-Haves
Christmas gift guide: 10 stocking stuffer ideas
Although Christmas shopping is often the biggest challenge of the holiday season, shopping for
stocking stuffers
can be a lot of fun! These little treats don't carry the same weight as big presents do, but they can bring a whole lot of pleasure; probably because they tend to be useful, indulgent or just plain novel. If you're stuck for stocking stuffer ideas, here are 10 suggestions to help you get started.
1 Essential oils boxed candle, winter berry
The warmth of
Holiday candles
are always welcome; especially a lusciously scented one like this. Pomegranate, cassis and sweet orange mixed with clove and cedar – perfectly suited to creating a cozy atmosphere.
Williams-Sonoma, $29.43
.

2 Playing card holder cards set
With the winter season in full swing, you're bound to spend nights hunkered down, looking for something to do. Why not play cards? This beautiful polished silver case will make them easy to find.
Pottery Barn, $25.65
.

3 Peppermint bark bites
A favourite
delicious Christmas treat
, now available in a set of four bars. An easy choice for any stocking, the biggest problem you'll have is not eating them before you wrap them!
Williams Sonoma, $14.75
.

4 iCushion
This little novelty item is both whimsical and incredibly useful. This
red tech accessory
is a little ball of silicone that suctions to your screen so you can prop up your smartphone to watch movies. We know someone on your list will be thrilled to find this gem in their stocking.
Cb2, $5.95
.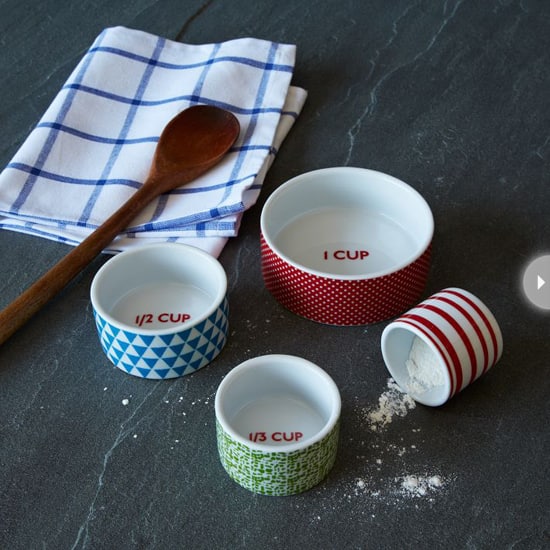 5 Patchwork measuring cups
Have a baker in the family? These pretty patterned measuring cups are a great idea for a baker's stocking.
West Elm, $19.86
.

6 Tazo tea gift set
Give the gift of comfort with this lovely set of six different teas in classic white reusable tins. The recipient will especially appreciate their
perfect cup of tea
on a cold, wintry night.
Starbucks, $21.95
.

7 Rainbow bright coasters with oval swirls
Buying for a consummate entertainer? Why not drop these fun, brightly coloured coasters into their stocking? They'll bring a smile for sure! ArtIsEverything on Etsy, $19USD.

8 Worker B toiletries
Give a little gift of pampering with these all natural soaps, lotions and balms. Particularly handy – and soothing - in this cold, dry season!
West Elm, $4.18 - $20.91
.

9 LOL tray
It's small and fun, but sometimes little trays like these come in really handy. From keys to pens to little odds and ends that need organizing, this makes a good gift for someone's
home office
or foyer.
Pottery Barn, $11.18
.

10 Seed bombs
Gardeners will love these little bags of seed bombs. From herbs to regional flowers, even edible flowers, they'll wish it was spring already!
Visualingual on Etsy, $7 per package
.