Accessories & Furnishings
12 days of ornaments: day 11 diy pick
Accessories & Furnishings
12 days of ornaments: day 11 diy pick
Out of the four DIY ornaments I'm doing this week for my 12 days of ornaments series, I think this one is my favourite. I really like cupcake ornaments because I think they're whimsical and super sweet. But since they're not that easy to find, I decided, hey, why not create my own? So here's my easy take on a cupcake ornament.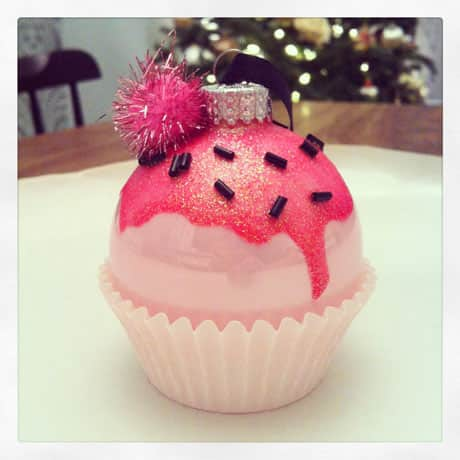 Of course, I had to do pink – I went with a tone-on-tone scheme but you could definitely go with a mixed palette. For this craft, I started with a pink glass ornament. I then applied
Martha Stewart Crafts
Multi-Surface Glitter Acrylic Craft Paint in Candy Apple to create the icing using a small paintbrush. (You have to do a few coats and layer it on thick since the paint is a bit transparent.) To expedite the drying time and to reduce any runs, I pulled out my hair dryer and dried the paint until it was tacky. At first, I was going to use edible sprinkles but then I came across these black glass bugle beads that look just like the real thing. When the paint is still wet to tacky, carefully (and randomly) place a few beads on the ornament. You might have to dry them in place with the hair dryer. Let fully dry. Then, hot glue a pompom to the top of the ornament (this is the cherry) and a paper cupcake liner to the bottom. I have to say that I'm really pleased with the outcome! Below is an inspiration shot that I took when I was at
Bloomingdale's
in San Francisco. I desperately wanted to buy a few of them but couldn't take the risk of travelling with them since they're all made of delicate glass.