Accessories & Furnishings
15 ways to create a cozy winter home
15 ways to create a cozy winter home
Accessories & Furnishings
15 ways to create a cozy winter home
The weather outside may be frightful, but that doesn't have to stop your home from being a warm haven to retreat to after a long day at work. With lots of soft textures,
romantic lighting options
, Canadiana cabin accessories and cosy alternatives that will cut down your energy bill, you can transform even a sleek, modern space into a comfortably
warm winter escape
.
Plaid throw
For a
Canadian cabin look
, opt for lots of plaids and tartans in your space. A few plaid throws like the one above are great to have on hand for cosying up in your home or cottage on chilly winter nights.
Pottery Barn, $103
.
Moose snow globe
Just because it's chilly outside doesn't mean you can't enjoy the snow! Embrace a winter
white colour scheme
in your home. This white snow globe creates a pretty winter wonderland in your home with just a few shakes.
Indigo Books & Music, $12
.
Quilts
The temperature is known to plummet at night during Canadian winters, causing heating costs to skyrocket. Keep your utilities at bay by adding a quilt to the bottom of the beds in your home, ready to just pull up over the duvet if the night gets chilly. A quilt is really one of the
winter bedroom essentials
.
West Elm, $134
.
Winter home scents
Smell plays a big role in creating a cosy atmosphere in your home, whether it's
cookies baking
in the oven or a scented candle warming a room. For a woodsy aroma of fir, cypress and hearth, try the Winter Home Scent collection from Restoration Hardware, available in candles, diffusers and room sprays.
Restoration Hardware, from $24
.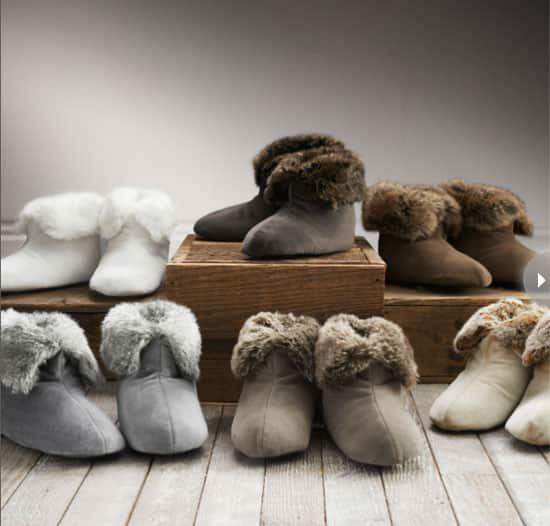 Slippers for guests
Don't forgot about visitors when preparing your home for the winter season. Keep a few pairs of these faux fur booties on hand for the tootsies of friends coming over for afternoon tea or family popping by for Sunday dinner. Keep them in your
cosy guest room
as an added surprise.
Restoration Hardware, $20 a pair
.
Floor runners
There's nothing worse than rolling out of bed on a wintry day and heading to the kitchen to make coffee only to feel your feet freeze on the tiles beneath you. For rooms with tile or stone flooring, toss down a few carpet runners and
bold area rugs
to keep your home warm underfoot.
Photography by Ashley Capp
Towel warmer
Treat yourself to the ultimate in winter luxuries. A towel warmer keeps your bath towels toasty so you don't feel a chill after hopping out of the shower. It is one of the nicest
beautiful bathroom ideas
ever.
Bed, Bath & Beyond, $429.99
.
Soft textures
During the hot summer months, it's all about paring down our homes to the bare minimum, with wide open spaces and cool, sleek furniture. Cosy up your home for winter by introducing
soft textures
like cashmere, velvet, faux fur and wool.
Photography by Stacey Van Berkel-Haines
Warm soups and stews
Nothing warms the heart and a home like a big pot of soup or stew simmering on the stove. Let the aroma of this wild mushroom and
butternut squash soup
fill your home with tasty smells of the season.
Photography by Edward Pond
Daybed
Cosying up inside on a Sunday afternoon with a cup of hot chocolate while the snow blows around outside – sounds ideal, right? Create a serene space for such blissful days by adding a
decorated daybed
to a nook in your home like the one above. It can also double up as a
soothing guest room
.
Photography by Robin Stubbert
Warm candlelight
The shorter winter days not only take a toll on your mood, but your energy bill as well.
Decorating with candles
can help counter this effect. Flick off the lights and create a cosy atmosphere in your home with soft candlelight, perfect for relaxing with a loved one or catching up on your favourite TV shows.
Photography by Kim Christie
Antler chandelier
Transform your home into a ski lodge with a few simple touches, like an antler chandelier. Put the light on a dimmer to create an intimate atmosphere in your
dining room
or living space.
Photography by Stacey Van Berkel-Haines
Shag rug
Give your feet a treat by laying down
soft rugs
throughout your home's living areas. Switch up the sisal and flatweaves from the summer months and try a fluffy shag for the winter season.
Photography by Virginia MacDonald

Flannel sheet set
Soft sheets are worth their weight in gold, and a flannel set is the only way to go in the winter. Plus it is an easy way to create a
bedroom makeover
. This classic multi-stripe set from the Hudson's Bay Collection will keep you warm at night while giving your bedroom a touch of Canadiana style.
The Bay, from $150
.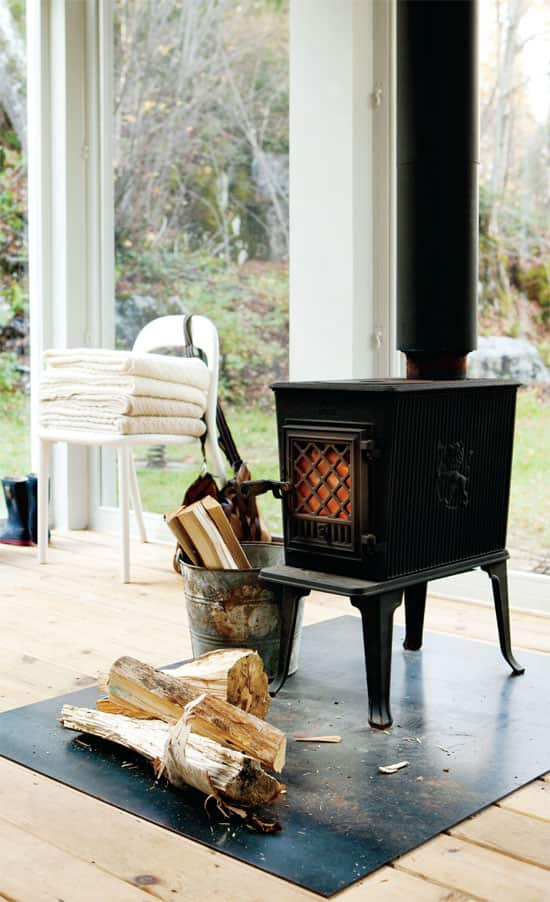 Wood burning stove
Though gas fireplaces are readily available to install in most homes these days, there's nothing like the comforting smell of a wood-burning stove. Reminiscent of
warming Canadian cottages
, wood stoves are a great way to keep your home's heating costs down as well.
Photography by Nicola Marc