Accessories & Furnishings
8 photographers share their favourite holiday photo
8 photographers share their favourite holiday photo
Accessories & Furnishings
8 photographers share their favourite holiday photo
It's said that beauty is in the eye of the beholder, so we asked nine of our top photographers to capture a personal moment that inspired them over the
holidays
and share it with us. You can buy a print and donate to charity with the purchase of each art work.
Nina Teixeira
"For the past 10 to 15 years, I've gone to
Vancouver
Island during the holidays to visit my parents. Last Christmas, my brother and I left the island a day early and went to Grouse Mountain. I've always seen the North Shore Mountains from afar, but I've never actually stood on them before. We took a breathtaking gondola ride from the base of the mountain to a chalet at the top, and then travelled through a mile of snowcovered Douglas firs surrounded by clouds. Once we reached the chalet, my brother went in to get a table and I told him I'd be back in 10 minutes.
With camera and tripod in tow, it soon became five hours. If there was ever a real
winter
wonderland, this was it. There were towering, snow-covered trees as far as the eye could see, making you feel like a tiny speck on the earth."
Buy this print for charity

Nina Teixeira, ninatex@sympatico.ca; price $75, charity:
Toronto Wildlife Centre
.
Donna Griffith
"As much as this photo looks like a spontaneous moment, it really wasn't. The Santa is my partner, Kirk, who bravely agreed to be my model for a shoot. We were in downtown
Toronto
, taking a break, when a homeless man yelled 'Hey, Santa, what are you getting me for
Christmas
?' Kirk answered, 'How about a sausage on a bun?' The man laughed, said yes, and Kirk bought him one with all the fixings. It was a funny yet bittersweet moment."
Buy this print for charity
Donna griffith: contact: donna@donnagriffith.com; price: $75; charity;
Daily Bread Food Bank
.
Virginia Macdonald
"I was at contributing design editor
Samantha Pynn
's party for her HGTV Christmas special and was so inspired by all of the decorating. This snapshot is of just one of the many ideas I saw there. I can't wait to see her show when it airs this
holiday
season."
Buy this print for charity
Virginia Macdonald; contact: virginia@virginiamacdonald.com; price: $100; charity:
Red Door Family Shelter
.
Ryan Brook
"We're not always lucky enough to have a white
Christmas
, but when we do, it brings back a little bit of the magic that we all felt as children. The delicate beauty of a fresh snowfall is all I need to get into the holiday spirit."
Buy this print for charity
Ryan brook; contact:ryan.brook@transcontinental.ca; price: $50 charity:
Canadian Cancer Society
.
Edward Pond
"Every New Year, I resolve to look for the extraordinary within the ordinary. It's easy to be inspired by the spectacular, but can we stay amazed by our own ordinary days? Morning rush hour happens all over the world, but one cold day in China, I got to watch a great big wok of steaming handmade
noodles
being served up to commuters. The
holidays
should remind us that every little moment can be special if we stop and take it in."

Buy this print for charity
Edward Pond; contact: edward@edwardpond.com; price: $100; charity:
Doctors Without Borders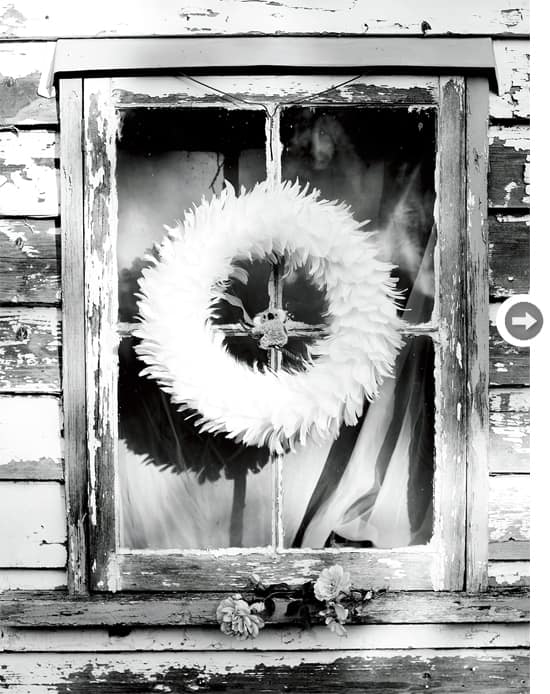 Janis Nicolay
"We spent last
Christmas
with my husband's family in Kyneton, a pretty country town just outside of Melbourne, Australia. I was so inspired by the
simple, laid-back style of Christmas there. Random
wreaths
made from
natural materials seemed to be everywhere. I love that people would take
the time to adorn anything from rusty post boxes to weathered windows.
I have since vowed that this Christmas, at home in Vancouver, I'll follow suit."
Buy this print for charity
Janis Nicolay; contact: info@janisnicolay.com; price: $100; charity:
The
Arthritis Society
.
Angus Fergusson
"I love the moment after a fresh snowfall, when everything is monochromatic. Anything that isn't covered in snow sticks out to the eye and forces you to look closely at the smaller details. I wanted to capture that surreal quality."
Buy this print for charity
Angus Fergusson; contact: info@angusfergusson.com; price: $100; charity:
Habitat for Humanity
.

Stacey Van Berkel-Haines
"I miss the snow. Now that I live in North Carolina, I long to hear that crunchy sound under my boots, to wear woollen hats and mitts, and to feel the snowflakes fall softly on my eyelashes. I took this photo on a lovely winter walk with my parents on their Christmas tree farm in Nova Scotia. Strolling among the trees, I felt like I was in a mysterious wonderland of white."
Buy this print for charity
Stacey Van Berkel-Haines; contact: stacey@staceyhaines.com; price: $75; charity: International Justice Mission.