Accessories & Furnishings
8 stylish accessories to spruce up your study space
Give your study space an update before it's time to head back to class!
Accessories & Furnishings
8 stylish accessories to spruce up your study space
Give your study space an update with these stylish decor accessories.
Help put the student in your household on the track to a year of straight As with a study space that's organized and super functional. With any luck, they'll head off to do their homework without you having to breathe a word! We've rounded up 8 great items that will add both style and substance to any study space.
1 Polar Bear Faux-Fur Wingback Chair
Who said studying had to be boring? Inject a little excitement into homework time with this faux polar bear fur chair. It has an adjustable seat height and rolls on casters. Plus, because it's so soft and fully cushioned, it's super comfy for those all-nighters! Polar Bear Faux-Fur Wingback Chair, PB Teen, $414.
2 Belkin Valet Charge Dock for Apple Watch + iPhone
If Jr. has an iPhone and Apple Watch, he'll need to keep them charged and ready to go for school the next day. This streamlined charger duo from Belkin charges both devices simultaneously and eliminates unsightly cords. Available in silver and rose gold. Belkin Valet Charge Dock for Apple Watch + iPhone, Apple, $144.95.
3 Gumball Desk Lamp
As its name suggests, this stylish desk lamp is inspired by a gumball machine, which gives it a mid-century modern appeal. Made from metal and brought to an uber shiny finish, this desk lamp will not only provide a hint of style to a modern student's desk but add excellent task lighting as well. Gumball Desk Lamp, Urban Outfitters, $49.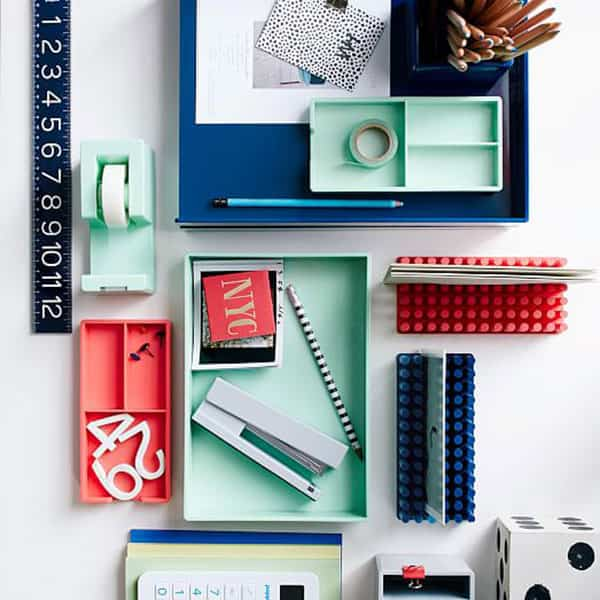 4 Colour Pop Office Accessories
Getting homework done is so much easier in a space that makes you smile. Help your studious child get (and stay!) motivated with these chic desk accessories that will not only keep her work space organized, but will look great doing it! Set includes an accessory tray, a 'bits + bobs' tray, a single letter tray, grip grass, pen cup, ruler, stapler and tape dispenser. Colour Pop Office Accessories, West Elm, starting at $5.
5 Magnetic Message Board
Sometimes kids need a little inspiration to get the creative juices flowing and they shouldn't have to look too far to get it. This magnet board features the message 'Life is wonderful' and provides the perfect spot to keep and refer back to things that inspire. Or, use it as a place for reminders about things just need to get done! Magnetic Message Board, Indigo, $79.50.
6 Klimpen Table with Drawers
If it's time to update the desk in your son or daughter's room, look to IKEA for stylish but inexpensive options. Available in black, white and a chic black and white combo, this desk is small but functional and comes with a palatable price tag for parents! Klimpen Table with Drawers, IKEA, $158.50.
7 Riley Bean Bag Chair
When it's time to take a break from studying or just move to someplace more comfortable to read, this bean bag chair is just the spot. With a durable polyester cover, it's up to the challenge of taking whatever your kids can throw at it! Riley Bean Bag Chair, Wayfair.ca, $173.99.
8 Geometric Cast-Metal Bookends
The organizer's mantra 'a place for everything and everything in its place' is especially applicable to most kids' rooms. Tools to keep things where they're meant to be (meaning they're easier to find), makes mornings before school easier and less stressful for everyone! These gorgeous bookends are crafted from polished cast brass and will help your student keep their books in one easy-to-find spot! Geometric Cast-Metal Bookends, RH Teen, $69 US.