Accessories & Furnishings
8 wow-worthy wall beds for homes with limited space
Accessories & Furnishings
8 wow-worthy wall beds for homes with limited space
If you lack the space, a wall bed can offer the best of both worlds.
"When you make a space multi-functional, you get the benefit of a larger home without the crazy real estate prices," said Amber Kingsnorth, Principal and Founder of Mak Interiors in Vancouver where housing prices rank among the highest in Canada. "That's where wall beds come in. They maximize your space by transforming what would be one room into two."
What's more, they can look great and offer functionality that goes well beyond the wall-to-mattress designs of the past. "They're modern and attractive and very, very clever," said Amber. "For example, a media unit version might house a TV, components and storage in addition to that hidden bed for a guest," said Amanda. Or, bunks beds might fold flat to create a play space for growing kids."
1. From desk time to dozing off
Kali Duo Board, pricing available upon request, resourcefurniture.com.
When night-time (or nap time) comes, the top of this sweet workstation desk folds to reveal a twin bed. Amazingly, the desk remains level as if folds, so nothing falls off. A hidden compartment disguises a second bed, which is supported by its ladder and includes a guard rail for safety during slumber. The modern whimsy of the palette is T'ween-perfect, and its streamlined shelving and rolling file drawer ensure there's a pretty place for everything.
2. From dining to dreamland
Ulisse Dining Queen-Size Wall Bed, pricing available upon request, resourcefurniture.com.
A queen-sized bed is hidden here, mere inches away from the dining table which seats up to five friends. When bedtime calls, the dining room converts to a bedroom without moving anything other than the chairs. Simply open the unit, and like magic, the table remains level as it pivots downward, soon settling beneath the bed.
3. From sofa to slumber
WTU Wall Bed Sofa 260, pricing available upon request, milanosmartliving.com.
Italian design has a reputation for good reason — the design is flawless and elegant. Instead of appearing utilitarian, this wall bed defines the home's aesthetic, complete with built-in shelving. After a day in the living room, a one-touch operating system allows the sofa to convert to a bed without removing any sofa cushions. The bedding can remain on the bed. And you can even have this design with electronic controls.
4. From shelves to zzzzzz's
LGM Tavolo, pricing available upon request, animadomus.com.
This wall bed design includes a foldable table, gorgeous modern shelving and a hidden bed. A clever turning mechanism allows the shelves to be swung open and a bed to appear. The queen-sized bed has a wooden slatted base and lateral sliding tablets. The all-in-one unit will make even the smallest spaces chic destinations. Use it in a larger home to double the use of one room. Or, feature it in a guest house to maximize square footage and add style at the same time.
5. From tiny to tranquil
Murphy Bed, pricing available upon request, californiaclosests.com.
The Topanga Living Space is a single-unit go to for sleep and display. It's ideal for a guest house. The look is modern. The ample storage is a dream. It features wonderful artful cabinets with slab doors, LED aluminum shelf framing and Puck lighting for a look that transitions beautifully from daytime tonight.
6. Sleek wall to deep sleep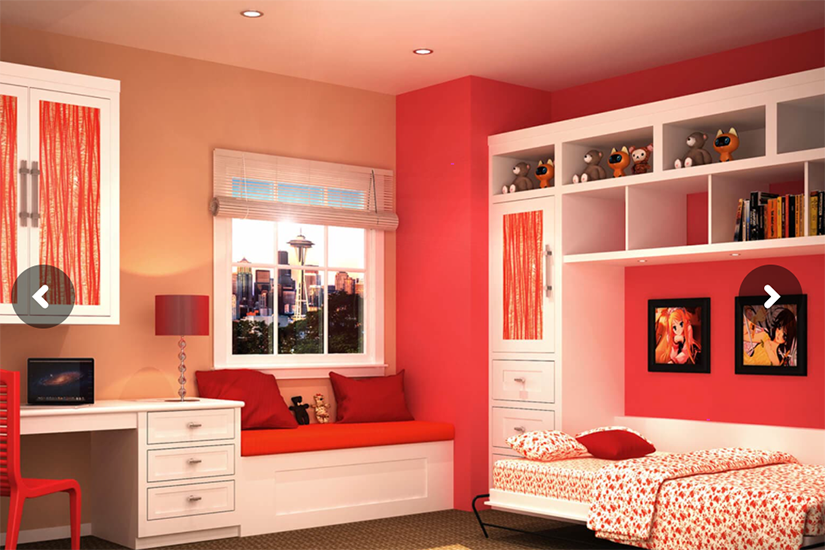 Custom Murphy Wall Bed, pricing available upon request, spaceageclosests.com.
What looks like a wall unit in the daytime becomes a comfy slumber pod at night. Compartments and cubbies are everywhere, and the built-in window seat and desk make this a one-stop room for a student of any age. One way to make a wall bed "disappear" is to surround it with a bold hit of colour. This transforms the space into a feature wall. Here, hits of reds and oranges make the space pop. The wall unit's vivid panels echo the feature wall, lampshade, desk chair and window seat. The Murphy bed legs fold into the cabinet when closed. The finished cabinet attaches to wall studs and accommodates a standard coil mattress.
7. From library to luxury lounge
Custom Wall Bed, pricing available upon request, organizedinteriors.com.
Floor to ceiling storage makes this unit ideal for a den or library. And its easy-rolling track ladder makes even the highest shelves accessible. When the spacious bed is pulled down for guests, a restful sleep in a sophisticated bedroom awaits. A pull-out end table at the head of the bed allows guests to set their books, glasses, and electronics in easy reach.
8. From chic décor to shelves and sleep
Custom Wall Bed, pricing available upon request, organizedinteriors.com.
For studio spaces or guest suites, this bed allows elegant dining and comfy sleep in a single small space. Attractive millwork ensures the bed's cabinetry marries seamlessly with the wall, giving the appearance of built-ins. The drawers and shelves are useful for stowing basic dishware as well as nighttime reading.