Accessories & Furnishings
anthropologie's natural finds
Accessories & Furnishings
anthropologie's natural finds
Anthropologie's first Canadian location
opens in Toronto tomorrow at the Shops at Don Mills and we're beside ourselves with excitement!
Among the fashions and home decor items are
eco-friendly goodies,
including these lovely finds. Can't wait to see what else we uncover in the coming months. You can order online if you're not in T.O. area, while two other stores are slated to open soon: one in the West Edmonton Mall and another store in Toronto's Yorkville neighbourhood. <
Paperie Petting Zoo
by Stray Dog Designs Handcrafted from recycled cement bags
Price:
$248.79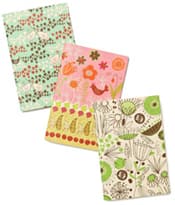 Capri Blue Candle-In-A-Jar
> Made from recycled glass and soy wax
Price:
$31.41 <
Eco Jot Notebook Set
Made from recycled paper and cardstock Set of 3
Price:
$17.59
Available at:
Anthropologie,
www.anthropologie.com,
the Anthropologie shop at the
Shops at Don Mills
---
Follow me on Twitter!
Do you have a product you'd like to recommend for this blog? Email me at
naturalchic@styleathome.com
!