Accessories & Furnishings
Bachelorette pad essentials
Bachelorette pad essentials
Accessories & Furnishings
Bachelorette pad essentials
The
bachelor pad
has long been celebrated as the pride of young men the world over. A coming of age abode – minimal, masculine and, let's face it, sometimes messy. That last bit may be the reason ladies decided it was time for a place of their own!
When it comes to decorating your bachelorette pad, there's no end to how you can customize it to your life, your tastes and most of all your comfort. Fill it with soft colours, feminine textures, smart furnishings and maybe even a few frivolous
home decor accessories
. Because it's yours and yours alone, you have the luxury of creating a space that wholly reflects your personality. Whether it's fun and flirty or rich and refined, the perfect elements are out there - waiting for your discerning eye to find them.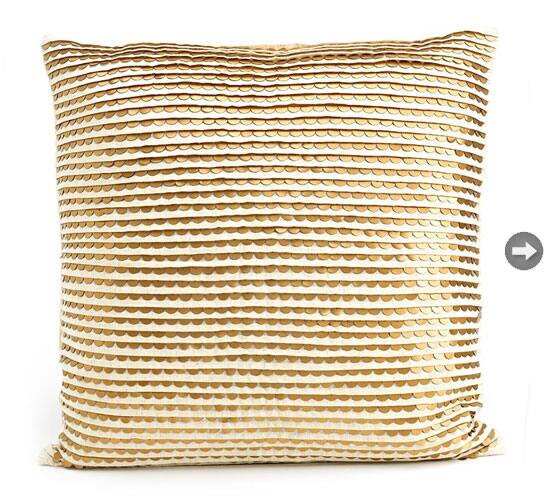 Glamour girl
A little glitz goes a long way! Go glam with these pretty – and sparkly – sequined
throw pillows
, leaving no doubt who's master of this domain!
Indigo
,
$59.50
.
Pretty in pink
One of the great things about being a girl is that you make everything
all about pink
with wild abandon and no one bats an eyelid! So go ahead and spread the love with this rose-coloured quilt, richly ruched for added appeal.
West Elm
,
$30.47 – $177.57
.
Soft touch

Drape this
beautiful blanket
on a sofa or the end of your bed. Both classy and cosy, it's the perfect thing to kick back with at the end of a long day or week.
Dwell Studio
,
$320
.
Mad for makeovers
Some women dream of
closet organization
, but having a vanity table is just as useful. Having all your makeup and accessories in one place makes getting dolled up decidedly easier!
West Elm
,
$311.02
.
Little luxuries
Add a little luxurious sheen to
a neutral room
with this jewelled pillow cover. Leaning back on these luminous shell buttons is a decadent way to relax.
Pottery Barn
,
$52.21
.
Floral fancy
If you're going to treat yourself regularly to
fabulous floral arrangements
– which every girl should! – have a classic
vase
on hand. Not only does it double as a candleholder, it's also decorative even when empty.
Crate & Barrel
,
$16.33
.

Power of positive thinking
Create an uplifting space with works of art that inspire. Choose phenomenal photos, pretty paintings and words of wisdom when you add art to your home. They'll provide countless feel-good moments as you move through your busy life. EvaJuliet on Etsy, $25 US.
Bejewelled boxes
Girls are notorious for having 'stuff'… from mementoes and keepsakes to rolls of ribbons, jewellery, and countless other odds and ends. And it helps to have a place to put it all. Keep clutter to a minimum with
stylish storage solutions
like these.
West Elm
,
$19.96 - $25.22
.