Accessories & Furnishings
diy holiday decor
Accessories & Furnishings
diy holiday decor
The
holidays
are a perfect time to try out a few DIY projects: they are usually inexpensive, creative and allow you to really achieve the holiday look that suits your style. The first
DIY
project I'm sharing with you couldn't be more simple but I find that it adds a simple and festive touch and makes you look forward to having the rest of your house decorated. It all begins with a re-purposed glass jar, pretty labels and some painted pine cones.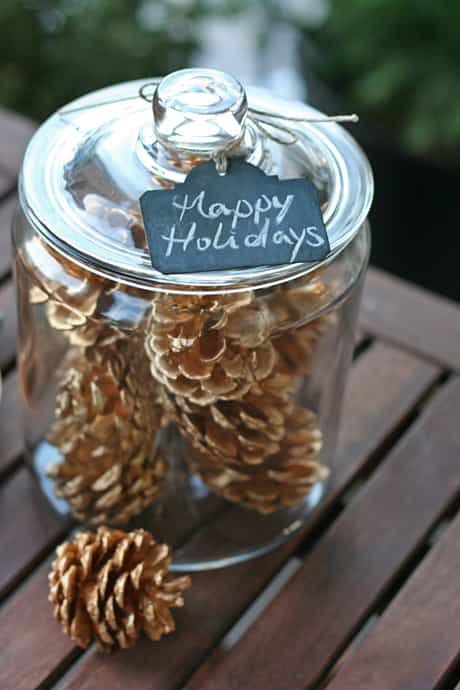 Spray paint your pine cones (I like a soft golden colour, but silver works beautifully too) and stack them in the glass jar. I used a slate label and a rustic rope, as well as a small holiday greeting written in chalk. This DIY project is perfect to add a holiday feel to your kitchen's countertop, to the top of a shelf or
mantle
or as a pretty accent for a side table in a
guest room
. And when the holidays are over, these will look beautiful filled with flour, sugar or wrapped candy.
What are some of your holiday DIY projects?