Accessories & Furnishings
Get the look: Italian design
Get the look: Italian design
Accessories & Furnishings
Get the look: Italian design
Italy is known the world over for its expertise in the world of design, whether in the realm of fashion or interiors. With luxurious fabrics in cashmere and leather, not to mention world-renowned designers like Bertoia and Missoni, Italy remains at the forefront of design, incorporating old world fundamentals with modern elements. Check out these 10 examples of
Italian design
that can easily be incorporated into your own decorating scheme.
Photography by Stacey Van Berkel-Haines

1 Harvest table
Everyone knows Italians are all about entertaining, with family dinners often including five or more courses. A true element of
Italian entertaining
and dining is the harvest table, ideal for family-style sharing with the patriarch and matriarch seated at the heads of the long table.

Photography by Andreas Trauttmansdorff

2 Bertoia chair
A staple of mid-century Italian design, the cross-wired Bertoia chair has stood the test of time to become one of the world's most recognized seat styles. Place around a salvaged table for a modern touch or use around a patio table in the summer for outdoor entertaining.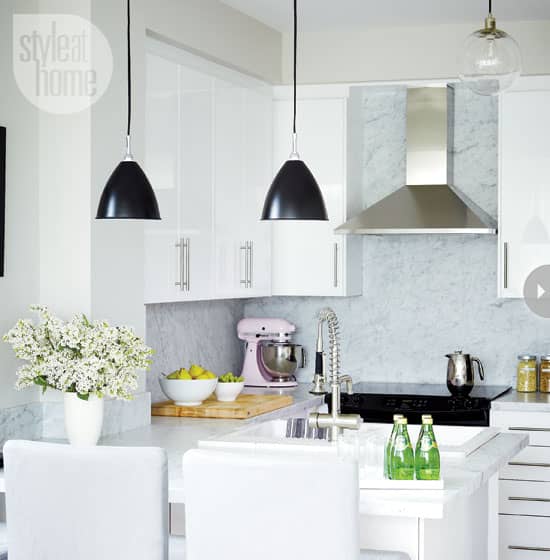 Photography by Angus Fergusson


3 Carrara marble
Probably the most popular choice of marble in Canada, Italian Carrara can be seen everywhere from kitchen counters to bistro
tabletops
. We love the look used here, with the marble
countertop
continuing into the
kitchen backsplash
for a seamless effect.

4 Leather sofa
Home to some of the softest leathers in the world, it's no surprise that Italian design incorporates high quality leather furniture. Modern pieces feature straight lines and simple design elements, like this
tufted sofa
from
EQ3
.

Photography by Angus Fergusson


5 Missoni
Know for their vibrant zig zag prints, Italian fashion house Missoni broke into the
interior design
world and became an instant hit. Now you can find the signature
pattern
on towels, linens and even lighting like in the photo above.

6 Espresso machine
There are certain countries that are particular about their coffee and Italy is no doubt one of them. And for good reason too – the popular espresso drink was founded and perfected in Italy, with many
Italian recipe
variations including cappuccinos and lattes. No Italian kitchen is complete without a sleek espresso maker like this Saeco one sitting on the countertop.
Espresso machine available at Williams-Sonoma
.

Photography by Brandon Barre

7 Gold accents
Over-the-top opulence and total luxury come to mind when considering classic Italian design – think marble, bronze and gold. Introduce elements of this extravagance in your own home with hits of
gold
like the three hallway mirrors in the above photo.

8 Terra cotta
Beyond the grandeur of the stately homes in Italy's major cities, lies the subtle simplicity of the Italian countryside. Travel through Tuscany to find warm terra cotta used for everything from the signature roofing style to giant flowerpots flanking
entryways
.
Terra cotta flowerpots available at Restoration Hardware
.

Photography by Michel Dube


9 Venetian mirror
Large ornate mirrors are a staple in Italian design, and Venetian mirrors –both large and small— are a sure way to make an impact in any space. Known for their mirrored-glass frame, intricate etching and ornate edging, these mirrors will add a dose of Italian flair to your
living space
.

Photography by Virginia Macdonald


10 Luxe tile
The masters of marble, Italians incorporate their love of the luxe stone into tilework as well. What can often be seen as works of art, Italian tile design ranges from mosaic to defined patterns like in the
bathroom tiles
above, with its circular marble motif.