Accessories & Furnishings
herringbone heaven and a marvellous marble mantel
Accessories & Furnishings
herringbone heaven and a marvellous marble mantel
I mentioned in the last post that I wanted sophisticated interior details for my home that would evoke a traditional Parisian pied-à-terre. Two of those elements that I had my heart set on were herringbone wood floors and a marble fireplace mantel.
Herringbone hardwood floors are pricey due to the high labour cost
(hello perfect angles and intense installs),
so we splurged only on the formal rooms of the home and went with regular plank flooring everywhere else. I worked with Mare Flooring, who did a beautiful job installing white oak in a herringbone pattern with a simple border running the perimeter of each room to deal with any tricky angles.
When it came to choosing a stain colour, I debated between espresso and walnut, ultimately deciding to go with the richer medium brown. I felt like this would be not only more forgiving for wear and tear, but would also be a more timeless choice.
Speaking of timeless, what is more eternally elegant than a carved marble fireplace? I spent months tracking down potential mantels from architectural salvage shops, but it was very difficult to find white marble and the few that I sourced in my price range were unfortunately in too poor condition.
While hunting on craigslist and kijiji for leads on vintage or salvage pieces, I came across
NDS Marble
, which was advertising their new mantels. I debated between the bodacious
(yes that is now an appropriate adjective to describe a mantel)
and bold French Empire Montpellier style or the more refined and subtle English Classic Regency design. I ultimately went with the curvier shelf motif to keep with the decadently glam vibe of the room.
I decided to repeat the herringbone motif from the flooring not only in the living room rug from
Reznick Carpets
, but also in the firebox. I found a stunning inspirational image in an issue of
Veranda
and knew it would be a perfect complement to the old world vibe of the marble mantel.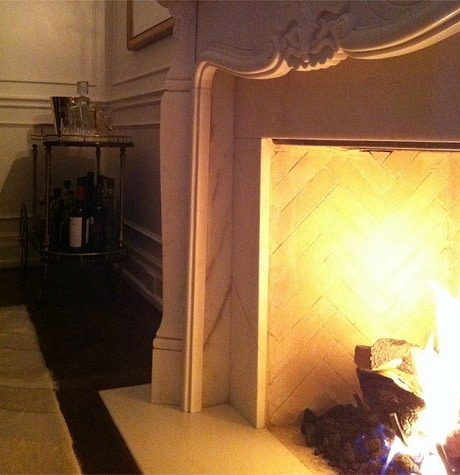 We used a yellow brick for the firebox and selected an
RH Peterson gas log insert
to keep the look as close to an actual open wood burning fireplace as possible. I was very grateful to have not only a beautiful, but functional, fireplace during the winter while being cooped up inside on bed rest!