Accessories & Furnishings
lovely people making lovely things: oxford studio tour
Accessories & Furnishings
lovely people making lovely things: oxford studio tour
Got any weekend plans? Might I suggest a road trip? Deep in the heart of Southwestern Ontario's bucolic countryside, Oxford County is home to a number of highly-respected artists - both emerging and widely-renowned - and this weekend just happens to be your best opportunity of the year to snatch up some of their original works at theÂ
Oxford Studio Tour
. Don't worry - it's not a snoozy guided museum tour. Instead, it's a map of the studios (in and around Woodstock, Ontario - so it's easy to access by the 401) participating in a county-wide open house that you're free to explore at your own pace between 9 and 5 on Saturday and Sunday. Be sure to check out one of my fave ceramic artists,
Shane Norrie
: an in-demand artisan whose innovative and organic designs have been featured in Style at Home, and on HGTV's Pure Design. There's a tangible earthiness to Shane's pieces, not to mention they're absolutely fascinating on a textural level.
A peek inside Shane's studio in Ingersoll, Ontario. In the last few years, Shane's branched out into stunning original painted artwork as well.
Love the highly textured, barnacle-like growths on this series of petite ceramic vessels... So pretty!
A fascinating form - they remind me of curiously stemmed acorns - and a metallic finish elevate these sculptures to "statement piece" status.
Another artist on my "most-coveted" list - and also a participant of the Oxford Studio Tour - is acclaimed painter Sue Goossens. Sue's watercolours are positively dreamy representations of southwestern Ontario landscapes, with the occasional well-loved landmark in the mix, and they never fail to instantly transport me back home.
February Ravine, 27" x 39"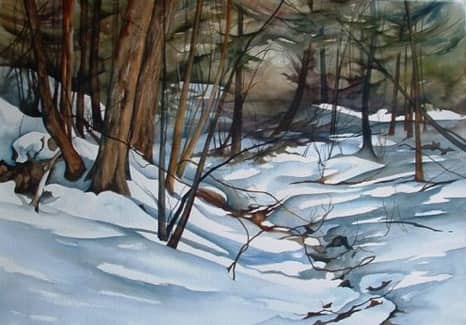 Winter Ridge, 28" x 20"
Winter Puzzle, 20" x 28"
(And yes, Sue's portfolio consists of much more than winter landscapes - I'm just a sucker for the blue-greys in this particular series.)
And of course, there's the natural beauty of the area that's sure to inspire. I took these snaps last weekend on the farm - the abundant forsythia is absolutely luminous!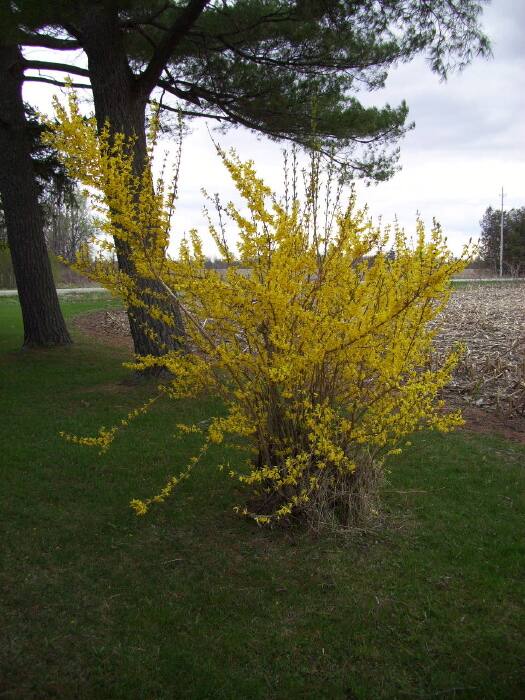 Follow Style Sleuth on Twitter!
Subscribe to Style Sleuth!