Accessories & Furnishings
modern classics at EQ3
Accessories & Furnishings
modern classics at EQ3
EQ3
is the go-to "design-house" for shoppers seeking affordable modern furnishings, textiles and accessories. Proud of their Canadian roots, EQ3 manufactures the majority of their products right here in Canada. This offers the consumer plenty of options for customizing furniture; and, lower carbon emissions means the environment benefits too. This past March, I was delighted to meet with Mr. Peter Tielmann, CEO of EQ3 Ltd., at the company's Head Office in Winnipeg. This was a surreal experience for me...a girlish dream come true you might say. As a young girl, obsessed with the design industry, I would often drag my family into the EQ3 store to explore the beautiful room vignettes on display. Now, many years later (more years than I would like to admit), I still get giddy over the company's gorgeous designs. If I thought that EQ3 couldn't impress me anymore, I was wrong. In November 2010, EQ3 launched
EQ3+
, a line of modern classic furnishings and accessories from iconic design companies like Herman Miller, Alessi, Stelton, Design Stockholm, Pablo and Vitra.
One of CEO Peter Tielmann's fav's from the EQ3+ line; and, of course, mine too!
Herman Miller - Eames Lounge Chair and Ottoman, Walnut / Black Leather (Sku #3350-600-13), $3,977
This perfectly, punchy classic is at the top of my wish list.
Herman Miller - Eames Molded Plastic Armchair w/ Rocker Base, Red (Sku #3350-300-3), $489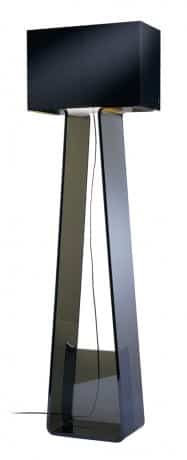 Love the smokey tone of this mod lamp!
Pablo - Tube Top Floor Lamp, Charcoal (Sku #3380-203-7), $549
No kitchen's complete without this pretty piece!
Alessi - Juicy Salif, Aluminum (Sku #PSJS), $119
Whoever says bottled water is boring, clearly hasn't seen this!
Stelton - My Water Bottle, Red (Sku #3310-900-2), $ N/A
Modern classics, like the ones offered in the new line, have been loved and used for 50 to 100 years. Peter Tielmann says they're proof that modern design is not a trend. It's timeless and here to stay! The line will soon be expanding to include more classics so be sure to stop by your local EQ3 store soon to see these new additions. Don't have an EQ3 store nearby? Or just don't feel like leaving the house? No problem! EQ3 will soon be launching an online shopping component to their website. Finally customers will be able to order their favourite products with the click of a button. With 10 years of business under their belts, EQ3 hopes to continue to solidify their position in Canada's design industry and present EQ3 as a life-style, not just a furniture design company. With classic designs like these, I have no doubt that they'll do just that!
EQ3 Ltd. t: 1.888.988.2014 www.eq3.com *check EQ3's website for more great products and to find the store nearest you!
amy*
Amy Walters is a Winnipeg-based design enthusiast and blogger. For more design inspiration from Amy, check out her blog
aDESIGNdock
.