Accessories & Furnishings
my apartment makeover, part 2
Accessories & Furnishings
my apartment makeover, part 2
I've received such lovely feedback from the
before and after photos of my apartment
, so I'm happy to share some before and after photos of my furniture makeovers too! I decorated my apartment while working at a high end design firm, which was great because I had access to trade-only resources that offered up beautiful custom furniture and fabric for clients - but it was also hard because I grew accustomed to working with a certain level of quality that wasn't exactly in the budget for a young couple starting out in their first place. Thanks to the wonderful world of vintage and consignment shopping, however, I was able to source affordable raw material that I then transformed into my own custom pieces for a high end look at a more realistic price point.
I jumped on a craigslist ad that a couple leaving the country posted in effort to sell off their furniture, which gained me a clean-lined vintage chair for less than $25!
Inspired by a crisp and classic YSL tuxedo jacket, I had the talented team at
Cooper Bros.
spray the dated wood frame high gloss black and convert the loose back cushions into a tight back. Contrast welting and button tufting in sumptuous black velvet made the ivory vinyl fabric pop (I chose the vinyl for durability and its fabric-like appearance so I could commit to white without worrying)
One accent piece I sourced on craigslist received a DIY treatment inspired by
Hickory Chair's Stephanie vanity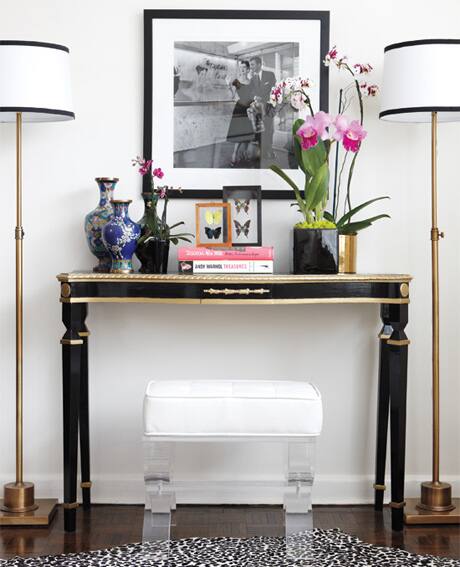 After arranging to pick up the console in a parking lot at Yorkdale Mall for $130, I sanded the existing antiqued cream finish down and painted it out in glossy black using a roller to achieve a smooth finish. I used metallic gold paint for the detailing and love how it creates the illusion of
ormolu
.
Another vintage find, a bench that I inherited from my grandparents, was the perfect place to use a favourite fabric that I only needed a yard and a half of to update and could afford to spend on.
I wanted a modern graphic to contrast with the traditional cabriole legs, so I turned to the Missoni-esque flamestitch pattern
"Flair" from Kelly Wearstler`s fabric collection for Lee Joffa.
One of the biggest investments in the apartment is my prized setee and it is a solid example of putting money into something special that you know you will have for years to come. I drove to Oakville with my mother in her truck to pick up the $100 antique I found on Craigslist. I had
Cooper Bros.
open it up to see exactly how much TLC the piece required. I knew the whole process would set me back far more than the initial cost, but because I picked it up from the previous owner directly and worked with trusted trades, I still only forked over less than half of what I would ever pay in a brick and mortar store for the finished product.
The setee's curvy lines provided a perfect foil to carry off the black and white striped treatment I had been longing to use, and after months of searching I finally found a fabric at
Primavera
that had the colouration, saturation and graphic impact I was looking for. Having Cooper Bros reinforce and gild the frame in a warm golden tone befitting a Parisian antique, making a new down-filled seat cushion and topping it off with blush round tufted velvet cushions made the craigslist find a picture perfect piece that I will have forever! The moral of the story is, all you need is imagination to realize a piece's full potential! With either the skills for a DIY makeover (
or contacts of trades with the skills
), you can rescue someone else`s forgotten furniture and turn it into an individual masterpiece!