Accessories & Furnishings
Nature-inspired decor
Accessories & Furnishings
Nature-inspired decor
With the warmer months upon us, we want to spend every possible moment outside. And as nature permeates decor, this isn't hard to do. After a long, cold winter, it's only natural to feel the desire to add some items to your home to welcome the warmer weather – wall colours invoking the great outdoors, flower
wallpaper patterns
, wall hangings featuring wildlife, and tabletop decor that feels like you're dining al fresco year round.
"Like any trend, only do it if it feels right for you and your home," says designer
Lisa Canning
. "Start with small touches like fresh flowers in a beautiful vase, or incorporate natural woods in a centrepiece -- or go bold with nature-inspired wallpaper or textiles if it works in your space," she says.
Keeping it simple
Once you decide to start incorporating nature-inspired decor into your home, be careful not to go overboard. Though you may have a strong love for a certain flower or animal, it's best to keep their presence to a minimum, to make a stronger impact.
"Balance when using any overtly themed trend is key," says Lisa. "The tacky factor can go way up when you start incorporating literal interpretations, like statues of birds, bird nests and actual trees, all in one area. The look can start to get theatrical -- which might be great for some people -- but may not be the intention of most," she warns. "Less literal approaches, like natural fibers and throw pillows in a nature motif, that can be easily changed are a great way to bring your love for nature into your decor."
Is bold printed wallpaper for you?
You've likely noticed a trend in bold printed wallpaper over recent years. It's common to feel hesitant before bringing this trend into your home, but Lisa says it's easily adaptable. If you feel inclined to embrace bold wallpaper with a nature theme, go for it!
"I don't think you can ever go overboard when it comes to wallpaper," says Lisa. "I would start with a small area like a foyer or a powder room. Or, in a larger space, a focal wall could be a great way to utilize this trend."
Try adding a bold print to the wall behind your headboard in your bedroom, or one of the walls in your living room. If you have a two-piece bathroom or a small
welcoming entryway
in your home, they're both great candidates for wallpapers with nature-inspired prints.
Trends to try
If you're looking to add a touch of nature to your decor, Lisa suggests trying to incorporate colours found in nature. When selecting paint colours, accent pieces or fabrics, think yellows, greens and blues.
Florals are also a huge trend and can be easily added to your decor in fabrics.
Throw pillows
, table linens and shower curtains featuring floral prints are all great ways to display your love of flowers.
"Birds and trees have yet to disappear as a decor trend, especially in wall coverings and textiles," says Lisa. "Owls continue to fill retailers shelves as desk accessories and ornaments."
Here are
10 nature-inspired home decor accessories
we love.
Oblong driftwood table lamp
Bring your love of
beach house chic
to your
welcoming entryway
console with this driftwood table lamp. Nothing says nature like wood!
West Elm
,
$260
.
Branch coral embroidered outdoor pillow
Just because your
stylish outdoor furniture
is likely surrounded by nature, it doesn't mean you can't add a little more. Try one of these coral
throw pillows
for an instant pick-me-up to your outdoor space.
Pottery Barn
,
$52
.
Modern tree branch wall decor art print set
White branches set against a grey background invoke the cold but beautiful days of winter. Admiring this magical season from your
cheery living room
is so much easier than enduring it in the flesh!
AldariArt on Etsy
,
$45
.
Chinoiserie duvet set
Designer
Lisa Canning
says birds are a huge trend in nature-inspired decor, and featuring these beautiful animals on your
beautiful bedding picks
will have you waking up feeling as fresh as spring every single morning.
Dwell Studio
,
$280
.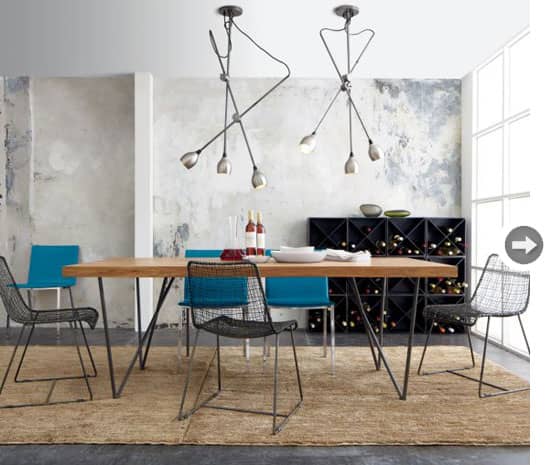 Hemp rug
Is there any better way to honour nature than by using
eco-friendly home decor accessories
? This environmentally friendly hemp
area rug
is a great way to bring nature into your home.
CB2
,
$129
.
Marimekko pippurikera wisteria shower curtain
This shower curtain won't only bring a touch of nature into your
bathroom style
, but a pop of colour, too.
Crate & Barrel
,
$75.50
.
Lincoln pull-up table
These neat side tables are made from solid logs from the trembesi tree and can be used as occasional
coffee tables
. They're lacquered on the outside, yet still showcase the beautiful rings of the wood on the top. We love it in sterling.
Mitchell Gold + Bob Williams
,
$296
.
Vintage silver owl salt and pepper shakers
These vintage salt and pepper shakers are super cute, and right on trend. Liven up your
dining table
with one of nature's favourite creatures – the owl.
Vntagequeen on Etsy
,
$24
.
Monsoon collection wallpaper in chrysanthemum
Bring nature inside with this classic wallpaper, featuring a beautiful floral print in a rich, bold colour. Use it on an accent wall in a larger room, like a
glamorous living room
, or small spaces like
pretty powder rooms
.
The Home Depot
,
$60 per roll
.
Fresh flowers
Not ready to redecorate? No worries! You can still bring nature inside by featuring
beautiful floral arrangements
on your dining table,
entryway
console, night table, or anywhere and everywhere in your home. Head to your local farmer's market to find a fresh bouquet of wildflowers, or take a trip to your florist for a bunch of fresh flowers and create
fabulous floral arrangments
. Tulips, peonies, hydrangeas and roses are all great choices! Cost varies, check your local florist. (Image courtesy of
iStockphoto
.)