Accessories & Furnishings
Owl-inspired decor ideas
Accessories & Furnishings
Owl-inspired decor ideas
Decorating with owls is all the rage. As a motif, they're varied and versatile. From cute wide-eyed animated styles to the more dignified and statuesque, it's easy to incorporate them into any room. Whether you put them centre stage or let them settle into the background, owls allow you to inject some character and fun into your style. So go ahead - let your imagination take flight! Here are 10 ideas for decorating with owls to get you started.
1 Statues and figurines
Earthenware statues work well in
outdoor spaces
, solariums and more homey rooms like the den. This owl will look great in the
garden
or on a mantel – especially in spots where light and shadows mingle.
Pier 1, $29.95
.

2 Candle holders
A play on their nocturnal nature, this tea light holder is a great way to add a little ambience to a
patio
or den when daylight fades away.
notonthehighstreet.com, $20.95
.

3 Bookends
These owl bookends are irresistibly charming. Cute and functional – need we say more? Pottery Barn Kids, $39.13.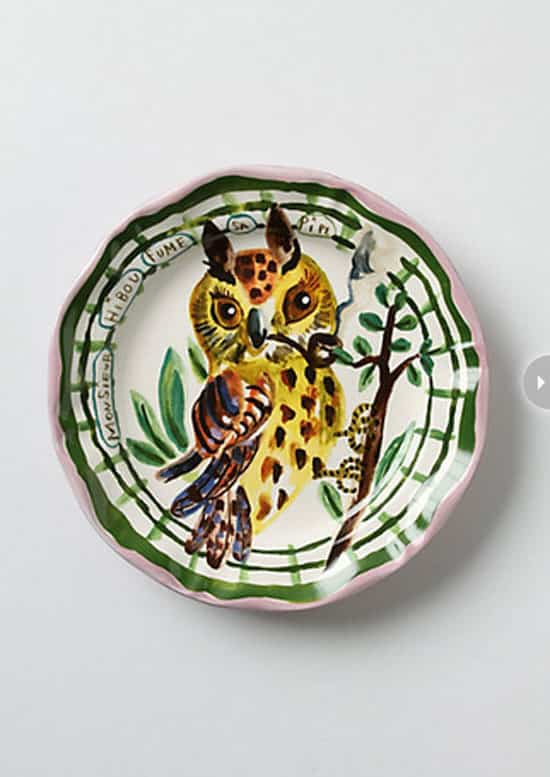 4 Dashing dinnerware
Spice up everyday meals with these brightly coloured stoneware
plates
. Microwave- and dishwasher-safe, the knowing look of this wise old owl brings a little fun to the
dinner table
.
Anthropologie, $20.40
.

5 Photos and prints
Motifs are one thing, but they're no substitute for the real thing. The monochromatic tones and the framing of this image are quite striking and will make a statement in a
welcoming entryway
or
living room
.
StephsShoes on Etsy, $10.

6 Letter opener
This beautiful brass bird letter opener is a whimsical, yet refined piece for any
home office
. Makes a great personal statement – or a perfect gift.
Horchow, $98
.

7 Cookie jar
Although it's subtle in classic white, the owl cookie jar makes an eye-catching addition to your
kitchen countertop
. Of course you may think twice about reaching in, under its watchful gaze!
West Elm, $42.05
.

8 Bedside lamp
The crystal base of this
table lamp
is a clever way to add a touch of owl decor to your little
girl's bedroom
. Simple, yet stylish.
Pottery Barn Kids, $207.41
.

9 Handy hooks
Solid and sturdy, these brass hooks can make a space just a little more interesting. They're great for hanging jewellery in the bedroom, towels in the
bathroom
or utensils and oven mitts in the kitchen.
Anthropologie, $22
.

10 Bright bedding
If your kids love owls, they'll love this bedding full of vibrant colours on a rich chocolate backdrop and teeming with their flying friends.
Sears, $39.88
.