Accessories & Furnishings
Pendant lighting for every room in your home
Pendant lighting for every room in your home
Accessories & Furnishings
Pendant lighting for every room in your home
When it comes to
home lighting tips
, there are lots of options. It can be natural or artificial. Vibrant or moody.
Great table lamps
, pot lights or pendant lighting. Whatever your choice, remember – it's as important to your room's design as the objects that fill it. In many cases, lighting makes the room. So take your time and design the light landscape to the same extent you design the floor space.
One particularly decorative option is pendant lighting. From simple to ornate, these hanging gems can make a dramatic impression. In fact, when floor space is limited, pendant lighting may be your best friend. Depending on placement, it can provide total illumination or spotlighting without being imposing. From subtle complements to bold statements, find just the right piece to fit your decor. Here are six ideas to get you started.
Blown glass
This pendant light boasts lovely glass that's blown into wire frames for a chunky, brick-like effect. A little more on the utilitarian side, it's industrial design with sophisticated style. Perfect as
summer-ready outdoor decor
or use in a loft.
West Elm
,
$134.68 - $155.56
.
Capiz shells
This decorative pendant light offers a great combination of delicate pearlescence and solid wrought iron. The masterful design makes for a commanding piece coupled with a warm
modern bistro
feel.
Layla Grace
,
$352
.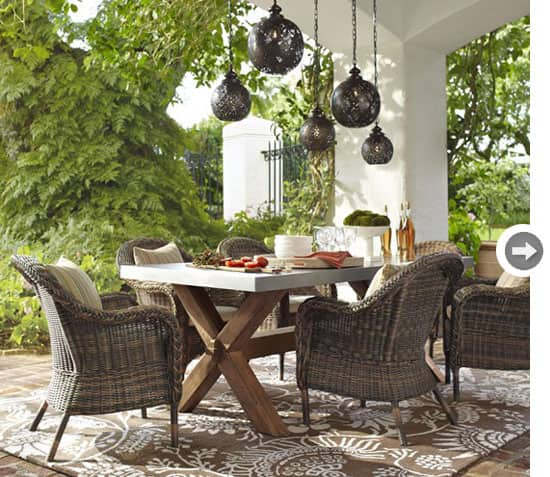 Bronzed metal
For something more exotic with added mystique try a pendant like this. The intricately cut metal has old world charm that will add warmth and
perfect lighting
to any space. Ideal for small coves or a spotlight effect.
Pottery Barn
,
$130.03 – $195.70
.
Vintage industrial
Reminiscent of an old workshop but with a contemporary feel, this simple yet elegant piece pairs well with
rustic decor.
From the
home office
to the kitchen, the clear glass surrounding a clear bulb makes for brilliant illumination.
Restoration Hardware
,
$129
.
Cotton pleats
If your style is more playful, this colourful pleated pendant light is sure to please. Perfect for
nursery decor
, a
bright kitchen
or a vibrant living room.
Crate & Barrel
,
$50.05
.
Paper pendant
Looking for something unusual? This lovely paper pendant may be just the thing. The layered leaves have a softer, more
feminine chic
appeal. Playful, but understated. A perfect complement in a
neutral room
.
Etsy
,
$129
.
Bold brass
Make a bold statement with this heavier structured pendant light. For added drama, hang two or three together over a long table or throughout a
welcoming foyer
.
CB2
,
$179
.