Accessories & Furnishings
Perfect curtains
Accessories & Furnishings
Perfect curtains
The layering of unlined drapes is one of the most significant changes in curtain style today. Many designers are using two or three layers of curtains in different weights or colors to give maximum choice as to how they hang, move, and let in or keep out
light
. If you do not mind glimmers of light in your rooms, layers work much better than lined and interlined drapes, which appear much more solid. If you want to exclude light completely, consider using
shutters or blackout shades
to enable you to achieve the glamour of a less formal unlined look.
The new softly layers curtains tend to hang on very different poles from those used for more structured drapes—simple iron ones are the poles of choice, but are not always easy to find. Unlined curtains look wonderful hung on rods from a builder's supplier. Look for simplicity and lightness when layering, as you may end up with three poles rather than one. Valances are almost a thing of the past—and they are always simple and often used for a specific purpose. The poles and rings are very visible, and there are many decorative rings available, while eyelets are also often used for light curtains. Try to choose styles that can be operated simply and do not require too many tracks and fixings, as too much machinery can spoil the effect.
Unlined and simple does not mean easy to makes. If anything, these curtains are even more difficult to achieve than complicated ones with fringes and trims, as every seam is visible. It is also essential, especially with sheer fabrics, to be very generous with the amount of fabric used to get the great free-flowing effect that epitomizes layering.
The layers can be in any order and in any weight—the finest sheers do not need to be the undercurtain, but can be used to add a dimension of glamour as well as functionality. You can mix different weights, different colors, and different textures—the choice is endless and the effects stunning. I have tried to demonstrate as many of these variations as possible so that you can show your curtain maker exactly the effect you want.
Layering tips and ideas
1
Layering that incorporates a sheer curtain or shade provides
privacy without losing light
, making it an ideal solution for windows that are overlooked.
2
When using a sheer fabric as an undercurtain, there is the option of adding a third layer—such as a shade, curtain, series of banners, screen, or shutters—to cut out all the light.
3
There is now an enormous choice of sheer or semi-sheer fabrics and linens of all weights in different colors and designs that can be used for curtains or shades to stunning effect.
4
Shades in wonderful natural fibers, such as bamboo, hessian, and banana leaf, add interest and texture to a room, especially when layered under traditional silk or linen drapes. On a practical level, they can also be used to keep out light.
The drapes in this room have been made with the attention to detail of a couture dress in a textured silk that is folded like paper. A film of creamy gauze separates the heavy shade from the drapes, providing a further layer of interest and adding a sense of softness to this richly decorated room designed by Kelly Hoppen.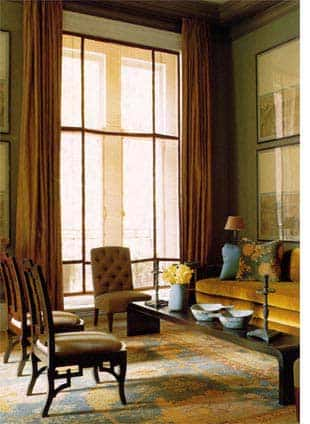 In this room designed by Stephen Sills and James Huniford, sheer linen shades have been edged and paneled in chunky linen stripes to provide interesting texture and to create the impression of large architectural windowpanes. The shades in fact disguise an otherwise unremarkable floor-to-ceiling window and are a perfect foil to the rich rust drapes with simple headings.
In the library of my London home curtain designer Doreen Scott recently replaced a rather tired-looking shade with a stunning new one made from a de Le Cuona fabric called Kyoto in the color Topaz—it has a sort of oil-on-water moiré effect. Note the heavy border in the same fabric that gives the shade a tailored look without it being too structured. The scrim undercurtain and the khaki wool tartan, which are scooped back with a tassel, have been in the library for years, but the addition of the very stylish shade has fiven the whole room a new look.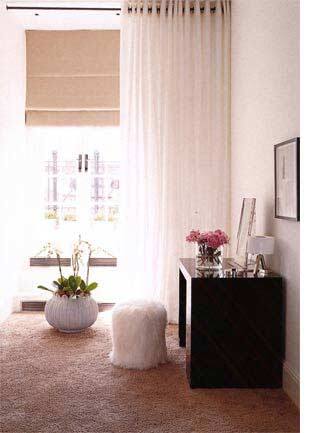 In this bedroom designed by Kelly Hoppen, neatly tailored taupe Roman shades slot perfectly into a tall Georgian window—its naturally elegant proportions enhanced with generous folds of white sheer silk with an eyelet heading, looped through a slim metal pole.
---
BUY THIS BOOK
Excerpted from Perfect Curtains: Smart Solutions, Fabulous Fabrics, and Inspiring Designs by Stephanie Hoppen. Copyright 2009 by Clarkson Potter. Excerpted with permission by Clarkson Potter. All rights reserved. No part of this excerpt may be reproduced or reprinted without permission in writing from the publisher.