Accessories & Furnishings
restaurant design: 3 reasons i love origin north
Accessories & Furnishings
restaurant design: 3 reasons i love origin north
Claudio Aprile -- chef, restauranteur and visionary -- took his proven success from downtown Toronto to the northern suburbs of the city, opening
Origin North
at Bayview Village mall. Some may consider it a daunting challenge to move away from the beating heart of a city. His two other Origin restaurants are either in walking distance from Union Station and the financial district in Toronto, Ont., or the trendy downtown Toronto Liberty Village, while Origin North planted its roots in the mall parking lot. There is no questioning Aprile's menu. The food reaches flavour levels that awake the most unassuming taste buds. So what gets clients into the door in the first place? Pure, unadulterated
interior design
eye candy.
Toronto-based interior design firm
Mackay & Wong
are no strangers to the hospitality industry and took a customized approach to Origin North, from custom-built interiors, seating and the full wrap-around patio. For me, however, this is what really made me fall in love with the space:
1 Wood beams
The first thing that caught my eye were the suspended Douglas fir
wood beams
that stretch over the length of the bar, an expansive square island in the middle of restaurant. While suspended at the same height from the ceiling, the staggered widths create added visual interest from every angle.
2 Lighting
I'm an absolutely sucker for lighting and the various options illuminating every end of Origin are all equally intriguing. From the industrial fixtures that hang between the wood beams, to the handcrafted polished gold aluminum installations and globe
chandeliers
that hang over the
dining areas
, this 12,000-square foot space is definitely well lit. I only wish I saw the space at night!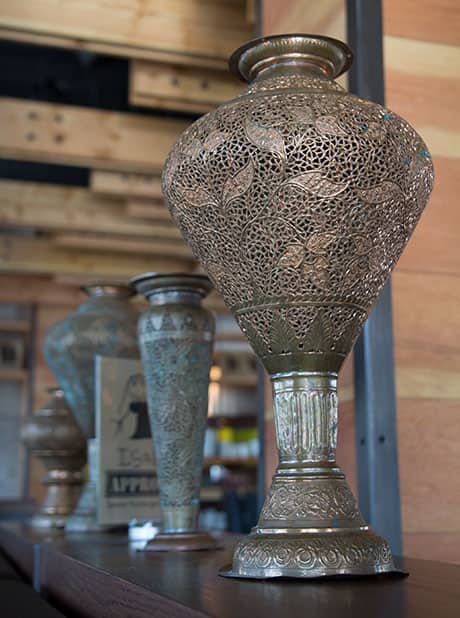 3 Global design influences
While Origin North is grounded in an
industrial chic
look – the wood beams, polished concrete floors and industrial pipe
light fixtures
– the global accents are surprising decorative elements that add fabulous visual interest. Continuing my lighting obsession, I was instantly drawn to the Custom Trumpet Pendants over the dining areas, but my favourite accents are the global-inspired urns. It's hard to believe that Claudio picked them up at various yard sales, adding to his collection over time.
What do YOU think of Origin North's interior?