Accessories & Furnishings
Shoe inspired decor: 10 looks for you and your home
Shoe inspired decor: 10 looks for you and your home
Accessories & Furnishings
Shoe inspired decor: 10 looks for you and your home
Welcome spring with home decor and design ideas inspired by the season's hottest shoes.
It's time to say goodbye to winter and welcome spring into your home with the season's hottest hues and freshest design trends. We're finding inspiration from our favourite spring and summer shoes, and so should you. Incorporate bright pops of colour, textured prints and fresh florals to give your home a sunny disposition.


Dazzling blues
With Pantone declaring Dazzling Blue the colour for spring 2014, it's no surprise this eye-catching hue is popping up everywhere. From pretty pumps to beautiful bedding, brighten your home with a textured print in this dazzling shade. Marimekko Lompolo Full/Queen Duvet Cover, Crate & Barrel, $181.82; Kristina pumps, Aldo, $120.

Pretty pastels
Experiment with pretty pastels like key lime and lemon yellow to give your home an instant refresh. Perfect for pairing against neutral tones like grey or beige, it can easily add that fresh feeling you're after. Toss cushions, CB2, $39.95 each; Typhoon tri-coloured pumps, Jimmy Choo, $695.

Beautiful blooms
A fresh floral print adds dimension and elegance, instantly livening up any space. With a vibrant pattern featuring bursts of colour in shades of orange, teal, radiant orchid and yellow this trend adds a feminine feel, bringing the outdoors in. Stripes and Flowers Tablecloth, Zara Home, $99.90; Steve Madden "Stecy" sandals, Nordstrom, $93.

Au naturel
Semi-sheer and stunning, this feminine guipure and floral pattern gives these espadrilles and linen curtains their soft and elegant springtime motif. Coqo floral curtains, Anthropologie, $108 to $168; Emil wedge espadrille sandal, Tory Burch, $225.

Photography by Stacey Brandford

Sophisticated sapphire
A hint of sapphire instantly creates sophisticated elegance. This trendy hue not only makes a statement but adds a polished look to any room. From a vibrant pump to a luxe living room sofa, this colour definitely draws attention. Jessica Simpson Cayna pump, Hudson's Bay, $115.

Photography by Donna Griffith

Vibrant green
Hints of hot pink and black balance against a vibrant green shade to give a colourful peep-toe pump and beautiful kitchen interior its winning colour combo. Tri-colour sandal, Charlotte Olympia, farfetch.com, $1,362.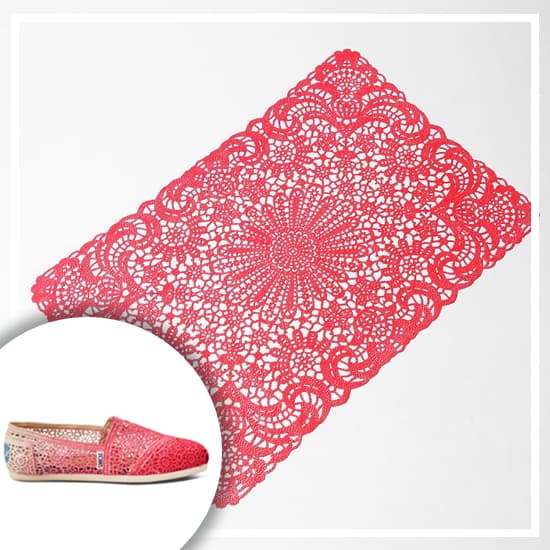 Think pink
Fancy lace and doily-like patterns are transformed from boring to bright with an updated springtime shade. Perfect for jazzing up everything from an outfit to an outdoor dining table. Doily placemat, Urban Outfitters, $4 each; Fuchsia Dip-Dyed Women's Crochet Classics, Toms, $65.

Sparkling silver
An ultra modern design with exposed silver accents create a sleek silhouette for both these chunky heels and these luxury powder room accessories. Enamel bathroom accessories, West Elm, $12 - $39; Prada Bicolor Leather T-Strap Sandals, Saks Fifth Avenue, $758.

Photography by Virginia Macdonald

A splash of colour
Adding a splash of colour is a simple yet stylish way to warm up any space. A bold citrus shade like the one found on these nude stilettos can easily be recreated in the home by adding an array of toss cushions, a framed print or colourful piece of living room furniture. Jorge Bischoff platform sandal, farfetch.com, $376.

Photography by Stacey Brandford

Golden glamour
Make a statement with the combination of bright white, warm brass and sultry black. Adding luxury is made easy with these three brilliant shades, giving any space a polished and chic feel. Sergio Rossi leather thong sandals, stylebop.com, $305.