Accessories & Furnishings
Stylish ways to illuminate your home
Stylish ways to illuminate your home
Accessories & Furnishings
Stylish ways to illuminate your home
Whether you love to sit outside on cool, spring nights amidst the warm glow of candles or you have decided to make a date with
Earth Hour
on a more regular basis, here are some bright ideas to light up your home.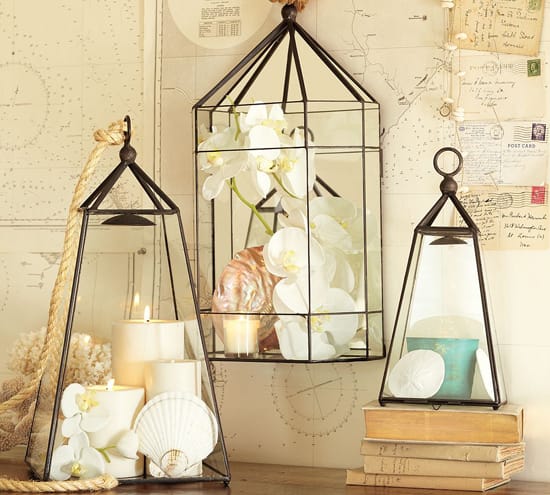 1 An illuminated centerpiece
Create a soft glow for your guests with two or three lovely lanterns strategically placed along the centre of your dining room table. And then keep them for the patio!
Conservatory lantern, $30-62 US, Pottery Barn.
2 Reading by candlelight
Grab a book and a blanket, then place a few of these large, ornate pillar candles on a table beside your favourite chair and you'll have no trouble seeing in the dark.
Pillar candles by India Rose, $90 US, Burke Decor.
3 Candles for kids
Illuminate these no flame, no heat, no wax, and no scent Smart candles. A long-lasting LED keeps these ingenious, child-friendly candle alternatives glowing and makes them perfect for creating shadow puppets in the light.
Smart candles, $28 US, MoMA Store.

4 Romantic illumination
Add some ambience to an intimate meal with these graceful, trumpeted handblown glass candlesticks.
Juliette candleholder, $13 US, Crate & Barrel.
5 Illuminate your bathroom
Put on some soft tunes, grab your favourite bubbles and indulge in some aromatherapy with this lavender, geranium and tea tree essential oil infused candle.
Relaxing scented candle, $28, L'Occitane en Provence.
6 Orb lighting
If you're getting together for a good gab with your neighbours, light some candles in these gorgeous handmade wool orbs, prepare some appetizers and enjoy your visit.
$24 US, red2white on etsy.com.
7 Cute candlelight
Place a tapered candle into this adorable elephant-shaped candleholder by Jonathan Adler. This simple yet chic stoneware animal would also make a great gift.
Proboscis tapered candleholder, $58,
Anthropologie
.