Accessories & Furnishings
the best of ids12: random curiosities
Accessories & Furnishings
the best of ids12: random curiosities
I've been sharing the highlights from
IDS12
in a series of four posts, organized by category, over the last couple of weeks. If you missed the other three posts in this series, rounding up the best woodwork, textiles and furniture, you can check them out right
here
. For today, let's wrap things up with some random curiosities!
1. Metropolis Living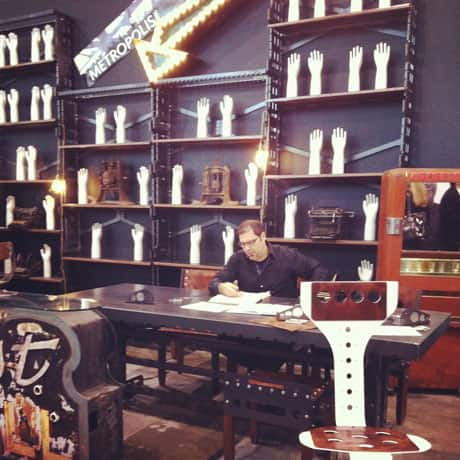 With so many quirky items to catch your eye, it was impossible not to stop and pay attention to Metropolis Living's booth. I'm a sucker for their vintage industrial vibe. If you are too, then pop on over their
website
and marvel at the creativity behind their pieces.
2. Modern Revision
Not a fan of oversized speakers? How about if they came in a sculptural form that added interest, as well as great sound, to your home? Not only are these just about the sexiest speakers I've ever encountered, but they're also fully loaded. These babies are Bluetooth enabled and allow you to stream music from your smart phone or tablet.
3. Earth Inc.
Did you have the chance to visit the living space designed by Earth Inc.? It was so incredible to step inside a living oasis in the middle of a convention centre. If they can create this indoors, imagine what they can do for your yard!
4. Fishtnk Design Factory
This chair stopped me in my tracks. Fishtnk had it displayed on an oversized lazy Susan, in order to allow attendees to view it from every angle. Those metal legs are reminiscent of tree branches or insect legs, but whatever inspired them, they are 100% awesome.
Lia Fagan is an interior designer & the creative force behind Mod Pieces, an online boutique, specializing in restyled vintage lighting. When she's not in her studio, she's offering up tips for how to "design outside the lines" on her blog, Mod Nest.