Accessories & Furnishings
Valentine's Day decor ideas
Valentine's Day decor ideas
Accessories & Furnishings
Valentine's Day decor ideas
Of all the holidays,
Valentine's Day
is perhaps most often viewed with both desire and dread. Relax! Relieve the pressure by creating a romantic atmosphere in your home - after all, that's generally where love resides. There are myriad ways to mark the day with things that inspire a sense of warmth, comfort, playfulness and passion. And many of them will give pleasure all year-round. These
Valentine's Day decor ideas
will help you add a touch of romance at home, to make this time of year a little extra special.
Pretty prints
Valentine's Day
is the busiest day of a florist's year (save Mother's Day of course!) so why not go a different route? Pretty prints like this one evoke the same sentiment – saving you a bundle and lasting a lot longer.
Etsy
, $27.55.
X and O smores
This tempting little number pairs the best of all worlds.
Valentine's Day dessert
... and love! Whether you save it for a post-dinner treat or indulge throughout the day, this 'X'
hits
the spot!
Williams-Sonoma
, $24.95 (pkg of 8).
Let love open your door
Invite the spirit of
romantic Valentine's Day decor
with a gorgeous wreath like this one. Made from the aged leaves of vintage books and secured with a centrepiece of German glass glitter, it's the perfect way to tell the world that love lives here.
Etsy
, $15.30.
Breakfast bowls
Kick-start Valentine's Day with a romantic
breakfast in bed
for two served up in these sweet little bowls. Even if you're still a little sleepy, the soft pink hearts will whisper a gentle reminder that today's a day to celebrate each other.
West Elm
, $8.38 each.
Relaxing robes
Valentine's Day
is all about romance ... and that should include a little relaxation. Kick back in these luxurious spa-inspired robes. Silky-soft on the outside and cozy-warm on the inside, you won't want this day to end.
Restoration Hardware
, $95.
Love mug
Your sweetie will always smile and think of you when they sip their morning coffee from this 'Love' mug, as they start each day. Maybe you should get a pair as a
Valentine's Day gift
so you each have one. Leave them on the kitchen table where they'll not only look great but remind you of each other's love.
Indigo
, $10.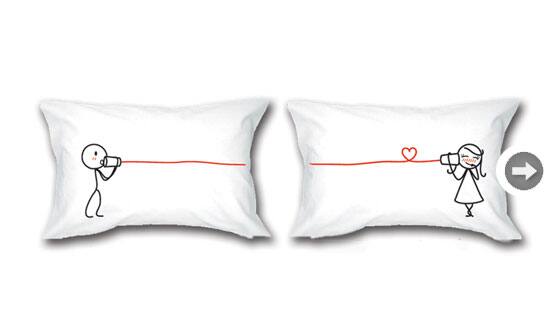 Playful pillowcases
You can't help but smile when you see these pillowcases and they make the perfect
Valentine's Day gift
. They're a cute and playful reminder of why being together is so much fun!
boldloft.com
, $36 (set of 2).
A Valentine's on ice
Although it's a warm and fuzzy holiday, it can pay to cool things down a bit. Chill the bubbly while you make
Valentine's Day dinner
, then toast your love as you sit down to dine.
Pottery Barn
, $74.80.