Accessories & Furnishings
Wonderful white accessories
Wonderful white accessories
Accessories & Furnishings
Wonderful white accessories
A day bed + a cool breeze + a great book = bliss
Window daybed
$539,
Mattress
twin $479,
Bed linens
Frayed-Edge queen quilt $169, and Euroshams $39 each West Elm.
Cushions
Deconstructed Ribbon $44, Deconstructed Rose $49 West Elm; Ritva cotton piqué cover $9, Fjädrar insert $6, Ofelia blad rectangular $20 IKEA; Whisper linen ruffled $165 Elte.
Drapery panel
Alvine rund $35 per pair.
Flooring
Tundra $1.49 per sq. ft. IKEA.
Headdress
feather $645 Snob.
A necklace too pretty to keep inside a jewelry box.
Necklace
Megan Park $220, Hollace Cluny.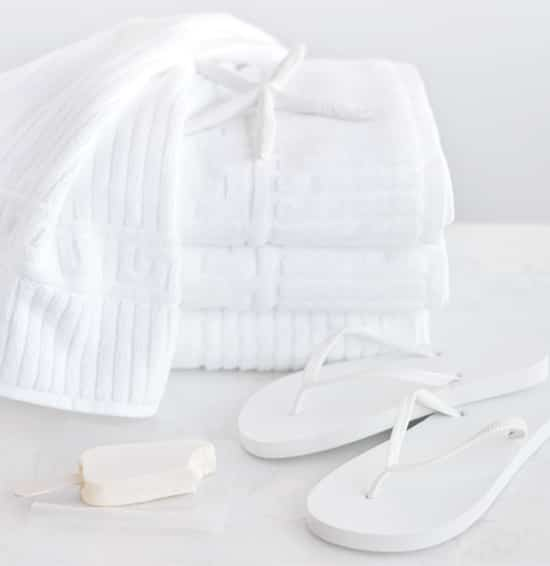 Made for weekends by the water.
Towels
GlucksteinHome Sculptured Spa Bath $17 each (bath) $12 (hand), The Bay.
Starfish
resin $8, Pottery Barn.
Flip-flops
$4, Joe Fresh.
S'mores go mod and monochromatic.
Ball clock
George Nelson $576, Quasi Modo Modern Furniture.
Side table
Gino Carollo Vanity for Bonaldo $480, OneTwenty Modern.
Coffeepot
Kaico enamelled $105,
Cookie tray
Stine Sandwell $148, Mjolk.
Shape and texture are the stars when accessories are all the same colour.
Floating shelves
Kole lacquered $48 each, The Home Depot.
Child's rocking chair
moulded fibreglass $255,
Hourglass
$49,
Vase
ceramic $35, Elte.
Jewelry trees
metal $24 (top shelf), $20 (bottom shelf);
Drinking glass
Swirl $10; Urban Outfitters.
Sphere
shell $8,
Shell
Murex Ramos $16, West Elm.
Glove mould
porcelain $16, L'Atelier.
Frame
Ribba $10, IKEA.
Votive holder
Jennifer Graham stamped $40, Hollace Cluny.
Birdcage
$45, Accents de Ville.
Embossing, scalloping and other embellishments add interest to white tabletop staples.
Accent plate
$32,
Cup & saucer
$45,
Creamer & covered sugar bowl
$148,
Cereal bowl
$53, all Wedgwood Intaglio, William Ashley China.
Flower napkin rings
$16 per set of four, Accents de Ville.
Napkins
vintage printed $38 per set of four, Pi'lo.
Cutlery
polycarbonate $4 for four place settings, HomeSense.
Platter
Fleur de Lys $50, Anthropologie.
Macarons
Vanilla $2.50 each, MoRoCo.
Detail elevates accessories from the everyday.

Lamp
KleinReid Aubry porcelain $385,
Stool
Kosoy & Bouchard pressed ceramic $1,600, Hollace Cluny.
Vase
raised lace pattern $20, HomeSense.
This jewelry stand is a standout.
Jewelry stand
iron dollhouse chairs $78, Urban Outfitters.