Accessories & Furnishings
you be the designer: can you help me choose a lamp?
Accessories & Furnishings
you be the designer: can you help me choose a lamp?
As many of you who have been following my blog know, I recently completed a makeover on my condo. I took it from drab and outdated to fresh, chic and modern. (For those of you who haven't seen the transformation, you can
watch the video of it here
.) I love every piece that designer
Lisa Canning
chose for my space, to give it the feeling of liveable luxury that I craved. Alas - I broke a lamp. Sssh ... don't tell Lisa! I knocked it over one night and broke the whole thing. And now I'm on the hunt for a replacement pair of table lamps. If you've seen the
video of my condo makeover
, you'll have a sense of my style and of the rest of my space. So here are four lamps I love, all from
Layla Grayce
.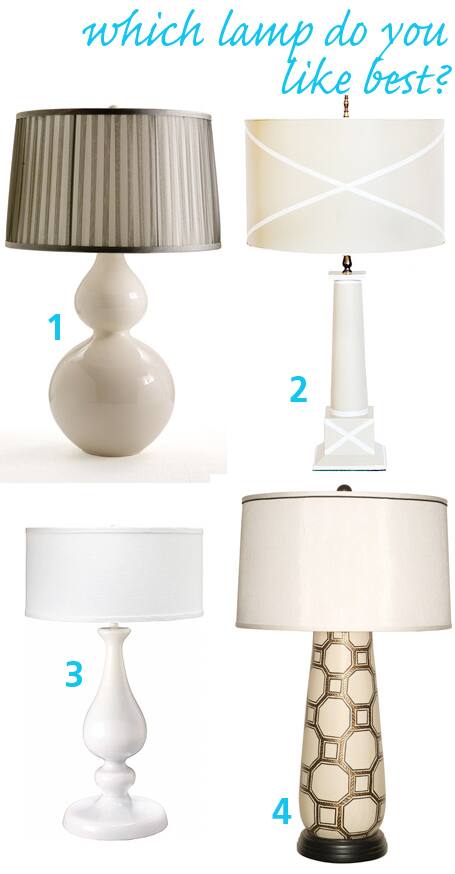 Here's what's what:
1
Arteriors Abram White Crackle Double Gourd Porcelain Table Lamp
2
Tole Lamp
3
Jamie Young Lighting Lamp Base Lucky White Casted Metal
4
Bungalow 5 Cadiz Table Lamp Hand Painted Porcelain
I love all four - so I need help choosing. Here's what my living room looks like:
Which of the four lamps above would you choose for this space? Leave a comment below with your vote! Plus: Your vote automatically enters you into our contest to win a $100 gift card from Layla Grayce. Good luck!
Contest closes April 5 at 12pm EST. Open to all residents of Canada, except those in Quebec. Not open to any Transcontinental Media employees, their families, or any other persons with whom they reside.
Update: Congratulations to our winner Leah. And thanks to everyone for entering!