Decorating & Design
8 storage ideas from the wildest wardrobes
Decorating & Design
8 storage ideas from the wildest wardrobes
Is there a monster in your closet? The kind made of clothes piled on the floor and shoes and purses jumbled in corners? Fear not! Our closet fixes – from temporary, take-it-with-you solutions to dreamy custom creations – will tame the wildest wardrobes.
Photography, Drew Hadley
01 DRESSING UP

Improvising a dressing and closet area behind the bed is a great way to combine form (tall closet storage units) and function (daily dressing and undressing). There's no need for walls, but splurging on a custom surround to make big-box closet components look built in will up the style factor – add lighting while you're at it. Ensure you leave yourself enough room for the wardrobe's hinged doors to open unimpeded, and for you to manoeuvre easily when getting dressed.
Photography, Shutterstock
02 WHAT A VIEW
Are you a fashionista with a vast (preferably coordinated) wardrobe? If so, an open storage unit with drawers, shelves and rods will turn your whole bedroom into a huge walk-in closet. If you are tidy (or don't mind a fair bit of visual stimulation), this is a great way to see your entire wardrobe at once, which makes putting together outfits a breeze. Take inspiration from how your favourite boutique displays items: stack folded clothes neatly and don't overcrowd rods.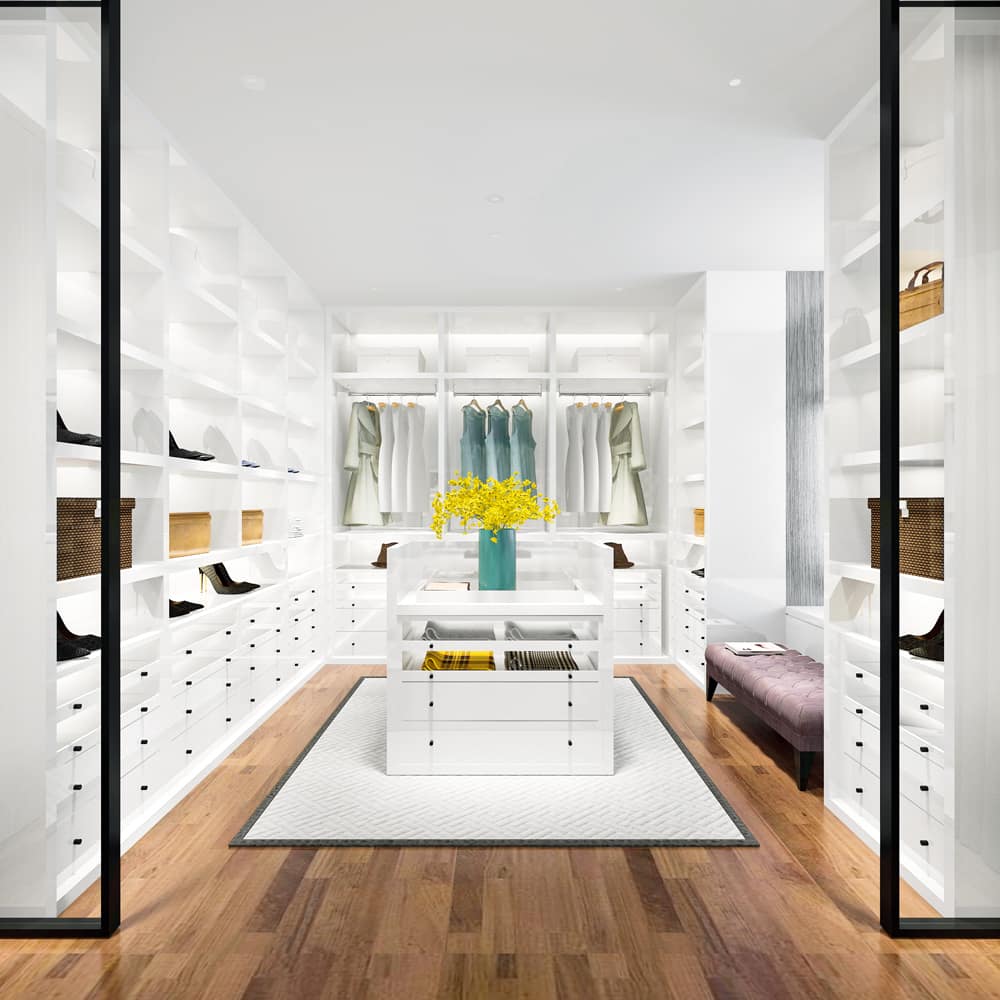 Photography, Shutterstock
Get inspired by how your favourite boutique organizes and displays clothing.
03 DREAM SCENE
If you have real estate to spare, dedicating a small room for dressing and clothes storage will make you feel like a movie star. Hire an expert to assess your needs; you want to get it right when making this much of an investment in custom storage. An island for folding clothes, arranging outfits, and putting down shopping bags and dry cleaning is a popular feature. Include an upholstered bench, full-length mirror, and open shelves to display your favourite pieces.
Photography, Living 4 media
04 OFF THE RACK
If you rent, you might prefer a temporary fix to insufficient clothes storage so you can take it with you, and because affixing heavy components to walls may not be permitted. Freestanding racks, like those in a shop, are hardworkers that you can easily move to your next abode. If allowed, add an elevated shelf for off-season and bulky items.
Photography, Shutterstock
05 OPEN & SHUT CASE
Have it both ways: a closed unit with drawers and rods hides and stores clothes, while a rack suspended from the ceiling lets you set out tomorrow's outfit for fast and pain-free morning dressing. For a finishing touch, a sleek upholstered bench provides a place to perch.
Photography, Living 4 media
06 WORKING WARDROBE
Give your home office a second job as an extra closet. DIY storage units do all the organizing work and are a great way to come in under budget if you forgo doors. Your boss (aka you!) will be so pleased. Use pretty storage containers to corral smaller items; opt for lidded bins to keep dust off infrequently used pieces.
Photography, Living 4 media
07 NOW YOU SEE IT
It's curtains on clutter when beautiful drapery hides a closet organizing system. Create an entire dressing area with a small chest of drawers, a pretty mirror, a high shelf and hanging rods. Paint or wallpaper the wall for a surprise when you pull back the curtain. Close it off at night for a calm atmosphere.
Photography, Living 4 media
08 SMALL WONDER
Add functionality to a small, poorly organized closet with easy fixes. Focus on accessories. We suggest: an over-the-door hanger with multiple hooks as an instant fix that you can easily move; a hanging shoe rack/rod; tiered cubbies; an elevated wall-mounted shelf; covered boxes for bags, belts and – yes – more shoes! Pop in battery-operated LED sconces and you'll wonder why you waited so long to get organized.