Decorating & Design
9 Backsplashes That Showcase Personality
Aluminum composite, ARCHITECTURAL PANEL, Muraluxe, muraluxe.ca
Decorating & Design
9 Backsplashes That Showcase Personality
The backsplash is where a kitchen gets its personality. It's where risk taking pays dividends in the form of pattern, colour and pizazz. Here, we focus on material options to get you started in your search for the perfect surface.
1. Architectural panels
Aluminum composite, ARCHITECTURAL PANEL, Muraluxe, muraluxe.ca

Cladding the wall in architectural panels can create great visual impact. One type of panel that does just that is made from an aluminum composite material that's resistant to UV rays, water and chemicals. The thin, light panels are digitally printed with a high-resolution image in a glossy, satin or matte finish, giving you the look of a pricey stone slab – with all its movement and vibrant pattern, which is so popular now – at a lower cost. Make sure that whatever type of architectural panel you choose is heat resistant if it will be installed behind the cooktop.

2. Tile
Lume glossy-finish glazed porcelain stoneware TILE, Ciot, ciot.com.


DESIGN, Frankie Castro, Square Footage Inc., squarefootageinc.com. Paisley TILE, Mettro Source, mettro.ca.

Porcelain, ceramic or stone, tile offers a huge variety of patterns, sizes and colours. This trusted material is durable, easy to clean and won't cost a fortune to replace if you tire of it in a few years. Consider the size and shape of the tile in your space, and hire an expert installer who will minimize cuts when accommodating corners, outlets and windows.

3. Stone

Photography, Mike Chajecki; Design, Sarah St-Amand Design.

If you aren't a fan of grout lines, a large-scale stone slab is a gorgeous option. The trend is toward bold undulating patterns, but a subtly veined marble is always an elegant option in a more traditional or minimal interior. For durability, select a top-quality stone and seal it regularly. If the price is daunting, use a smaller piece to create an area of interest behind the cooktop.

4. Engineered stone

Kraftizen umber Dekton, ENGINEERED STONE, Cosentino, cosentino.com.

Engineered stone is a blend of stone and other materials, which creates a durable, stain-resistant surface. It's ideal for creating a seamless look when installed on countertop and walls and is an excellent alternative to natural stone.

5. Brick
Photography, Stocksy.

An exposed brick backsplash, whether painted or left natural, gives instant texture. This is especially effective in modern spaces, bringing contrast to sleek, smooth materials used elsewhere in the room. Note that painted brick in a semigloss or gloss finish is easier to clean and less dusty; use latex stain-blocking primer and paint. Do remember that paint is extremely hard to remove from brick, so be sure this is a look you will love.

6. Wallpaper
Flower & Marble WALLPAPER, LimeLace, limelace.co.uk.

As a backsplash, wallpaper suits a spot that doesn't see heavy, messy countertop use, making it a poor choice for behind the sink and cooktop. That said, it can be used to stunning effect in the right location. Opt to take it to the ceiling for impact, or apply a large border just above the counter to bring attention to your countertop material. Countless patterns means it's easy to make a unique statement. Bonus: If you get bored of the pattern, it's easy to switch it up. Note that a washable vinyl will extend its life.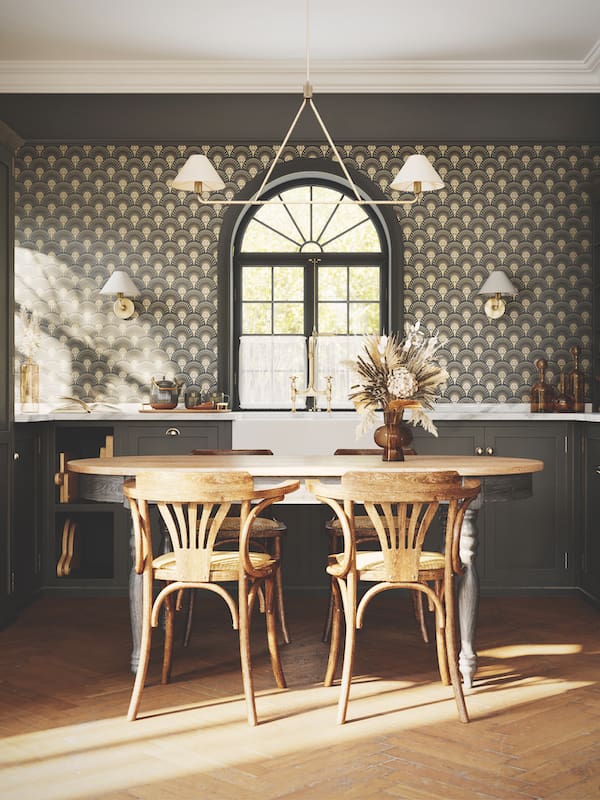 Deco Martini WALLPAPER in Smokey Gold, Divine Savages, divinesavages.com

In the right spot, wallpaper and even wood are options for statement backsplashes.

7. Metallic

Photography, Living4Media.

Modern kitchens shimmer with metallic backsplashes, but that doesn't mean your kitchen has to look like a laboratory or restaurant. Instead, opt for durable stainless steel in a brushed gold finish – under-cabinet lighting shining on it will produce an intriguing glow at night. For a minimalistic mood, try a band of gold stainless-steel backsplash above a matte black countertop.
Stainless steel, now available in a gold finish, has left its industrial look in the past.

8. Wood

Photography, Shutterstock.

Wood offers visual warmth, but consider that it won't stand up to excessive water or heat; stains and humidity can also be issues. If you love the look, choose a wood that naturally resists water, such as bamboo or teak, and protect the surface with varnish.