Decorating & Design
Design solutions for a pet-friendly and purr-fectly beautiful home
Photography, Stephani Buchman

Design, Cynthia Soda, Soda Pop Design, sodapopdesign.ca.
Decorating & Design
Design solutions for a pet-friendly and purr-fectly beautiful home
Who rules the roost? If you've got four-legged friends at home, you've probably pondered this very question. Designer Mélodie Violet and feline behaviour specialist Daniel Filion offer their tips for combining functionality and aesthetics so that the creature comforts of your fur babies are catered to in the most stylish ways.
Custom cubbies
Cozy beds tucked into custom cubbies enhance your decor, as do dog crates that resemble furniture. And cats have it made: chic houses and cubbies for felines are available off-the-shelf now!
Pets So Good's Oshu house, $425, Ssense, ssense.com.
Grove cat tower, $499, Tuft & Paw, tuftpaw.com.
Privacy, Please!
Ah, the perennial problem for cat owners. Where will the litter box go? Designer Mélodie Violet of Imagine and Matière à Vivre suggests choosing a litter box that blends into the decor, whether by shape, colour or material. "If our interior is organic, we select a litter box that is round and neutral coloured to prevent the eye from being drawn to it," she says. Feline behaviour expert Daniel Filion adds that furniture designed to camouflage the litter box must have openings so the cat can see, especially if you have other animals that might ambush the cat for play. "The cat must be able to plan its exit; otherwise, it will not risk entering the tray and will relieve itself next to it rather than in it," warns Daniel. And now doggies have an indoor option, too (shown above). If you are renovating, consider turning space under a staircase into a niche for a discreet place for cat or dog litter boxes.
Dog potty, $219, Doggy Bathroom, doggybathroom.com.
Haven cat litter box enclosure, $699, Tuft & Paw, tuftandpaw.com.
Litter box, $25, LitterLocker, litterlocker.ca.
Dinner is Served
Zoo Collection's Sia dog BOWLS, $42 each, Oyoy, oyoylivingdesign.ca.
Most often, pet bowls are placed in the kitchen for convenience. Custom drawers built into the kickplate have become increasingly popular, but Mélodie points out that if you go that route, ensure the compartment is never closed. Your pet must always have easy access to it. Luckily, she says, "These days, there are bowls that are really beautiful," so think twice about installing kickplate compartments. Daniel adds that cats aren't fussy about what their bowls look like (only what goes in them!), so feel free to opt for pet dishes that blend with your decor.
Zoo Collection's Sia dog BOWLS, $42 each, Oyoy, oyoylivingdesign.ca.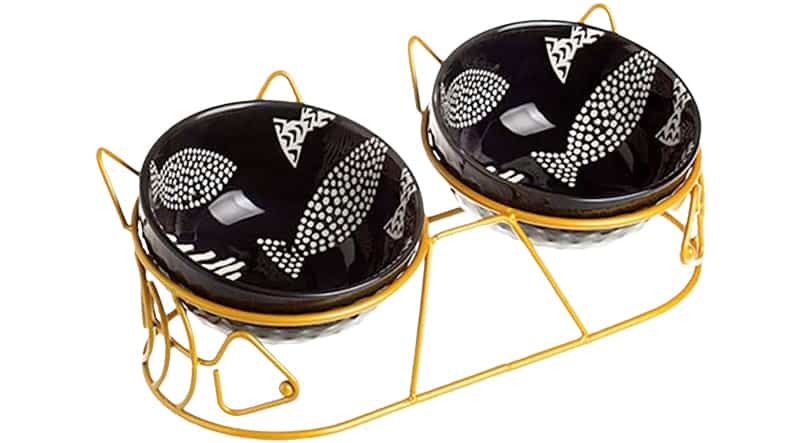 Dual cat bowl with stand, $55, Estilo Living, estilo-living.com.
Lucite BED, US$399; CLEAR Feeder with BOWLS, US$89; Hiddin, shophiddin.com.
Photography, Stephani Buchman
Design, Claire Jefford, clairejefford.com.
Photography, House of Rohl
Cat Walk
Photography, Daniel Filion
A happy home – to a pet – is one filled with toys! Provide plenty of play and climbing options for kitty: cat trees and wall-mounted "cat" shelves are options. Or try getting fun tube tunnels, which can easily be stashed before visitors arrive and to reduce tripping hazards for those with mobility challenges.
Vesper tree house, $350 (medium), Catit, catit.ca.
Pixi Wide Scratcher, $70, Catit, catit.ca.
Tucker Murphy Pet's Multi-Level SHELVES kit, $146, Wayfair, wayfair.ca.
Material Matters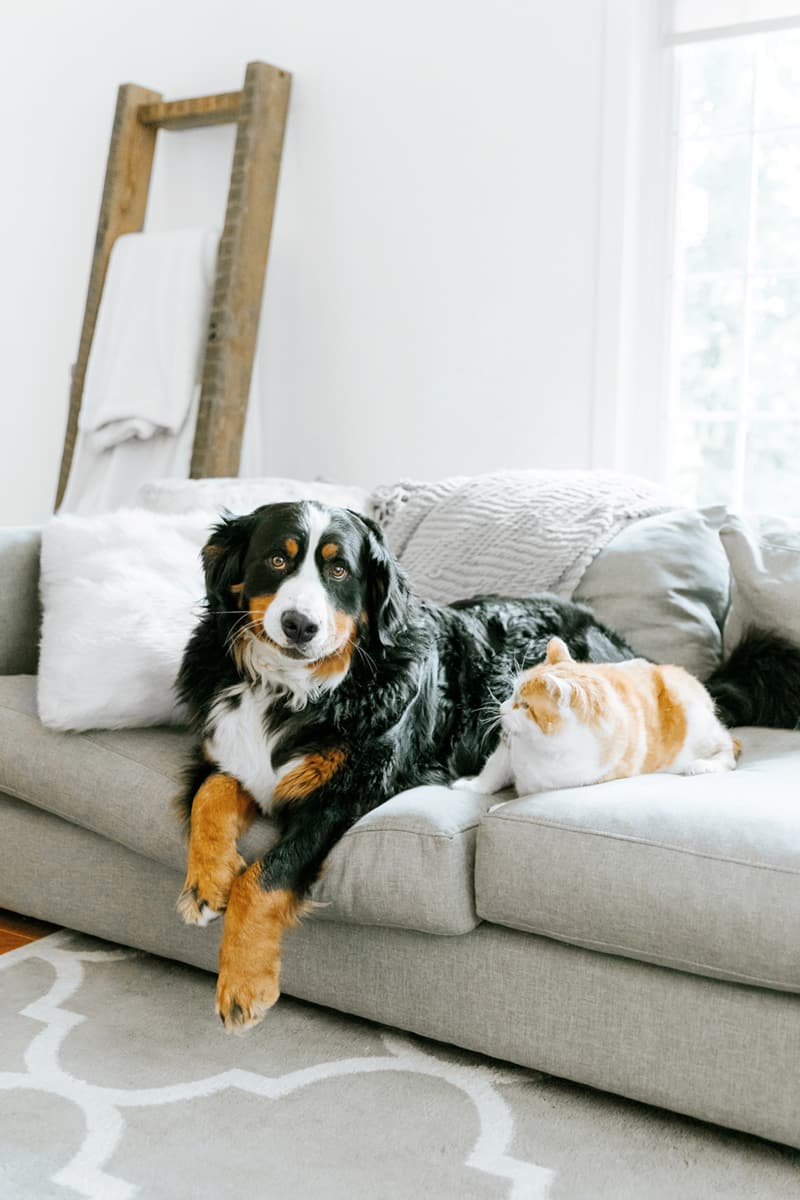 Photography, istock
Another element to consider: upholstery and cushions. When buying, look for durable, easy-to-clean fabrics. Often that means fabrics with short fibres and tight stitches, which are more resistant to scratches and less likely to trap fine hairs in the fibres. Synthetic fabrics like microfibre, velvet and leather are also good options.
Design, Carly Nemteen, Carriage Lane Designs, carriagelanedesigns.com.
Accidents Happen
The occasional accident happens with pets of any sort. Luckily, there are a ton of products that deep-clean pet odours without being overpowering. Loona Quebec products (biodegradable and with no volatile organic compounds) include cleaners, disinfectants and odour eliminators designed for pet stores, veterinary clinics, kennels, stables and more, as well as the home. The Attitude brand also has a range for animals that includes an air purifier, fabric freshener, stain/odour remover and multi-surface cleaner. Plus, reusable paper towel maker Kliin has launched the Animal Collection, which includes an odour absorber and cleaner for surfaces and fabrics. "Otherwise," says Daniel, "a little vinegar mixed in water can do the trick to clean the floor, but not the litter box." Instead, use odourless dish soap to clean the litter box effectively without leaving a smell kitty won't like.
Four on the Floor
When you have pets, it's even more important to opt for materials that are durable and easy to clean. Mélodie recommends oiled wood floors rather than varnished ones. "I only use oiled floors in all my projects because they are much easier to maintain. The finish is matte, so if there are scratch marks, just sand it a little, reapply a little stain and then oil," says Mélodie. "That's versus a varnished floor that needs to be sanded, restained and re-varnished completely." What's more, litter and hair are much less visible on a matte floor. Daniel points out that cat owners should avoid floating floors. "It's rare that this happens, but if the cat pees, it soaks the subfloor (or underpad), and that can get tricky because cat urine smells much stronger than dog urine." Also avoid melamine cat shelves and furniture because it will swell if urine gets inside.
Photography, iStockphoto
Spa day
A custom pet shower, usually installed near a mudroom entry, is practical if pricey. It's perfectly sized for a four-legged friend and will save your back from lifting a heavy dog or bending over for a long time (stalls are usually elevated a bit, but not as high as a tub). Bonus: human bathrooms stay clean!
Photography, Tracey Ayton

Design, Denise Ashmore, Project 22, project22design.com.
Hairy situation
To prevent hair from accumulating on the furniture, regular brushing is a good idea, and invest in a good vacuum cleaner. If you're thinking of a robot vacuum cleaner, Daniel suggests desensitizing the cat to it first so it won't be super scary or considered a toy. "In fact, you should desensitize the cat to anything you bring into the house by enticing it with treats to explore the object and associate it with something pleasant," he suggests. That's a good idea for dogs, too. Need to speed clean? Roll a clothes brush over the sofa before guests arrive.