Colour
15 Fabulous White Paints
Colour
15 Fabulous White Paints
What is white? Look at a parking lot full of white cars, and you quickly come to see that it's actually a whole range of shades. No other colour—and make no mistake, white is a colour—has the range of moods that white does. It can be warm and embracing, crisp and clean, or change its character according to the time of day or the time of year.
We asked some of our favourite paint companies to show us their best whites, and they responded with a rainbow of ways to use this, the most versatile of shades. There's nothing shy about any of these beautiful whites!
Slipper Satin, Farrow & Ball



White kitchens may be classic, but there's no reason they have to be dull. As this kitchen painted in three classic Farrow & Ball whites shows, choosing a suite of white tints rather than just one makes all the difference. Here, the walls are done in Slipper Satin (No. 2004), while cabinets are Pointing (No. 2003), with the skirting boards painted in Lime White (No. 1).
Stowe White, Premier

Premier's Stowe White (45YY 83/062) is a cool white that works equally well with muted pastels and more vivid colours. For a child's bedroom, it coordinates well with the blues and pinks popular in bed linens and soft furnishings.
Cottage White, Behr

Cottage White (1813) from Behr is soft and creamy with just a hint of yellow, casting a warm glow over the space. It's particularly lovely in a bedroom, where its soft undertones bring out the beauty of classic white linens.
Calming Cream, Benjamin Moore
With a coat of white, even the most traditional forms can be transformed into something new. This formal wainscot panelling, achieved entirely with paint instead of wood or plaster moulding, doesn't just nod at history; it winks. Shown here are Calming Cream (OC-105), Gray Mist (OC-30) and Simply White (OC-117).
Picket Fence, Martha Stewart
Martha Stewart is justly admired for her wonderful colour sense, and it's no surprise that her whites are some of the loveliest. They're also designed to coordinate with other Martha Stewart collections, such as her furniture and drapery fabrics. This picture features classic wainscoting painted in Picket Fence, a pure, ever-so-slightly warmed-up white.
All White, Farrow & Ball


Farrow & Ball's white palette is justifiably renowned. Here, two related but distinct shades of white create a subtle backdrop in a contemporary living room, while variations in the level of sheen add an extra layer of dimension. The walls are painted in All White (No. 2005), in low-sheen Estate Emulsion, and the woodwork is also All White, but in slightly higher-sheen Estate Eggshell.

Painted Veil, Benjamin Moore
With a romantic white like Benjamin Moore's Wedding Veil (2125-70), furnishings appear to levitate and colours whisper, sending a room floating on air. For a classic cool white like this to shine, the hues around it need only a hint of pigment.
Silver Lining, Pratt & Lambert

One of the top Pratt & Lambert whites, year after year, is Silver Lining (32-32). Silver Lining is a perfect balance between warm and cool, a soft, contemplative white that's very easy to live with. Light plays well with it, setting a peaceful mood, as in this elegantly appointed family room.
Tailor's Chalk, Martha Stewart
Leave it to Martha to come up with a classic New England white like Tailor's Chalk. A soft yet pure white, this shade is wonderful for bringing out the dimensions of panelled woodwork, as seen in this beautifully detailed room.
Swiss Coffee, Behr
This living room painted in a suite of whites from Behr demonstrates, again, how the subtlest contrast in tone can truly bring out the beauty of a room's details. Swiss Coffee (1812) subtly sets off the architectural detailing on these walls, with warm undertones that keep the space from feeling cold. Ultra Pure White (1850) graces the ceiling and crown mouldings, with just enough contrast to add visual interest. The double door entranceway and window frames are set off with Navajo White (1822), with stronger golden notes, echoed in the sofas.
Japanese Paper, Sico


Sico's Japanese Paper (6195-21) has a warm and creamy tone that sets off the depth of deep woods and natural textures. Soft, subtle, and equally at home in bedrooms or living rooms, it's become one of Sico's most popular shades.
White Whisper, CIL

Slightly varying shades of white can add zip to a contemporary kitchen look like this one by CIL, featuring Yucca White (90YY 83/107) in the dining area, Winterwash (50YR 83/003) on back wall, and White Whisper (44YY 84/042) on the rest of the walls.
Antique White, Behr

As the name implies, Behr's Antique White (1823) has a timeless appeal, with slightly tarnished brown undertones that help lend depth to white walls without overpowering a space.
Peaches 'n' Cream, Para


Peaches 'n' Cream (P5069-14) from Para is as comfy as a shearling coverlet. A warm, low-key white, it works especially well layered with chocolates and dark woods. For best effect, try this white in a room that receives ample sunlight.
Prism White, Premier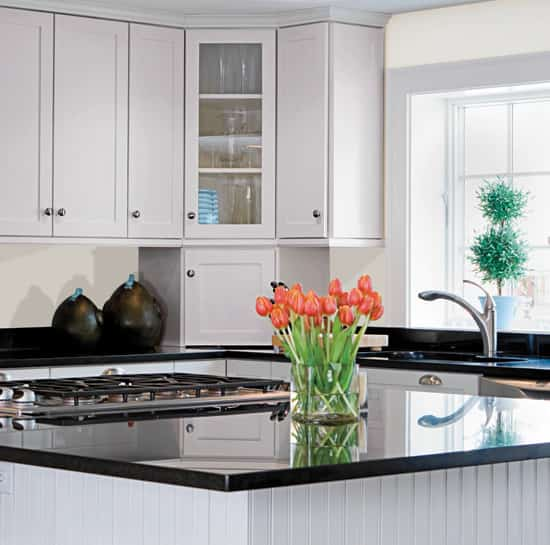 Prism White (30YY 71/073) from Premier is a warm white with a hint of toasted almond, well suited to a kitchen like this one. Its neutral hue means it pairs beautifully with any other whites—from appliances to cabinets to trim.