Colour
Christmas decorating: Red and green
Christmas decorating: Red and green
Colour
Christmas decorating: Red and green
Red and green have long been the traditional colours of Christmas, but if you've banished this over-commercialized duo from your holiday scheme, it's time to take a second look. Red and green are back on designers' "nice lists" in a colour story that's less Rudolph and more French boudoir, absolutely dripping with glamour. Saturated shades and lush textures define this newly posh palette. The effect is vibrant and highly decorated, so don't be afraid of going overboard -- that's the point!
Festive florals
Set up a striking vignette against an eye-catching background using only coloured glass, vintage ornaments and fresh flowers. To create visual rhythm, vary the height of the vessels, placing the tallest in back.
Deck the hall
Get bold hits of red and green on a budget by crafting easy DIY tissue paper flowers. Hang the flowers somewhere central -- on a bannister, in the foyer or over the mantel -- to create a focal point. Accessorize with ornaments, sparkles and ribbon. Remember: the scale of the flowers says it all!
Circle of red
A new holiday look calls for an updated wreath. Stray from the usual pinecones, boughs and boxwood, and find a solid red (or solid green) version made from a single material, such as roses, ornaments, ribbons or feathers. Don't see one you like in stores? Make your own with a basic Styrofoam wreath form and artificial flowers in rich red or deep green.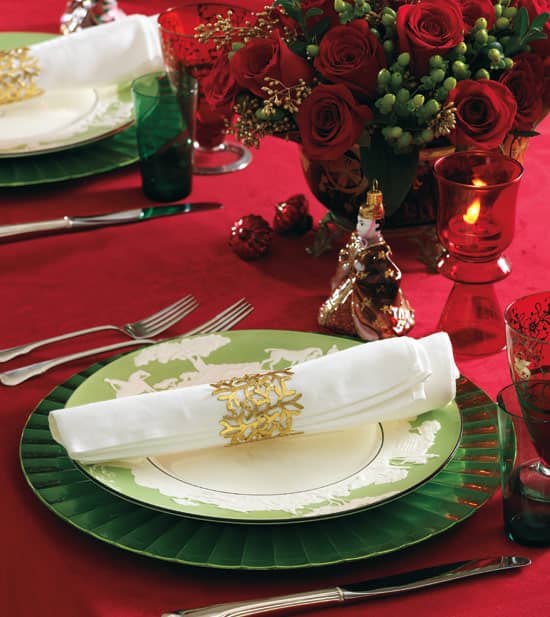 Traditional tabletop
Ditch that basic white tablecloth and set the stage for festive glamour with luxe velvet in ruby red. Pile on dramatic elements like coloured glass, lustreware and gold-leaf accents to add a bright detail to deep hues -- gold-tone napkin rings are a fab (and inexpensive) way to bring the all-important Midas touch to your table.